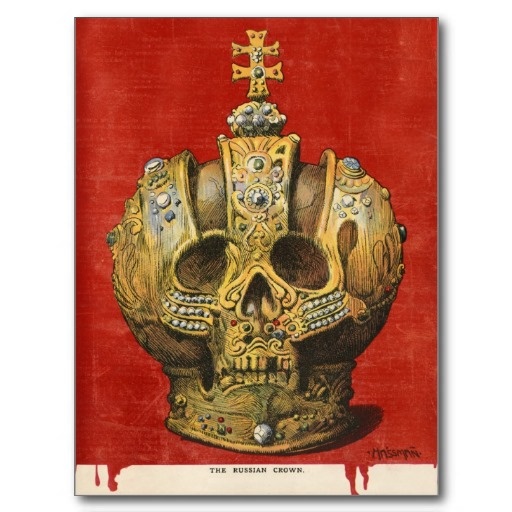 The crown of the Russian Empire 
Because imperialism has been and remains at the root of almost all of Russia's problems, Aleksandr Skobov says, Russian opposition parties, which today are almost as imperialist as the Kremlin, must make the right of free and unilateral secession a centerpiece of their programs.
The Moscow commentator's argument on that point comes in an essay posted online today in response to two articles by essayist Irina Birn about Russian imperialism (kasparov.ru and kasparov.ru).
Skobov says that despite some small disagreements at the margins, he fully supports Birn's two key arguments. On the one hand, she argues that "the chief generator of the reproduction of our most serious and negative historical illnesses — from authoritarianism, paternalism, and lack of respect for human rights to trivial corrupt – is the imperial character of Russian statehood."
"The Russian state was and remains a prison house of peoples, which were joined together by force and are kept together by force. That in turn always has required and requires now a hypertrophic apparatus of force and the systematic application of force. And that then gives rise to and reproduces all the enumerated delights of our life," Skobov says.
And on the other, he continues, Birn points out that "the majority of representatives even of the radical extra-systemic opposition, not to mention its systemic part, has not decided to talk about it," but rather to remain silent because so many ordinary Russians and Russian politicians are just as infected with imperialism as is the Kremlin.
"Beyond any doubt," Skobov says, "Russia must be completely 'recreated' in the form of a voluntary confederate union of sovereign subjects which will have the constitutionally recognized right of free exit from the union without any requirement for agreement on the part of other subjects."
That is, he says, the subjects must have "the right to UNILATERAL SECESSION," just as some of them had in the Soviet constitution but with this difference: Unlike in the Soviet basic law, there must be described precisely a legal method for realizing that right and that right must be respected.
Because of the centrality of imperialism as the source of Russia's problems, Skobov continues, a demand for such constitutional change must not only become part of the programs of "the genuinely democratic opposition" but must be treated "as one of the most important." And that demand must be accompanied by another, he suggests.
This demand must be made real by programmatic calls for the new Russia to give up all weapons of mass destruction and "above all nuclear ones." That will provide "not only a guarantee from attempts at a new imperial revanchism, from attempts to blackmail the world and destroy the international order."
It will also, Skobov argues, change not only Russia but other countries as well "not only politically but also morally." Indeed, he concludes, if Russians find the strength to take these steps, "the world after that will become a different place."
---
Related:
Tags: Great power imperialism, imperial complex, International, Opposition, right of secession, Russia, Russian imperialism, Russian opposition