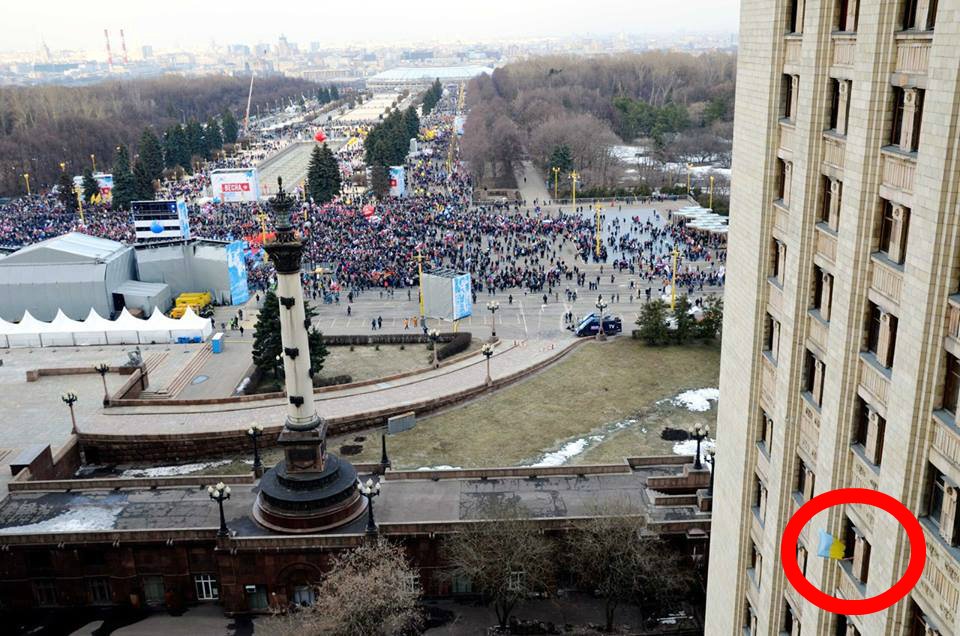 Agents of the Russian security services have beaten a Moscow State University graduate student for hanging a Ukrainian flag from his dormitory window.
The student waved the flag out the window in the direction of a March 18 rally commemorating the third anniversary of the annexation of Crimea. First, he hung it from his room window, then – from the stairwell window, where it could be in full view of the people taking part in the pro-Crimea rally.
The student claimed that his protest was not political, but that he intended to draw attention to the fact that state funds were being spent on the festival, while the the university could not afford to renovate student dormitories.
"The goal was to draw attention to university dormitories that are teeming with rats, cockroaches and bedbugs. Money should be spent on the university. We decided to hang the Ukrainian flag from the window to stimulate public awareness. I was arrested by men who didn't even introduce themselves, but it was clear that these were FSB officers and people from the Main Directorate for Countering Extremism of the RF Ministry of Internal Affairs."
First, the student was detained by university security guards. He was taken to a secure room, where an officer of the university's police force arrived with three plainclothes Federal Security Service (FSB) officers. They confiscated his camera, laptop and phone, and then took him to the local office of the Interior Ministry.
"They didn't have a search warrant, and when we got to the office, they beat me with their fists and clubs, kicked me, asking who'd given me money, what organization I belong to. This lasted about two hours."
After two hours, the FSB agents forced the student to write a statement that he agrees to work as an informant for the FSB and the Interior Ministry's anti-extremism center under the codename "graduate student".
Next, three police officers entered the room and forced the grad student to write a confession that he had waved the flag and used obscenity. The police then issued the student a fine for "petty hooliganism," and released him.
Next day, the student visited a trauma clinic, where doctors recorded his injuries. Today, he appealed for help from the Committee for the Prevention of Torture.
Tags: Crimea, FSB, International, News, Protest, Russia, Ukraine, Ukrainian flag