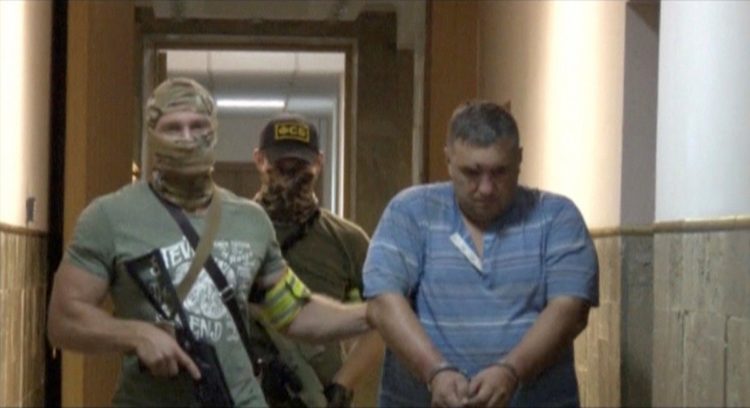 Yevhen Panov says the Russian FSB tortured him into "confessing" he is a Ukrainian saboteur sent to Crimea. Photo: screen capture from video of Panov's detention 
Last week, Trump moderately expanded sanctions on Russia in what many have deemed an 'encouraging' sign that it will continue to put pressure on the Putin regime for its illegal actions in Ukraine. Among the newly penalized is a Russia-designated state prosecutor and ten other individuals and entities based in Crimea. However, according to Irina Sedova of the Crimean Human Rights Group (CHRG) Crimea, no one has been held accountable for the illegal arrest and torture of Ukrainian citizens who are opposed to the Russian occupation.
"I very much doubt that human rights conditions will change as a result of the increased sanctions," said Sedova
Since August 2016, officers from the FSB, Russia's state security service, have detained ten Ukrainian citizens and accused them of planning to attack military sites and infrastructure in Crimea. The wave of arrests has been known as the 'Ukrainian saboteurs' case in Russian and Crimean mass media. On August 10 FSB claimed that it had prevented a series of terrorist acts in Crimea planned by the Ukrainian Defence Ministry's military intelligence. All ten suspects remain in custody or have been imprisoned. 
Read more: Human sacrifices for the Kremlin's propaganda machine: meet the "Crimean saboteurs"
Yevhen Panov, a 39-year old driver at the Zaporizhzhia nuclear power plant in Ukraine, is one of the suspects in the 'Ukrainian saboteurs case' detained on 10 August 2016. Panov's brother, Igor Kotelyanets told EurasiaNet that:
"Panov was hit over the head by Russian officers when crossing the border into Crimea causing him to lose consciousness and then taken to a nearby trailer with a bag over his head, where he tortured for four days."
Panov told The Crimean Human Rights Group (CHRG) that he was hung up onto a metal structure by handcuffs, subjected to electric shocks and sexual abuse, and was burnt on his shins with a metal pipe. During this time, he was deprived of food and only given water. Panov claims that torture was used to extort a forced confession on video that he came to Crimea to commit acts of terrorism, to blow up houses, poison water and more on TV channel Russia-one. In February Panov was transferred from Moscow prison "Lefortovo" to a prison in Crimea where he remains.
"Every 2-3 months he goes to trial which results in the prolonging of his arrest, without any evidence to support the decision," Kotelyanets told EurasiaNet.
Ukrainian journalist Halya Coynash reported that torture was used to obtain televised confessions from three other suspects; Andriy Zakhtei, Ridvan Suleymanov and Volodymyr Prysich, all of which were also aired on Russia-one. 
Panov's lawyer Olga Dinze requested an audit of the investigation to be conducted after discovering signs of bodily harm on Panov.
"The Investigative Committee [took] all measures to ensure that this criminal case for torture was not initiated.
As part of the audit, a forensic medical examination with a person's examination was not carried out. In addition, the investigator, judging by the materials of the audit, did not even communicate with my client. Accordingly, he has not witnessed the bodily injuries my client has, those marks from burns that have remained," Dinze told CHRG.
CHRG have called the 'Ukrainian saboteur case' "a gross falsification [involving] illegal methods of investigation, torture and psychological abuse." A number of human rights organizations, including CHRG, Memorial, and Amnesty International declared all the accused in the 'Ukrainian Saboteur case" political prisoners due to the absence of evidence for the charges.
"My brother was targeted for the same reasons as the other 44 Ukrainian citizens who are currently being detained in Crimea – they were all vocally and actively pro-Ukrainian" said Kotelyanets. According to the LetMyPeopleGo campaign, at least 44 Ukrainian citizens are being held hostage by the Russian authorities in Crimea.
In August 2015, Panov set up an organization called "Defenders of Ukraine," which provides aid such as food, medicine, and vehicles for frontline and demobilized Ukrainian soldiers.
Another suspect in the Ukrainian case, Volodymyr Prysych, was sentenced to 3 years in prison in May after being found guilty of illegal acquisition, storage, transportation, manufacturing and processing of drugs. He was also accused of being an accomplice of "Ukrainian saboteurs" and of preparing acts of terrorism in Crimea. During the trial, Prysych seized by masked men in Sevastopol and taken to a building for 'interrogation.' He claims to have received electric shock after being given a question and warned to think carefully about his answer.
Prysych's brother, Viktor Prysych and lawyers said that FSB fabricated drugs charges after investigators were unable to prove the charge of 'espionage', under which he was arrested in early August 2016. Victor has submitted a 7-page appeal against the flagrant violations investigations but it has not yet been reviewed by legal authorities. In the meantime, Prysich must remain in prison.
Many activists consider the 'Ukrainian Saboteur' case part of an information war against Ukraine – to legitimize Russia's hold on Crimea in preparation for Putin's stance during the Normandy Negotiation Format. Ukrainian journalist Halya Coynash reinforces this, writing that the sole evidential basis for the FSB's claims that it foiled terrorist acts planned by the Ukrainian Defence Ministry last August is the abovementioned televised confessions.
Read also: "Crimean saboteurs" – latest victims of Kremlin's hostage strategy
Human rights activists and relatives of the political prisoners are urging the international community to place more pressure on Putin's regime to combat the human rights abuses in occupied Crimea. They write: resorting "dialogue" as the only means of pressuring Russia "is perceived solely as a sign of weakness of the EU and NATO."
Madeline Roache is a London-based freelance journalist focusing on human rights in the former Soviet Union. She recently completed a Masters in Russian Politics at University College London, where she researched the use psychiatry for political ends.
Related:
Tags: #LetMyPeopleGo, Crimea, Political prisoners, saboteurs, Sanctions, USA