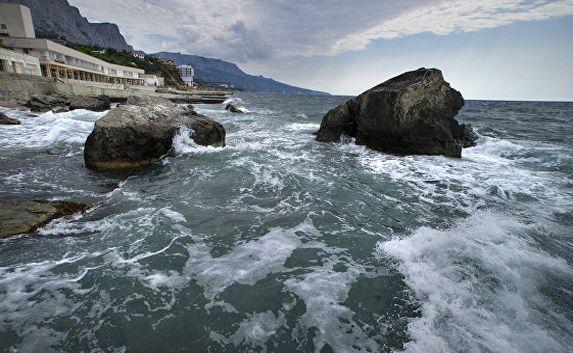 The black sea washes over the beaches of Sevastopol 
The Ukrainian law banning almost all trade with Russian-occupied Crimea is now in force. Activists began taking down their Crimean blockade checkpoints in December, and
according to the Crimean Tatar leader Lenur Islyamov
they have largely achieved their goal: "The government has finally heard us, and the directive it has adopted, one-legged and vague though it is, is generally consistent with the spirit in which we'd like to see it, and therefore we are removing all checkpoints." In a
recent interview
he said that activists would continue to work as observers on Ukrainian government checkpoints (presumably to police smuggling enabled by bribery.)
The Crimean Tatar activists have been speaking about conducting a maritime blockade for some time now. This would be very difficult, as the Russians have naval superiority in the Black Sea. Furthermore, the most crucial checkpoint for the Crimean peninsula is the Kerch Strait, which separates Crimea from Russia. This area will probably be closely watched and heavily fortified by the Russians, making any attempts to cut power cables or interfere with ferry traffic etc. very difficult if not impossible. However, a more limited operation only off the west coast of Ukraine may cause a great deal of trouble for Crimea's Russian occupiers and some corrupt Ukrainian collaborators. 
According to a recent statement by Lenur Islyamov 
 there is some smuggling to Crimea run out of Odesa. Some boats leaving Odesa either transfer cargo at sea to a ship coming out of Crimea, or turn off their transponders, sprint to Sevastopol and unload their cargoes, and then continue on their way as if nothing happened. Maritime monitoring and interdiction of such activity in the waters off the west coast of Crimea would interfere with this kind of trafficking.
The Russians may already be preparing to block any activist activity at sea. First, there is the propaganda preparation. Russian propaganda has 
already called
 this potential blockade "terrorism" and they are sliding it into their larger false narrative of the Crimean Tatars as proxies of ISIS/Turkey. For example, see this 
Sputnik headline
: (Turkish President) "Erdogan Meets With Crimean Blockade Organizers: Naval Provocation Imminent?" Russian propagandists are particularly sensitive about the Kerch Strait. Russian commentator Ivan Konovalov said that any reaction to a Crimea blockade would be harsh, stating
in Sputnik news
: "if an action is carried out [in the Kerch Strait] bearing the signs of a terrorist attack, it will affect Russia's relations with Ukraine…If some deranged lunatics want to provoke a conflict between Russia and Ukraine, it will be in Kiev's interest not to allow this to happen. If Islyamov's declarations should scare anyone, it is Kiev."
As well as media preparations for countering a Crimea blockade, Russia may also be preparing for trouble in the physical world. Very shortly after the interview where Islyamov mentioned possibly interdicting illegal traffic from other Ukrainian ports bound for Sevastopol, the Russian government 
announced
 that new FSB "counter-terrorism 
headquarters
" in selected coastal towns to fight terrorism in "the territorial sea, the (maritime) exclusive economic zone, and on the continental shelf of the Russian Federation." One of these five new headquarters is located in occupied Crimea.
The other parts of the country where Russia will establish maritime anti-terror units are Dagestan which does have a problem with terrorism, Murmansk (in Russia's far northwest, near Norway) Sakhalin, and Petropavlovsk (in Russia's far east.) Of all these locations, only Dagestan can reasonably be said to have an actual terrorist threat (and not a maritime one at that.)
The Russians may have moved quickly to put naval "anti-terror" forces in Crimea to ward off any activist blockade. A little over a week after the announcement of the new FSB "counter-terrorism headquarters" in Crimea a few sharp-eyed observers
noticed a new Russian naval special forces base in Crimea. 
 The arrival of a BK-16 high-speed patrol boat was what caught the attention of folks watching social media. The commentator H I Sutton noted that the small base has been in use since at least May 2014, and his article has commercial satellite imagery with what are probably rigid inflatable boats. The BK-16 may be a recent addition.
An FSB "anti-terrorism" operation around Crimea would be a way for Russia to combat any Crimean blockade without using its navy and therefore keeping the whole thing as a "counter terrorism" operation short of war. Of course, this would continue to be wrapped up in the larger Russian narrative of Crimean Tatar activists as terrorists. The volume and the vociferousness with which Russian propaganda is warning about consequences and the very public manner that a "Maritime counter-terrorism headquarters" was established may be a hint that the Russians are trying to scare off the Ukrainian government from permitting this activity. Alternatively, an ongoing "counter-terrorism" operation by the Russians in the Black Sea could be expanded to
interfere with legitimate traffic in and out of Ukraine.
Tags: blockade, Crimea, Crimean Tatars, Russia's Anschluss of Crimea