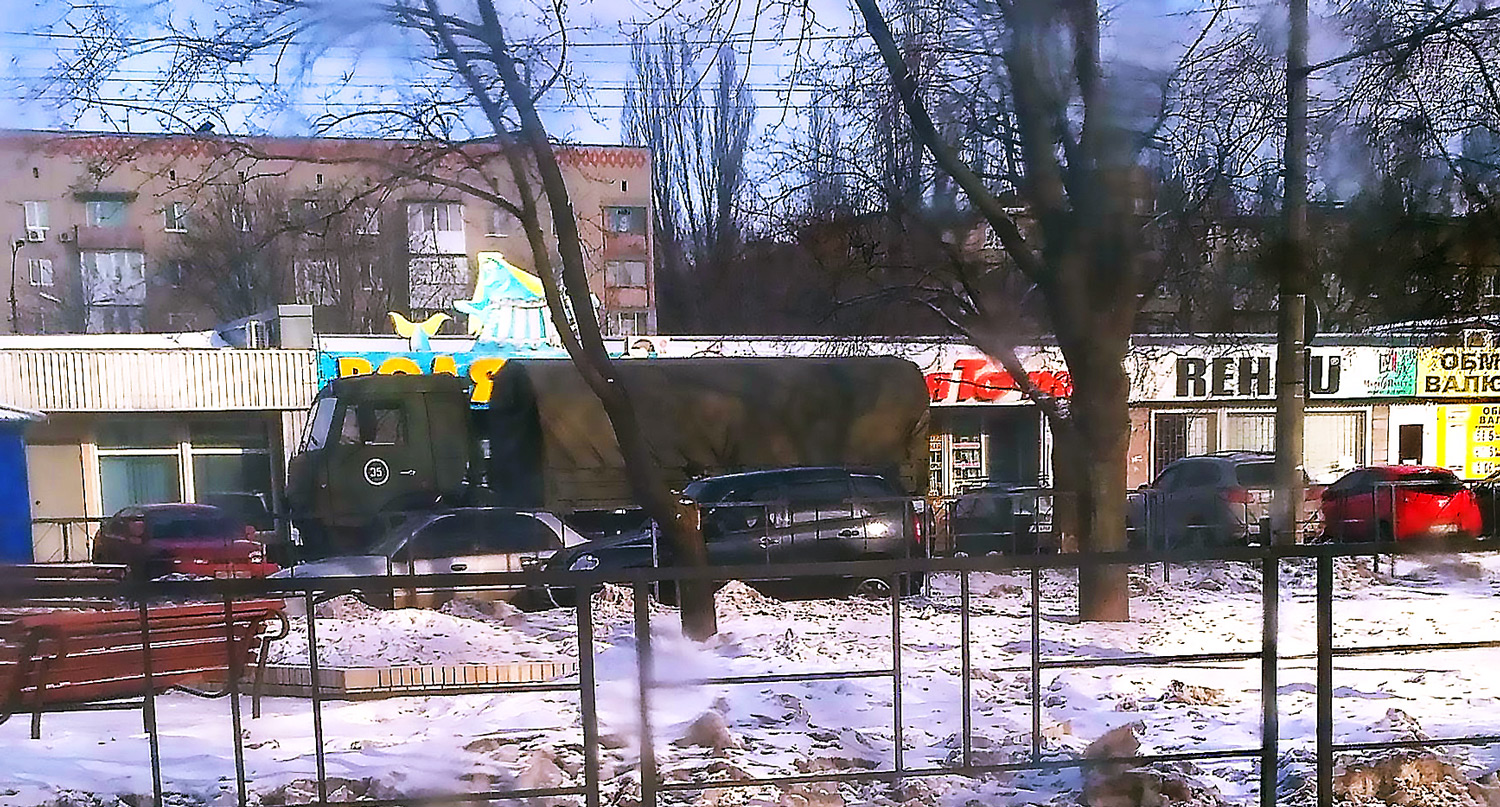 KamAZ-5350 military truck, tactical sign 35 in circle on the door, in Donetsk on February 13. 2017
Credit: twitter.com/huyoviynovoros 
In this series, we are teaming up with the tireless social media activist who goes by English Luhansk on twitter to produce open source updates about the military situation in Donbas. We analyze reports from Donbas local twitter accounts and translate it into a comprehensive overview of what's going on on the ground. 
Yesterday's digest can be found here: Donbas Report: relatively quiet day, 2 soldiers wounded, PM Groysman against blockade 
February 13 was another relatively quiet day in the Donbas according to reports by residents of the frontline cities. No reports on military activity in Luhansk Oblast, only one report from Mariupol area, single reports came from Donetsk city and its vicinity.
The only morning report (all time EET, GMT+2):
09:50 Donetsk Machinery plant: Sporadic close single [booms are heard] from the north
Low military activity afternoon:
12:24 Makiivka: a Russian combat-ready self-propelled gun at a cemetery near Lisovyi settlement, Ural trucks arrive and depart all the time
15:01 Horlivka: I can hear shooting
15:17 Donetsk Kirovskyi district: Allegedly, it has boomed
16:06 Horlivka: Over all day I heard nothing but small arms fire. Quiet here
19:57 Donetsk: More intense traffic of Russian Ural, Kamaz trucks today compared to yesterday. Boxes, bales etc in bodies. In all directions
22:10 Yasynuvata: Hospodar–Kruta_Balka make themselves felt. A couple of booms, then sporadic [assault rifles'] bursts
22:14 Avdiivka: Quiet
The only report from Mariupol:
22:00 Mariupol Vostochnyi: They boom a bit [far in the east]
One unconfirmed report on heavy equipment by Russian-backed forces being pulled back from Yenakiyeve towards Shakhtarsk, a rear town east of Donetsk 35 km away from the front:
22:14 Khrestivka (formerly Kirovske): "DNR equipment moves towards Shakhtarsk, being pulled back from the front. Tanks are roaring for about 15 minutes"
A short bombardment from 22:30 to 22:45 accompanied by the rattle of machine-gun and assault-rifle fire:
22:33 Makiivka: Well-heard bursts of large calibre machine guns in Mineralne direction
22:37 Donetsk: Ka-booms started
22:42 Donetsk: [Booms are heard] allegedly from Avdiivka's Promzone area, more like north [than northwest of Donetsk]
22:43 Donetsk Proletarskyi district: Rare soft booms here since 22:30
22:43 Makiivka center: Skirmish is heard from the north
22:38 Donetsk: Sounds of war started to come from the northwest. Heavy machine guns and light artillery
22:49 Donetsk: Intense small arms' fire somewhere in the north, and a tank seems to shell a bit
22:40 Makiivka Daki: small arms' fire is heard
22:44 Donetsk Durna Balka: One can hear [the sounds of] war. They started with small arms, switched to heavier ones
The harassing fire followed the short period of activity:
23:36 Makiivka: It booms by bit
A government-controlled town of Marinka southwest of Donetsk, usually restless, had a quiet day on February 13:
Feb13 Marinka Ukrainian positions: [Over the day there were only some instances of] small arms' fire and a couple of RPG shots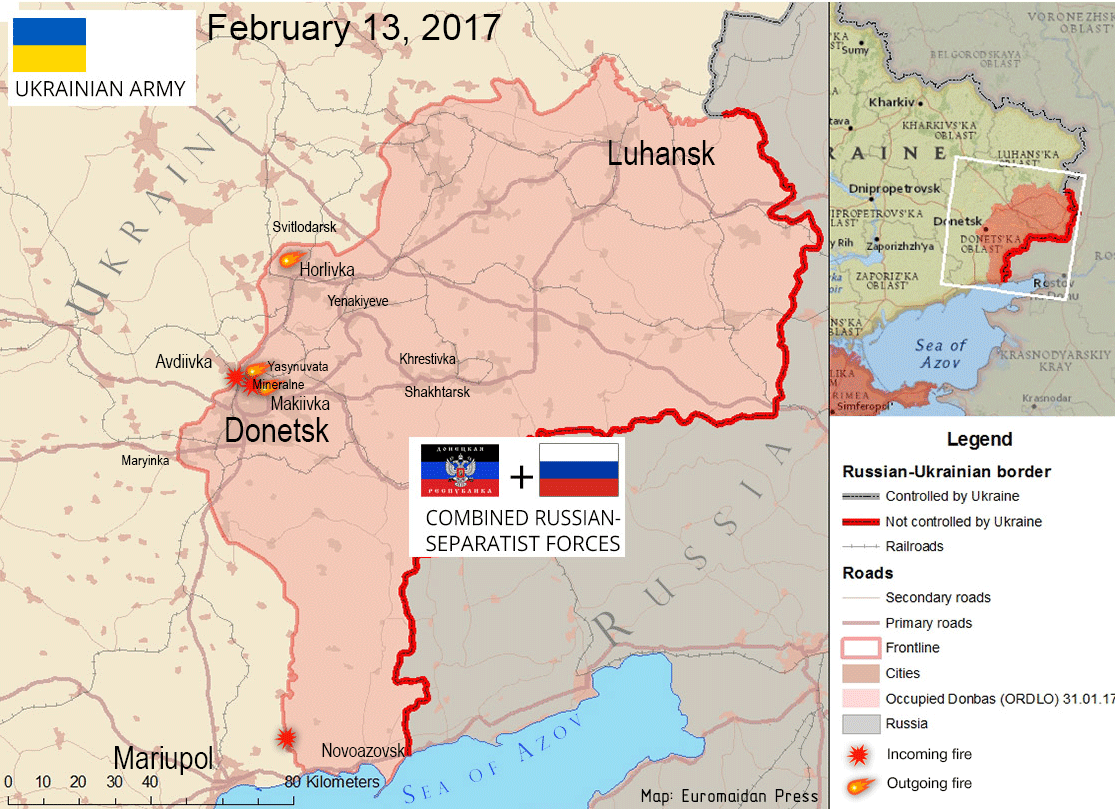 One Ukrainian serviceman wounded on February 12
On February 12 the Anti-Terrorist Operation (ATO) Headquarters recorded 67 attacks on Ukrainian positions in the Donbas. The Ukrainian Armed Forces incurred no fatalities, but one serviceman was wounded in action in Avdiivka.
ATO HQ spokesman Col. Oleksandr Motuzyanyk said at a briefing:
Luhansk sector: 4 enemy attacks with small arms and grenade launchers were recorded in Popasna area.

Mariupol sector: enemy opened fire against Ukrainian Armed Forces' positions along the entire front line, occasionally using heavy weapons. Over the previous day, 42 enemy attacks, including 5 with mortars, occurred in the Mariupol sector
The largest number of cease-fire violations occurred in Krasnohorivka, Novotroitske, Hnutove, Vodyane

Donetsk sector: enemy focused its fire on our positions near Avdiivka. Fights here lasted intermittently for about 8 hours.
Over the previous day, 21 enemy cease-fire violations, including 6 – with mortars, occurred in the Donetsk sector. Militants violated the cease-fire near Svitlodarsk, Horlivka, Donetsk airport.
No heavy weapons were used for attacks according to the official report. This may be the reason why the residents of Mariupol and the cities in Luhansk Oblast reported nothing unusual yesterday.
Trade blockade of Donbas ongoing
The civil blockade of the railroads in the Donbas continues since February 25, campaigners believe the blockade can cut off the funding to LDNR ("Luhansk and Donetsk People's Republics"), and that the war can be stopped in this way.
Images of trainloads of coal at Horlivka station have been published on February 13. Allegedly, the trains cannot leave occupied Horlivka:
Meanwhile, the station in occupied Yenakiyeve is "almost empty":
@gipsogolovij в Енакиево практически пусто: состав щебня и кокса, остальное забито порожняком, с ЕМЗ нет ни вагона.

— Madam Larsson (@solnecnijday) February 13, 2017
Translation: "[The station] is almost empty in Yenakiyeve: one train-load of crushed stones and coke, the rest [of the tracks] are swamped with empties, there is not a single coach from the EMZ [Yenakiyeve Metallurgy plant]".
Military equipment in Donetsk
Aerial reconnaissance of Dnipro-1, a Special Task Patrol Police regiment, published a video revealing more than 100 pieces of Russian military equipment in west Donetsk:

A Donetsk resident posted an image of a military truck on February 13:
Стоял на Калининском рынке в 10.40м. Вокруг него терлись орки. Тз 35 в круге pic.twitter.com/GGCcMI5NVE

— Хуевый новорос (@huyoviynovoros) February 13, 2017
The comment reads: "It was parked at Kalininskyi market at 09:40 EET. Orcs [militants] hung around it. Tactical sign: 35 in a circle".
Russian writer becomes mercenary in Donbas
Russian nationalist writer Zakhar Prilepin has openly joined the Russian collaborative forces in the occupied parts of Donbas and says his ultimate goal is to march on the Ukrainian capital Kyiv.
RU #chauvinist author #Prilepin takes weapons and goes to #war with #Ukraine. "For us, it's not ab #Donetsk. It's ab the whole Ukraine". pic.twitter.com/MLYDOoRFbo

— olexander scherba (@olex_scherba) February 13, 2017
Read more: Russian nationalist writer fights in Donbas to seize Kyiv
Tags: Blockade, Donbas war (2014-present), Donetsk, Luhansk, Mariupol, News, Russo-Ukrainian War (2014-present)