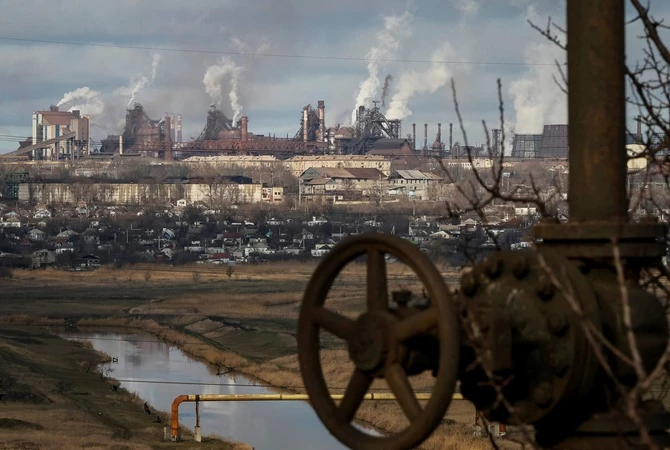 Donbas industrial landscape. Photo:kp.ua 
On March 1, the enterprises operating under Ukrainian jurisdiction in the occupied territories were seized by so-called authorities of Donbas "republics". According to terrorist leader Zakharchenko, Ukrainian-jurisdiction enterprises have been "nationalized" because of the transport blockade in the region. Akhmetov's SCM Group, managing most of the seized companies, sees re-registering and paying taxes to LDNR unacceptable. Poroshenko calls for new sanctions.
On February 27, Alexander Zakharchenko and Igor Plotnitsky, terrorist leaders of the uncontrolled territories in the Donbas, delivered an ultimatum, demanding Ukraine to stop the civil trade blockade of the Donbas, threatening to take control of the companies under Ukrainian jurisdiction operating in the occupied territories:
"We are forced to announce that if by 00:00 on Wednesday (1 March 2017) the blockade is not removed, we will introduce external management on all companies in Ukraine's jurisdiction that operate in the DPR and LPR… We will restructure all production processes and direct them at the Russian market and other countries."
Blockade activists hoped neither more nor less than to stop the war with their blockade. Zakharchenko took a step further ahead of his counterparts in his dreams:
"The count starts now. Every day is a nail driven in the coffin lid of a country which used to call itself Ukraine. A maximum of 60 days and the state will practically cease to exist." (translation by The Interpreter) 
What was stolen in Luhansk?
So-called "Council of ministers of LNR" issued a decree, imposing temporary administrations at "non-resident enterprises and institutions". Only three coal enterprises, owned by Ukrainian tycoon Rinat Akmetov, are listed in the document's appendix:
Metinvest's Krasnodonvuhillia – five mines, two enrichment factories
DTEK's Rovenkyantratsyt – six mines and three enrichment factories
DTEK's Sverdlovantratsyt – five mines and three enrichment factories
For some reason, the list does not include two more major enterprises situated in the occupied part of Luhansk Oblast, Alchevsk Metallurgical Plant and Alchevsk Coking Plant belonging to the Industrial Union of Donbas (ISD), owned by another oligarch Serhiy Taruta, ex-governor of the Donetsk Oblast.
What was stolen in Donetsk?
A parallel document was issued in Donetsk, however, the list mentioned in the document's body is absent from the decree.
The Security Service of Ukraine (SBU) tapped and published a phone conversation of allegedly Zakharchenko with a Russian citizen, the tape proves that Russian handlers are planning to transfer the majority of the most attractive Ukrainian economic assets located in the occupied territory of Donetsk Oblast to the structures of the oligarch Serhiy Kurchenko, who fled to Russia.
Among other matters, a voice alleged to be that of Aleksandr Zakharchenko discloses a possible reason why no list has been appended to the Donetsk decree, he says, 16 enterprises are counted in the list, but they "cannot cope with" 5 of them, i.e. the list may be not final yet.
On March 1, Zakharchenko has mentioned "about 40 enterprises" with "external administration introduced at almost all of them, with few exceptions", but the list has still not been published.
The first confirmed seizure took place on February 28 and it was not an industrial company. The Akhmetov's charity foundation has released a statement, saying Donbas Arena stadium has been seized by gunmen:
Armed people blocked distribution center at Donbas Arena and issuing points of Rinat Akhmetov Humanitarian Center in temporarily non-government-controlled areas. The Humanitarian Center has no reliable information about th e reasons for such action. The premises, equipment and all humanitarian aid are blocked, and the Center's volunteers have no access to them.
#Donetsk: Illumination on at "just stolen" #DonbasArena at 23:00, was off since occupation started https://t.co/8eyEWj0Sfl #vodka

— English Lugansk (@loogunda) February 28, 2017
Akhmetov spox confirms DNR gunmen seized control of Donbas Arena, have it & all Akhmetov aid distribution points around Donetsk locked down.

— Christopher Miller (@ChristopherJM) March 1, 2017
On February 28 and March 1, multiple reports by residents of the occupied cities emerged on social networks, some of them mentioned ongoing "nationalization":
February 28
10:45 Donetsk: Head of Donbas Arena has been taken away by armed thugs. Personnel was dispersed and prohibited them even approach the stadium today within a shot range.
[~11:00] Donetsk: DMZ [=Donetsk metallurgical plant] is shut up by armed people, all entrances-exits are blocked
11:11 Donetsk: DTEK office on Shevchenka Blvd: armed orcs emerged since yesterday
11:44 Komsomolske: "External administration" came to Komsomolske Ore Mining Administration. They gathered all  heads of workshops, holding a working meeting
[~12:00] "DNR MP": Ukrtelecom and about half score more Ukraine-jurisdiction enterprises are "alles kaputt" [= German for "everything's broken"]
12:12 Donetsk: DMZ [=Donetsk metallurgical plant] has fully stopped operating, chimneys don't smoke, and I doubt we won't hear the buzzers  soon
12:20 Donetsk: 2 assault-riflemen at the entrance of DTEK office, you can enter, probably to prevent bringing anything out. Shredders are working in full swing on floors.
12:23 Donetsk:  All in all, "nationalizers" came to the offices of all Akhmetov's enterprises in Donetsk – DTEK, Luks, Donbas Arena
13:23 Makiivka: Makiivka coke plants [=Yasynivka Cokery Plant and Makiivka Coke And Chemical Plant]: the same [as in Donetsk], but without riflemen. A boy came and said, "Hello, I am your temporary administration"
14:48 Donetsk: DTEK personnel is at home with 2/3 of salary, waiting for something. Is it an Akhmetov's bluff?
14:48 Rovenki: Akhmetov's DTEK employees in ORDLO have been cut from the corporative network and software

March 1
12:02 Yenakiieve: EMZ [=Yenakiieve Iron and Steel Works] too
[17:00] Horlivka Stirol: In general, it went quiet, without armed men. A woman came and declared herself a curator, her team to come later
Rinat Akhmetov Humanitarian Center's office in #Donetsk, "We're not working" @relictDon pic.twitter.com/TSzyYQCE3l

— English Lugansk (@loogunda) March 1, 2017
16:33 #Donetsk @levzeja "Mask show" [=spetsnaz] also was at Ukrtelecom today…

— English Lugansk (@loogunda) March 1, 2017
Official positions
At the meeting with Secretary of State for Foreign Affairs of Great Britain Boris Johnson and Minister of Foreign Affairs of the Republic of Poland Witold Waszczykowski on March 1, President Petro Poroshenko called for the introduction of sanctions against individuals who illegally appropriate Ukrainian assets: "To apply sanctions for the violation of international and Ukrainian legislation against those who will enter into the so-called possession of confiscated assets".
"Russia de facto confiscated Ukrainian state and private assets located in the occupied territory. This is yet more evidence of Russian occupation of eastern Ukraine," Poroshenko said.
Russian presidential spokesman Dmitry Peskov endorsed stealing assets explaining that Kremlin puppet "states" have to "survive somehow":
"We are witnesses to a situation where regions rejected by their own state have found themselves in a still worse position amid tight blockade by the extremists. For this reason, one can understand to a certain extent the latest actions taken by the leaders of these regions, rejected by the state. There are the lives of several million people at stake. These people will have to survive somehow".
Ukrainian Justice Minister Pavlo Petrenko promises to sue Russia for the loss of assets:
"We understand that Moscow rules authorities in the DNR/LNR. Their statements spell out the stance of official Moscow, as an aggressor country, regarding some or other actions. We will place all these facts in our international lawsuits and this will be a subject of international court judgments."
On March 2, Akhmetov's SCM Group has released a statement on current developments, noting that they refuse to pay taxes to the "LDNR":
SCM Group has always been working only within the laws of Ukraine, including our businesses in the NGCA (non-government controlled areas in Donetsk and Luhansk oblasts). No pressure can make us change the jurisdiction of our assets.
The statement summarizes, "We believe that private property is sovereign, and the demands of re-registration of our companies and payment of taxes to self-proclaimed DNR and LNR are unacceptable."
Tags: Akhmetov, Blockade, Donbas war (2014-present), Donetsk, News, Russo-Ukrainian War (2014-present), Taruta, Ukrainian economy