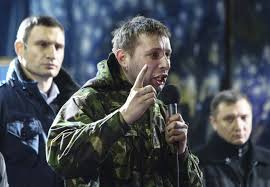 Well, well, Mr. Akhmetov, your end is not far off. Do you think that you will continue to reign over Donbas and use people for your own purposes. I'd like to tell you quite frankly that this is never going to happen again. Ukraine is not your private resource centre. Our land has brought you wealth, and it will take all its riches back.
What was before will never be again, and the billions you stole will not save you. And, moreover, you have sent dozens of people to death in your factories.
The scenario for your future is very simple: after our victory in the East, the people will seek you out. They won't be those hateful Banderivtsi from the West. They will be ordinary Donbas miners and workers, and they will take what belongs to them. Then, Mr. Akhmetov, you will have to answer in full for everything that you have done – oppressing, robbing and fooling these simple people.
There's no need for you to make loud statements about how much you love Ukraine and that we should negotiate with the separatists. We all know what it means to you. Because our troops are near Donetsk and they will not fail to see where the terrorists are hiding, whether they be in your factory or in five-star hotels.
My advice to you: either you don the uniform of the DPR (Donetsk People's Republic-Ed.) and show your sincere support of the enemy (after all, every Ukrainian knows whose side you're on), or get the hell out and stop financing Putin's trash that continues to kill the bravest and best sons of our nation.
translated by Christine Chraibi
Source: https://w ww.facebook.com/ParaVozzik/posts/672515779482863?fref=nf