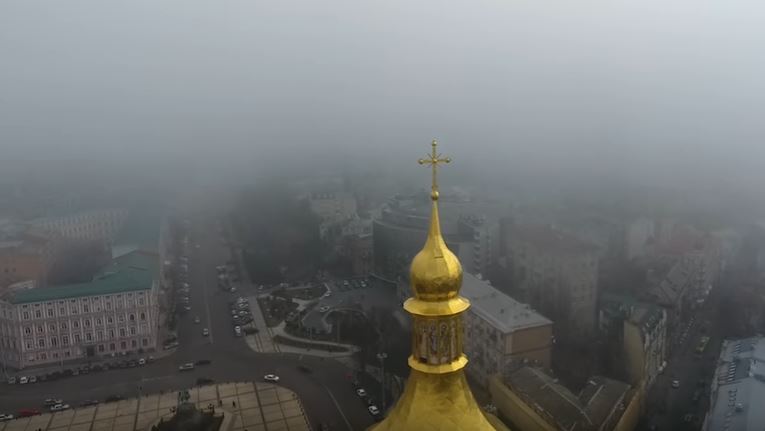 Kyiv under smog on 9 March 2017. Shapshot from video 
During 8-10 March 2017, Ukraine's capital Kyiv was once again enveloped in smog. A thick fog blanketing the city mixed with air pollution particles to create a toxic substance which made breathing a challenge and dropped the visibility to zero meters, according to Ukrainian synoptic Nataliya Didenko.
The word "smog" is a combination of "smoke" and "fog" and originally referred to the air pollution in mid 19th century London, where coal-caused smogs were nicknamed "pea-soupers." Coal is one of the factors behind Kyiv's smog also, as a significant part of Kyiv's energy needs are covered by coal-combusting power stations with outdated filtration facilities. But the traffic situation is the main culprit – 87% of the pollution emissions in Kyiv come from traffic, 92% of which are private cars, according to a policy brief by the National Ecology Center of the Ukraine (NECU).
These factors make Kyiv the 4th most polluted city in Europe,
according
to the 2016 Europe pollution index.
Like the last time smog occurred in Kyiv, on 17 January, the Kyiv city administration assured the city residents that the smokescreen they were inhaling is a result of still weather and temperature inversions. Indeed, temperature inversions are the reason why atmospheric pollution can't dissipate into higher layers of the atmosphere and accumulates at the ground. But they don't explain why the pollution levels are so high in the first place. According to Kyiv's National Ecological Center of Ukraine, it is the high pollution from traffic and the energy sector that is behind Kyiv's smogs.
City residents were also unsympathetic to the official explanation, complaining in social media that breathing is nearly impossible.
Apart from creating visibility problems, smog is a real problem for the health of residents of the city and is dangerous for people with chronic diseases. Air pollution is one of the main reasons for premature mortality. According to the World Health Organization, 1 in 9 of total global deaths are attributable to air pollution.
Currently, Kyiv is facing the same problem that various western cities had encountered over the 20th century: more people on cars. It seems that Kyiv's city authorities are determined to not learn from the mistakes of others: Kyiv's General Development Plan envisions increasing the amount of car usage from 213 to 450 people per 1,000 – more than Hong Kong (59 per 1,000), New York (209), Moscow (297), Berlin (317), and San Paolo (368).
De-facto, this is a course towards the increasing automobilization of the city, while other major cities are solving the problem by limiting traffic in the city center (Paris) and yet others, like Oslo, are going car-free altogether.
The terrible transport planning and its inaccessibility for people with limited mobility make most Kyivans dream of owning a car to shield themselves from the otherwise hostile city environment. The result is traffic jams which inundate the city on a daily basis. And smog.
The only way to improve Kyiv's air quality is to implement a consistent transport and energy policy, urban experts say. Last August 2016, when Kyiv was yet again enveloped in smog, environmental activists managed to attract enough attention to the problem to hold a roundtable with the city administration's transport department. Serhiy Mayzel, Kyiv's director of transport infrastructure department, then announced that city is developing a sustainable mobility plan.
Seven months later, these plans remain only plans, Andrii Klymchuk, NECU's coordinator of the campaign for sustainable city transport, told Euromaidan Press. There is no strategy to decrease the number of cars. The cycling conception has still not been adopted, and neither has the city's Development Strategy-2025, which has a progressive transport section with the potential to start at least some changes.
After the collapse of a major bridge in Kyiv, a number of Kyiv's urban and environmental organizations on 1 March wrote an open letter to the city's mayor Vitaliy Klitschko, in which they stated that Kyivavtodor, the city's road maintenance company, is "still building a Soviet, aggressive city, silently and stubbornly, ignoring the public demand of Kyivans for a barrier-free city which would be accessible to all citizens, and only pretending to be in dialogue with NGOs."
Demanding personnel changes in the city administration, the signatories warned that Kyiv's ongoing transport policies have brought the city to the brink of losing its chance to one day become a livable city.
Given that the city administration has shrugged off the smog episodes of January-March 2017, that was never an objective for Klitschko's administration in the first place. Meanwhile, Kyiv residents attempt to find consolation in mystical videos showcasing Kyiv's new best friend – its smog.
Tags: Ecology, environment, Kyiv, News