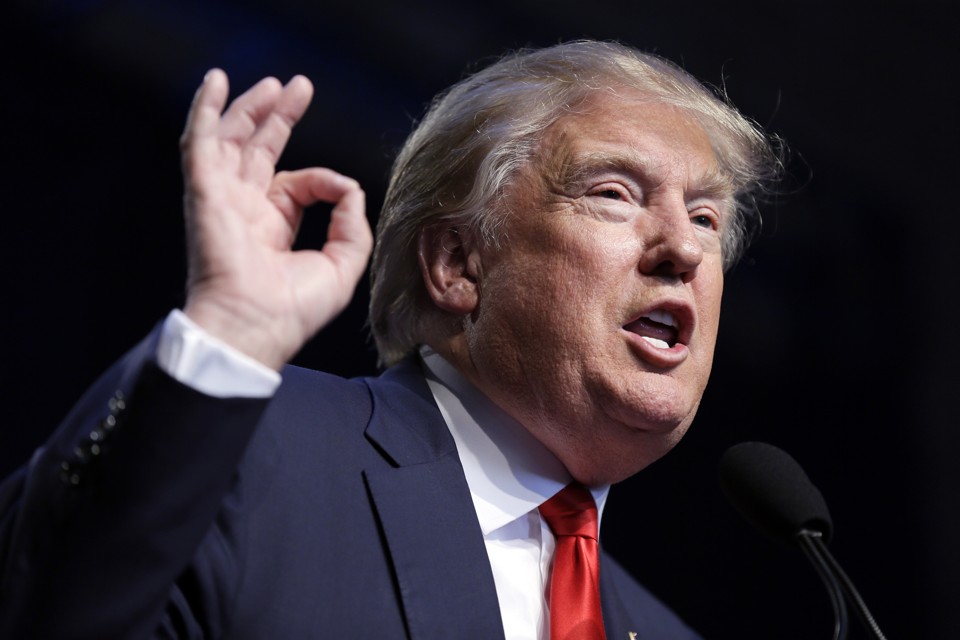 American society is about to be tested as never before
The new American president has just taken office, but the world is already fearful as never before. In fact, Donald Trump, even before taking office, has already done a lot of harm to the country and the world, the consequences of which we may not yet fully realize.
First of all, we should note the extreme division in the American society. Trump's constant attacks, first against representatives of various minority groups, and then against the free press and the USA's own intelligence services, as well as against those of his critics who have great prestige in American society, prevented the newly elected president from improving his low standing among his opponents. Americans are not used to living under the constant pressure of insults and threats, so each such escapade of the future head of the White House invariably gave rise to his opposition in the information space.
When Trump in a Christmas tweet called his opponents enemies, it was shocking: never before has a president, even a president-elect, allowed himself to use such language against his fellow citizens.
And that's against the backdrop of glorifying the real geopolitical enemies of his country.
As a result, in just a few months – since Trump became the official presidential nominee of the Republican Party – the basic values of American society became blurred. Such values as respect for the individual, human rights, dignity, reputation, freedom, international law and justice were badly shaken. Trump's fans with frightening fanaticism do not pay any attention to his blatant lies, constantly conflicting statements, irresponsible promises, incompetence and frightening aggressiveness. In general, Americans had the opportunity to fully experience the era of post-truth – when, as described by the compilers of the Oxford dictionary, the objective facts are less important for the formation of public opinion than an appeal to the emotions and personal beliefs.
As has happened in Russia, truth in the US began to lose its significance. Everyone prefers to believe in a comfortable reality, calling anything contrary to it "opposition propaganda," and do not bother to check the facts and outrageous statements.
Against this background, Trump always has an advantage over his critics, since his claims are not limited by any standards of decency and objectivity, while his critics are still trying to follow the rules and ethical canons. But when they, too, are in violation of the standards, like it happened with the publication of a 35-page unverified dossier, it once again undermines faith in the intrinsic value of truth, turning concerns over US national security into a political game and the war over compromising materials.
In addition to his own lies, Donald Trump helped popularize Russian propaganda in the Americans society, including the part that directly concerns the Russian-Ukrainian war. His constant admiration of Vladimir Putin has led to Putin's sharply higher ratings specifically in the past year, according to sociological data, among members of the Republican party (and many ordinary Americans are official members of one of the political parties).
According to the graph, the rise in popularity of the Russian leader was observed in the period from July to November 2016 and further, that is, just when Trump was actively promoting his "friend Vladimir."
Huge damage was also done to the US intelligence community, particularly the CIA.
The open support of Vladimir Putin, uncritical citing of his claims, defending and praising him in conjunction with the brazen mockery of the findings of our own intelligence; comparison of US intelligence with the secret police of Nazi Germany has been regarded by many American experts as a direct threat to national security.
America under President Trump is no longer an ally of the free world, it is an ally of dictators
Meanwhile, Russia, even without waiting for the Trump's presidency, but obviously counting on it has already begun
destabilizing the Balkans
, which could threaten a new war in the region. Moscow's behavior also became much more aggressive in the ex-USSR region, in particular with regard to Belarus.
In this case we are talking not only about international security and the protection of the United States "on external borders," i.e. its intelligence. America really is losing allies abroad – those who believed in its values, and to whom they were important. Residents of the former Soviet Union, too familiar with such evil as the cult of unscrupulousness, lies and brute force combined with the humiliation of opponents, unmistakably identified similar trends in the United States. "America under President Trump is no longer an ally of the free world, it is an ally of dictators," told me in Russian politician Vladimir Milov an interview .
It is no less difficult to explain to the thinking Americans why their country is now better than Russia. I have heard more than once here in the US that of the two evils, that is, Trump and Putin, Putin is at least more restrained, smarter and more cunning than Trump. In fact, the Russian leader favorably compares to his US counterparts in that his behavior is more subtle, he is not prone to tantrums, his lying is more professional and he has at least some "charm of the KGB." And this is not something that you can say about the new leader of the US, whose type of brutality inevitably pushes away the intelligentsia.
There is also danger in the personal example of Donald Trump and his entourage. For example, recently we received an official confirmation of the information that General Michael Flynn, who is a national security adviser to Trump, was in constant contact with the Russian ambassador to the United States in recent weeks. In this case, inevitably there are people wondering why, if the president can bow before the Russian leader in the period of maximum confrontation between the two countries, and his assistants are constantly in the Russian embassy, can't they do the same?
In short, the formula "Putin looks more like a winner than Trump" (a statement with which it is difficult to argue) equally affects both the supporters of the US President-elect and his opponents. This certainly creates some risks, not only in foreign policy but also inside the US.
However, even with all the existing perils and the already clear negative aspects of Trump's presidency, skeptics and fans of "betting on the winner" need to be reminded that America is still not Russia, and there are significant differences:
Such institutions as civil society and separation of powers have a long and successful history as part of the American system. Yes, at the moment they are at risk but don't think that they can be destroyed so easily. Even in Russia, where there was little democratic tradition, it took more than ten years to establish a rigid form of authoritarianism. In the US, the level of systemic opposition is higher, and ordinary citizens are willing to fight for their rights.
In addition to its institutions, the US system also has a high degree of inertia, and it still applies to both its foreign and domestic policy. Changes "at the top" are unlikely to reach ordinary citizens quickly – to the chagrin of everyone who would like to repeat the "feat" of Michael Flynn.
Trump is not immortal, and in addition to the choice between two evils in this world, positive values and people who abide by them still endure. Unfortunately, none of these people have been able to become a brilliant political leader thus far, but this does not mean that these leaders will not appear in the future. Publicist and analyst Lilia Shevtsova rightly noted "a crisis is always not only a manifestation of the disease but also the possibility of recovery," which means "there is hope for a new generation of elite capable of returning the western civilization to its ancestral principles."
In addition, any faith in any values and principles requires first and foremost loyalty – a quality that reveals itself not in victories, but precisely in defeats. Now we have entered a period where American society and the old Europe and the new European democracies are undergoing a tremendous test of strength. But do not give up just yet.
---
Related:
Tags: #TrumpNash (Trump Is Ours), Putin's kompromat on Trump, Russian agents of influence, Russian infiltration of US politics, Russian meddling, Trump, Trump-Putin deal, USA