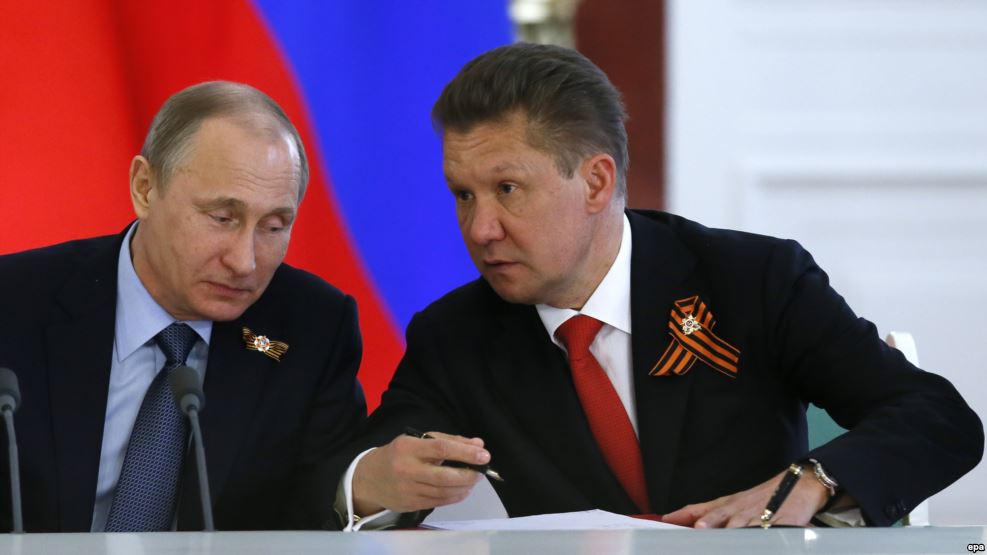 Gazprom Chairman Alexei Miller once again is threatening European consumers with problems in  the supply of Russian gas. Miller, as usual, finds that those responsible for possible problems are in Kyiv. According to Miller, Naftogaz of Ukraine has not stockpiled enough crude oil in underground reservoirs. Ukraine is no longer buying Russian gas, but in the event of severe cold weather, Ukraine would definitely need it and would begin to siphon the gas intended for Europeans illegally. And if this happened, he says, Gazprom would immediately cease to supply crude oil and would cause Europe to freeze once again, as had already happened during the famous crisis during the winter of 2008-2009.  At that time, Gazprom suspended gas supplies because it expected the Ukrainian authorities to agree to its terms. But instead of freezing Ukraine, as Kremlin had expected, it was the European countries that were frozen. The Ukrainian gas industry, for the first time, used the reverse flow of gas and saved the eastern regions of the country from freezing.
However, the winter of 2016-2017 differs from the winter of 2008-2009 in one significant way. Ukraine was completely dependent on Russian supplies then, and the situation was exclusively a "war of conditions"  — Kyiv had to agree on a formula for the continued supply of Russian gas. Incidentally, the contract that was concluded as a result of the 2008-2009 crisis is still in effect, but Ukraine is no longer buying gas from Russia. Now Ukraine can completely do without supplies from Gazprom. The Russian gas monopoly is competing with suppliers from European countries, and it turns out their gas is cheaper. This is why the main differences between Gazprom and Naftogaz have to do with changing the conditions of supply. Miller issued his warning after the two sides failed to sign the additional agreement that would have cancelled Russia's favorite principle of "take or pay" for Ukraine and also would have released Naftogaz from any responsibility for Gazprom supplies to Russian-occupied territories that had not been coordinated with Kyiv. Moldova's sad experience demonstrates the consequences of having responsibility for such supplies. Russia has been supplying the Russian-occupied Transnistria for decades. These supplies are never coordinated with Chisinau, but Moldova remains constantly indebted to Gazprom, even though it carefully pays for its own agreed gas supply.
Naturally, Gazprom does not like the Ukrainian proposals. To keep Ukraine on the hook over gas supplies for the Donbas is one of the assignments that Vladimir Putin has given to Alexei Miller. And now the head of Gazprom is trying to influence Ukraine through the Europeans. In other words, through European fears that the gas crisis may happen again. This means that Ukraine must agree to buy Russian gas on Gazprom's terms or else risk being disconnected for "unsanctioned removal."
It is unlikely that Miller will succeed in frightening the Ukrainians. But he definitely will succeed in forcing the Europeans to look for alternative sources of gas delivery. Miller has already been warned that his policy toward Ukraine — despite his politically engaging approach — is similar to the behavior of someone who has decided to kill the goose that lays the golden eggs. Because Ukraine — given its population, climate and the power consumption needs of its economy — was one of Gazprom's best clients. The Russian monopoly actually lost Ukraine, along with money for gas. However, it is forced to pay for transit and to spend billions on the construction of alternative pipelines.
In this situation, frightening the Europeans as well would not be the most sensible solution. But Miller has always been arrogant and has never thought about the consequences. In this he follows Putin's example.