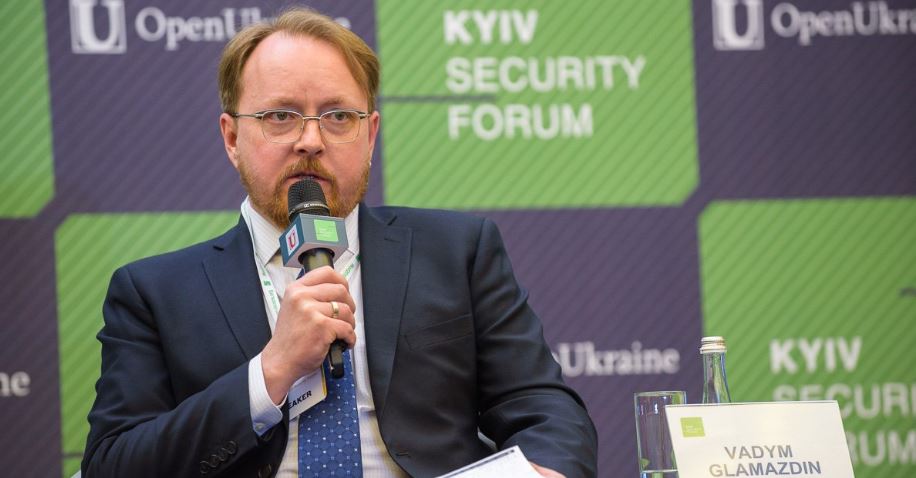 Vadym Glamazdin, Special Envoy on government relations, NJSC "Naftogaz of Ukraine". Photo: twitter.com/FundOpenUkraine 
Vadym Glamazdin, Special Envoy on government relations at Naftogaz, Ukraine's state gas provider, believes that as soon as Nordstream2 is built dooming Ukraine's status as a gas transit country, the EU will experience the full extent of Russian gas manipulations. Meanwhile, Andrius Kubilius, Member of Seimas of Lithuania and ex-Prime Minister of Lithuania, said that the construction of Nordstream 2 will make Putin consider he got a license to use large numbers of military forces for a military offensive in Ukraine. This was told during the 11th Kyiv Security Forum which took place during 12-13 April 2018 in the Ukrainian capital. Euromaidan Press offers a summary of what was said there speech.
Vadym Glamazdin: "I would like to refocus our discussion around Nordstream2 from its perception as a geopolitical project to its understanding as part of cooperation with the Russian Federation.
A lot has been said about the threats which it might bring to Ukraine and rest of Europe. But I will give you an example of what happened on 1 March 2018.
Ukraine has been a very reliable transit partner: it transports Russian gas to Europe via its gas transportation system. Because of this system, Putin can't advance further with his offensive. This way of transporting gas is extremely important to them, they cannot afford to lose it. There are also contracts between the Russian Federation and consumers in Europe, and a transit contract between Russia and Ukraine.
Actually, recently a dispute between Gazprom and Naftogaz was resolved in the Stockholm court of arbitration about this contract. The Ukrainian company got a positive outcome: Gazprom was to renew gas supplies to Ukraine on 1 March. Gazprom invoiced us for an advance payment and we paid it on 26 February. And on 1 March, 10 minutes before the contract had to be enforced, they said: "No, we don't want to supply you with our gas." They wanted to provoke a gas crisis in Ukraine, they hoped that given that it was -17°C, the consumption of gas rocketed and it was difficult to find a substitution for that gas, that we would start "stealing" gas.
We had the right to reduce the amount of gas that we transport, but we decided that we wouldn't do so, and showed our solidarity with European countries, deciding not to act to the detriment of European consumers. At our own expense, the expense of Ukrainian citizens, a campaign "turn down the gas" was launched. We survived, we lived through this crisis very effectively. Gazprom's plans didn't work.
Read more: Russia's March-2018 gas war attempt against Ukraine, explained
This is an illustration of how to do business with Russia.
Those who support Nordstream in the EU say it has nothing to do with international politics, it's just business. They will have a contract and it will be enforced. But we had such a contract with Russia and they didn't honor it.
What Russia does to Ukraine is violate every obligation that it has. Once it achieves its aims, not a single obligation or commitment will ever prevent Russia from doing the same with our EU partners.
Nordstream2 is a matter of political, physical, and energy security. Should it be constructed, it will mean that Russia will stop transiting its gas through Ukraine, which would have huge implications upon this country; this gas transportation system can't exist without gas filling it. It will be dysfunctional. This means that 30% of gas supplies to Europe will go through Germany. The major part of this 30% will go by pipelines at the bottom of the Baltic Sea, which lie very close to one another. Imagine something will happen to one of the pipelines. Now 110 bn cum per year goes via UA transportation system; if there is no alternative road, how will Europe get its gas? What if something happens in the winter time – it will affect not only Ukraine but the entire European continent and we won't be there to help, as we have been doing during the last several years.
The gas transit contract is very clear as to the pressure which has to be maintained at the entry point to our gas transport system; unless it is so, the risks of technological incidents grows. The risk of undersupply will grow.
Over 2017, Gazprom maintained only 40 days out of 365 the necessary pressure. They undersupplied the gas. But not on a single day did European consumers suffer, because the Ukrainian gas transport system compensated for this deficit. In 2018, the pressure in the pipeline was normal only on one day. Which means that Rusisa failed to fulfill their contractual obligations on a daily basis.
So when some EU companies say they know how to work with Russians, and that Russians will live up to their obligations, I say: no they won't. I want to tell them: look, they are torturing Ukraine now. Once they hit this target, you will become their next one. Unfortunately, nobody wants to look several days or kilometers ahead. We do live up to our obligations, we care about our physical security of the gas pipelines. We ensure not only our energy security but that of united Europe."
At the same panel, Andrius Kubilius remarked:
"Nordstream 2 is obviously a geopolitical strategy of Putin. If it will be implemented, Putin will consider he got a license to use large numbers of military forces for a military offensive.
Now, only the transit of Russian gas through Ukrainian pipelines prevents him from looking for new military adventures.
The idea of Nordstream2 came up to a high level. But the recent statements by Angela Merkel, that this is a geopolitical project and can't be implemented unless there are gas transit guarantees for Ukraine, puts a new question mark on the project
I hope that with American assistance, with their sanction policy, even with Putin's Novichok and gas attacks in Syria, Nordstream 2 can be killed as an idea. In Lithuania, we can help because we have experience of our own energy independence, we became independent from Gazprom when we built our LNG terminal. We can come out with EU solidarity towards Germans and teach them how to be less dependent on Gazprom."
Speaking about German Chancellor Angela Merkel's recent remarks that Nordstream 2 would be permissible only if Russia guaranteed that Ukraine would retain its transit role, Mr. Kubilius remarked:
"We had 100% dependency on Gazprom gas deliveries to Lithuania and no guarantees from Gazprom at all. They promised us good prices, then decided they need to punish us by raising the prices. We sued them in Stockholm arbitration court like Ukraine did. But when we built our LG terminal and when Gazprom understood they couldn't stop us, we faced a gas hybrid war. When we built it, Gazprom understood that they could sell gas to us only on free market conditions. Now they are behaving normally.
All other political conversations with them, asking for guarantees is nonsense."
Vadym Glazmadin concurred:
"I'd like to answer based on our previous experience with Gazprom when we had Russian guarantees in general terms. We had contracts, decisions with EU arbitration courts. We have all grounds to consider that the contractual terms will be observed. We even accepted prepayments. At the last moment they said: 'No, we don't want to do this.' We don't think that any other similar guarantee will be observed."
More from the forum:
And also:
Tags: Gazprom, KSF2018, Naftogaz, News, Nord Stream 2 gas pipeline