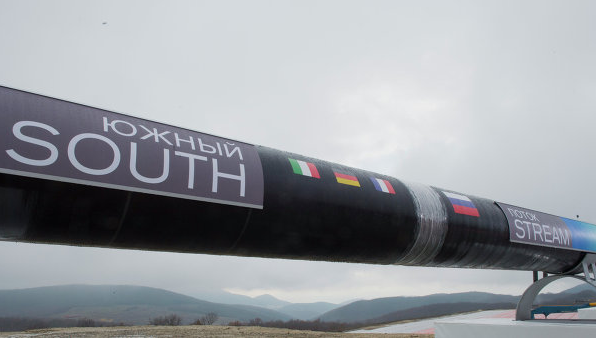 by Vitalii Usenko and Dmytro Usenko
It appears that work on the South Stream pipeline project will continue, reports ITAR-TASS. On April 29, 2014, South Stream Transport BV signed a contract for the construction of the second line of the offshore section (including the Crimean Black Sea shelf, currently occupied by Russia) of the South Stream project with Swiss company Allseas Group. The contract also foresees deepwater laying of the pipeline, so an additional contract was signed with Saipem, an Italian oil and gas contractor, to ensure construction. On the same day, Gazprom signed a memorandum on the construction of an onshore section of the South Stream in Austria, according to Alexei Miller, CEO of Gazprom. Additional agreements to build the onshore sections of the pipeline,have been signed agreement with Bulgaria, Serbia, Hungary, Greece, Slovenia, and Croatia.
This continuation of EU-Russian energy cooperation shows that despite a recent European Parliament (EP) resolution calling for the EU authorities to immediately impose sanctions on Russian energy companies operating in the European market, to stop the construction of the South Stream gas pipeline and to revise all agreements with Russia, EU companies view this resolution as merely a piece of paper.
Shareholders of the South Stream gas pipeline include Gazprom (Russia), 50%, Eni (Italy), 20%, and Wintershall (Germany) and the EdF (France) each with 15%. In an interview released to the Financial Times, Paolo Scaroni, CEO of Eni, said that the European Union is too dependent on natural gas imports from Russia to abandon them in the near future. Rainer Steele, CEO of Wintershall, echoed these sentiments saying that, "economic sanctions against Russia will not resolve crisis." Moreover,Bulgaria pledged to do its best to implement the South Stream project, mentioning that when these decisions are made, "the interests of European citizens, including Bulgarians, should come first."
This should come with little shock as in March, Sabine Berger, spokeswoman to European Commissioner for Energy Gunther Oettinger, stated that "the situation in Crimea has no impact on the talks between European Commission and Russian experts on the South Stream project," according toITAR-TASS. More recently, on April 24, ITAR-TASS reported that the EU Commission has not dicussed suspension of South Stream pipeline project, but plans to do so at an upcoming meeting in Brussels.
On March 4, 2014, ITAR-TASS reported that Gazprom is constructing this pipeline, which will stretch across the Black Sea – including the Crimean Black Sea shelf – to Southern and Central Europe, to diversify the supply lines of its "blue fuel" to Europe and to reduce dependence on Ukraine.
Written by: Dr. Vitalii Usenko, MD, MBA, expert of the Center of Military-Political Studies in the sphere of psychology of communications, and by Dmytro Usenko, student at Rotman School of Management, University of Toronto
Edited by Andriy Shymonyak
Tags: Crimea, EU, Featured, Gas, Gazprom, News, Russia, Russian gas, Sanctions against Russia