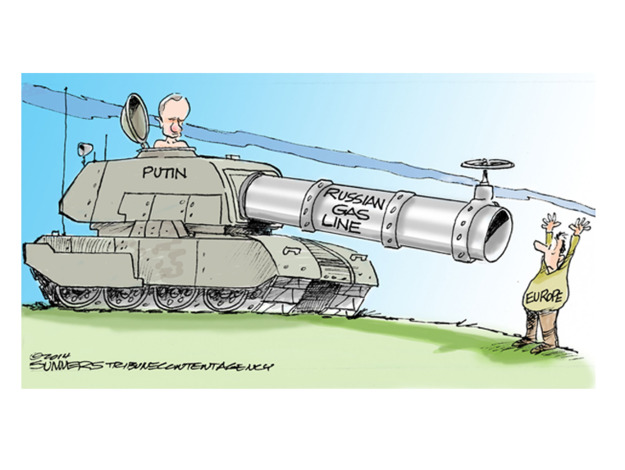 Russian gas line to Europe 
Gazprom has started a game with goals to deprive Ukraine from gas in its strategic reserves, disrupt gas supplies to the EU in January, and to revive the South Stream pipeline project.
Mykhailo Honchar, president of the Center "Strategy XXI" expressed this opinion in an interview with Ukrinform, while commenting on yesterday's report that the Russian "Gazprombank" (owned by Russian gas monopoly Gazprom) filed claims for 5.679 billion cubic meters of gas stored in underground gas reserves in Ukraine deposited there by Ostchem Holding, a company owned by Dmitry Firtash (a Ukrainian oligarch with close ties to Gazprom), as a collateral for $842.5 million in loans.
"According to official data from UkrTransGaz and considering the rate of gas utilization since the beginning of the heating season, Ukraine would get through the heating season still having left about 5 billion cubic meters of gas of minimum reserve in early April," – said the expert. He thinks this situation does not suit the Kremlin, which, while reducing the use of the military component of the hybrid war, has started to escalate economic pressure on Ukraine. One of the components of this pressure is increasing Ukraine's energy dependence on Russia via schemes involving the coal and electricity supply. The scheme for "gas suffocation" of Ukraine is just a part of this new strategy.
"By simulating a made-up corporate conflict between Gazprombank and Group DF (Dmitry Firtash's group of companies), Gazprom started the scheme to deprive Ukraine from a significant part of its gas reserves. As a result, we would run out of gas around late January – early February, right around the peak of winter's coldest weather. This simple scheme starts with a requirement from Gazprombank to Firtash to immediately pay the loan back. He, of course, will refuse, because supposedly he has no means to do it, but then there is this collateral – gas stored in Ukrainian underground gas reserve facilities, which must be transferred by Ukraine's Naftogaz to Gazprom," – said the expert.
According to Honchar, this will be a "pseudo-legal" attempt to deprive Ukraine from a part of its gas reserves during the coldest of winter weather. It is obvious that neither the Ukrainian government, nor Naftogaz would agree to transfer the gas at that time. Gazprom will immediately use this to accuse Kiev of "appropriation" or even "theft" of the gas. The purpose of this entire scheme is to demonstrate supposedly "illegal" actions of Ukraine to Europe and its unreliability as a partner in the gas supply chain to the EU.
"It is easy to imagine the following steps by Moscow," continues Honchar. "The Kremlin, while accusing Ukraine, offers EU countries to run its Nord Stream pipeline at its full capacity to compensate for a partially-closed transit through Ukraine and to renew the construction of the South Stream pipeline, which the Russians allegedly abandoned previously."
The expert reminded that Gazprom's German lobbyists have already started to sing the old tune about the need to negotiate with Russia on South Stream. It is noteworthy that even the German Chancellor Angela Merkel got dragged into this game and that she advised the Bulgarian Prime Minister Boyko Borisov to negotiate with Russia on this project. Moscow has increased its media campaign to promote the Kremlin's favorite thesis that Ukraine will siphon gas off, so Russia will be forced to suspend transit through Ukraine.
As was previously reported, Russia conducted a similar campaign during the gas conflict with Ukraine in 2009. The ongoing conditioning of Russian and international public opinion for the repeat of a gas blackmail scenario shows that Russia is serious about blocking European gas transit through Ukraine this winter. This can be not only a step to enforce the Russian energy domination of Ukraine, but also a great challenge to European countries and a test of effectiveness of the measures implemented by the European Union in the last several years to counter such gas blackmail by the Russian monopoly.
Tags: blackmail, EU, Featured, Firtash, Gas, Gazprom, Group DF, Naftogaz, Russia's confrontation with the West, Russia-EU relations, Russian geopolitical strategy, Russian military strategy, scheme