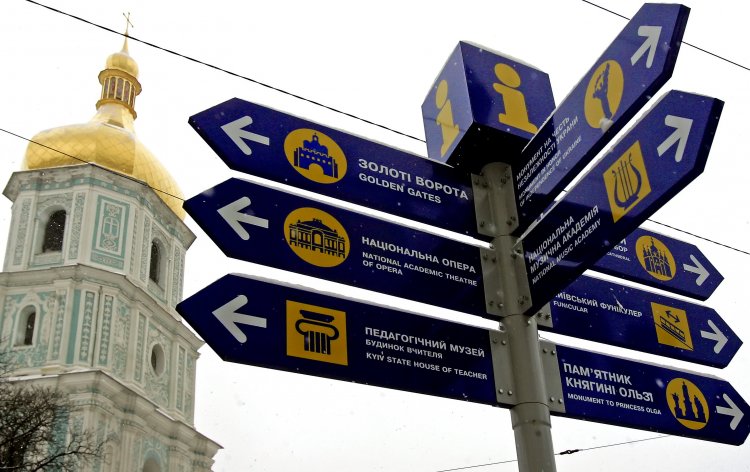 A new signpost in Kyiv, Ukraine installed in 2016. Similar Ukrainian-English language signs are finally replacing the common Russian-language signs, a remnant of Ukraine's three and half centuries-long status as a colony of the Russian monarchic empire that later transformed into a communist one. (Image: UNIAN) 
Kyiv's announcement that railway stations in Ukraine within three months will have signs in Ukrainian and English but not in Russian shows Ukrainian is becoming de facto and not just de jure language of Ukraine and that Ukrainians want to dispense with the Russian imperial past and become part of Europe, Volodymyr Viatrovych says.
In a commentary on the Apostrophe portal today, the director of Kyiv's Institute of National Remembrance says that Ukrainian is the only state language in Ukraine and that "there are no people in Ukraine who do not understand [it]."
As for the use of English, he continues, "this is testimony to the openness of Ukraine to the world because it is one of the main world languages" and is a way to make Ukrainian closer to Europe and to those of its residents "who do not understand Ukrainian."
And as for the dropping of Russian, this is part and parcel of the broader need Ukrainians feel for dispensing with "the Soviet-imperial heritage." Some people thought that doing this or renaming streets, cities and villages in Ukraine could lead "almost to a civil war, but nothing of the kind happened."
Viatrovych says that he is "certain that Ukrainians must give exclusively Ukrainian names to population points. There should not be any piety for Russian toponymy in Ukraine," although it is of course entirely possible to have place names draw from figures in Russian culture. But "their domination seems to me completely inappropriate."
"If someone very much likes Russian toponymy, Russian culture, Russian language, and Russian history, then it is obvious that for such people there is their own state – Russia." But Ukrainians have the right in their state to promote Ukrainian, not Russian. He adds that now there is "no chance" that Russian will ever be a state language of Ukraine.
The elimination of communist names from population points, cities and districts has now been "100 percent completed," he continues. The only thing remaining is to rename two oblasts: Kirovograd and Dnipropetrovsk. That is more complicated because they are mentioned in the constitution, but either amendments or a new constitution will open the way to change.
Street signs are also changing rapidly from Russian to Ukrainian, although it would be well, Viatrovych says, if this process were speeded up and not impeded by officials and others who say that the population will have to pay a special tax for that. Such claims are not true and must be dismissed.
---
Related:
Tags: de-communization, Decommunization in Ukraine, English language, Language, Language policy, Language politics, official state language, Russian language, Ukraine, Ukrainian language