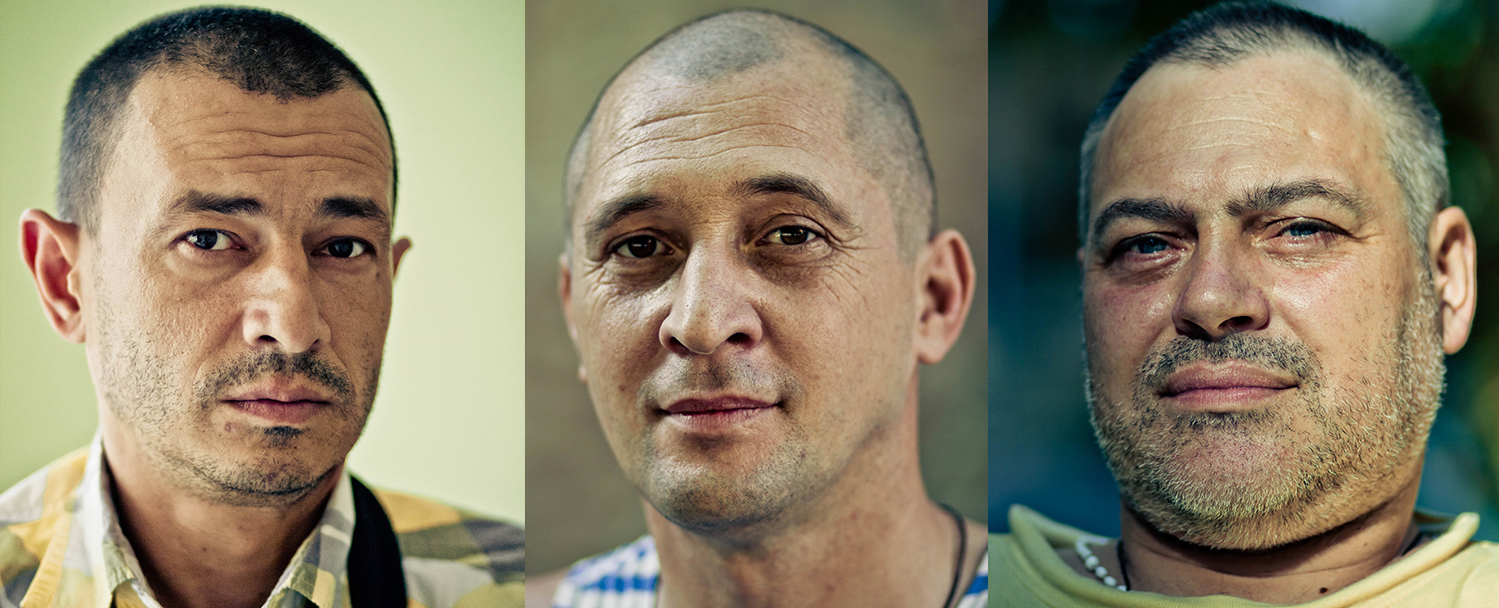 From left to right: Oleksandr Rosul, Anatoliy Lototsky, Oleksandr Bukharyev 
The war in Ukraine. "Little green men" (aka unmarked Russian soldiers) entered the Crimean peninsula at the end of February 2014. In spring of the same year, Russian troops moved into the Donbas, taking over the main administrations and setting up two puppet states – the "DNR" and "LNR". Despite political negotiations, agreements and truces, the war has not ceased and has penetrated the life of each Ukrainian. Western media have tired of reporting on these battles as daily combats are bland and boring, not spectacular… and this "hybrid conflict" is just too difficult to understand. The war in eastern Ukraine is entering its third year, men are dying, many are maimed or severely injured, others are traumatized for life. Here is but a small chapter of individual lives – soldiers and their personal hopes and fears: of death, of never seeing their family, of the camaraderie, despair – and evil – of war.
ANATOLIY LOTOTSKY 
Anatoliy Lototsky is a paratrooper and field engineer. He was born on March 12, 1973 and lives in the town of Lopatyn, Radekhiv District, Lviv Oblast. Before the war, Anatoliy was a fairly successful entrepreneur of a wood company exporting boards, planks and beams. He has a wife, Oksana and two children – Arsen (21) and Anhelina (13).
Anatoliy did not take part in the Maidan protests, but he feels that they were necessary. At the beginning, he was very hopeful about the winds of change, but became quickly disillusioned when the popular movement was subverted by three well-known politicians. In fact, Anatoliy bears no love or respect for Ukraine's current government, a particularly heated feeling and argument that kept resurfacing repeatedly during our conversation. However, his son managed to steal away from home and took part in the first riots of December 2013.
"As soon as Yanukovych left the country, I knew there'd be a conflict. Russia has never left Ukraine in peace and it was obvious that the Kremlin wouldn't let our country decide anything on its own. I went to war because I don't want to see these criminal elements taking over my country, nor do I want to see Russia controlling our destiny."
Anatoliy, aka "Aladdin", was mobilized during the sixth wave on June 4, 2015 and spent one month at the Yavoriv Training Ground.  He and seven other men volunteered to join an elite combat assault battalion that was posted at a permanent base camp near Donetsk Airport. Anatoliy was assigned to the checkpoint at Konstantynivka and then Zaytsevo (winter 2015), Donetsk Oblast.
Returning from a short leave in early spring 2016, Anatoliy was sent to Avdiyivka's industrial area, commonly referred to as "Promzona"… and what Anatoliy calls "a second airport". See photo report here
On May 29, 2016, Anatoliy was wounded by a grenade fired from an AGS-7 launcher (banned by Minsk Agreement) as shell fragments pierced his entire body – skull, neck, jaw, back, arms and legs. He wanted to remain fully conscious so he asked his comrades to douse him with water. He was immediately evacuated to Dnipro where he underwent two emergency operations, and then to Lviv Military Hospital on June 1 with four more surgeries. Thankfully, Anatoliy was not hit in the spine, but the tendons in one leg have been severed, which makes it difficult to bend it and walk properly. However, he is confident that he will be running about very soon. Some fragments remain in his body, a bitter and painful souvenir of the war.
"Yes, I'm anxious to get back on my feet, go back home and get used to ordinary civilian life. To tell you the truth… I'm a little scared! I'd like to see my family more, take care of them and get my company running again. I don't know how all this will end… no one does, actually. But, I know one thing – only force and powerful means will change things in our country!"
OLEKSANDR BUKHARYEV
Oleksandr Bukharyev (born October 29, 1971) is a cheerful burly man from Kyiv. Before the war, he ran a construction company specializing in window installations with some 20 employees. He is married and has two children, a daughter (10) and a son (24) who is currently stationed in Dnipro, but is often sent to the front lines.
Although Sasha did not take an active part in the Maidan protests, he and his friends went to help the students who were attacked and beaten by the police on that historic night of November 30, 2013.
"We helped the protesters and the children… what else was there to do, especially when you see young kids being cruelly beaten by government henchmen! Yanukovych had to go because he was destroying the middle class."  
Like most Ukrainians, Sasha sat and watched the horrors of war and occupation until he could not stand it anymore. The Military Medical Commission refused to take him because of his health and age, but Sasha insisted and kept pounding on their door. In February, 2015, he travelled to Poltava where he trained for one month, and on June 4, 2015 he was sent to Pokrovske (near Popasne in Luhansk Oblast), then on to Zolote and Troyitske. Member of the 15th Separate Battalion, he was in charge of communications and liaison.
"There were three things we feared most – snipers, mine fields, and Russian special operations teams."   
From November 26 to April 19, 2016 Sasha was stationed at Verkhnotoretske, Donetsk Oblast where the whole area and his unit was shelled heavily every night from 19:00 to 4:00. On the night of April 17, the unit was again shelled by an SPG antitank grenade launcher (banned by Minsk Agreement). Sasha fell to the ground, his legs were numb… fragments had pierced his lungs, chest and legs. He was immediately evacuated to Toretsk (first operation), then to Bakhmut (second operation) and finally to Kharkiv (two more operations). He was finally transported to Lviv Military Hospital on April 28, 2016 where he underwent two more operations-his ruptured spleen was removed.
"I'm still in a wheelchair, but I'll be on crutches soon and then back on my two feet. I need to get back to my family and my work. You know, I was there for some time… those people have a slave mentality and really don't care. They're the kind that will smile and shake your hand in the morning and stab you in the back in the evening. Well, not all of them, of course… but the majority, definitely. It's so tiring and depressing to just sit there in the trenches and listen to shells whistling all around you. We should fire back, fight all that scum, get them out!"
OLEKSANDR ROSUL
Oleksandr Rosul, born on September 4, 1974, hails from Mukachevo, Transcarpathia, near the Hungarian border. He used to be the manager of a small company dealing in doors, locks and bolts. His business, like many others, was raided and seized by Yanukovych's thugs. He has three children – one daughter (21) from a first marriage and two children aged three and nine from his second.
Oleksandr did not take part in the Maidan protests, but followed the events closely and firmly believed that things would change. Crimea and the war seemed far off from his home, but he eventually realized that it was also up to him – and others like him – to defend his country.  He went to war as a contractual soldier in April, 2016, spent one month and a half training at the Yavoriv Military Ground, and was dispatched to the front lines – to the Butivka coal mine in Avdiyivka's "Promzona".
"We were ordered to hold our positions about 70 metres from those Russian proxies! We could almost see their eyes! We'd greet each other, wave to them and then the heavy shelling would start…"
Oleksandr was wounded with seven of his comrades during a mortar attack on July 18, 2016 – it was a Vasiliok, an automatic 82 mm gun-mortar that can fire in single and automatic mode using four-round clips. His right hand was completely shattered as shell fragments pierced his entire body. He has had four operations in all – in Krasnoarmeysk, Dnipro and Lviv Military Hospital. Oleksandr is getting ready to go home where he will continue rehabilitation therapy.
"I can tell you one thing… I wasn't there long, but even in such a short time I only trusted my comrades-in-arms, and never the locals. They're brainwashed and know nothing but what they see and hear on Russian broadcasting media.  I think I'm lucky to live so close to a European country (Hungary) as I can see another world, another mentality, another lifestyle. My grandpa actually lived during the Austro-Hungarian Empire and he told us many stories about those times."

"Yes, I'm going home tomorrow and I hope that everything will be over soon, but my country is still at war. We have to push them back, clear them away from our land! I want my kids and grandkids to live in a normal free country. I went to war because I didn't want to hear my grandchild asking me where I'd been and what I'd been doing when Ukraine was at war!"  

 
All photos courtesy of Juan Mora. Juan Mora is a photographer and volunteer with Con Ucrania. He is currently based in Lviv. 
Tags: Donbas, Donbas war (2014-present), International, Russia, Russian proxies, Stories from the Front, Ukraine, Ukrainian Army