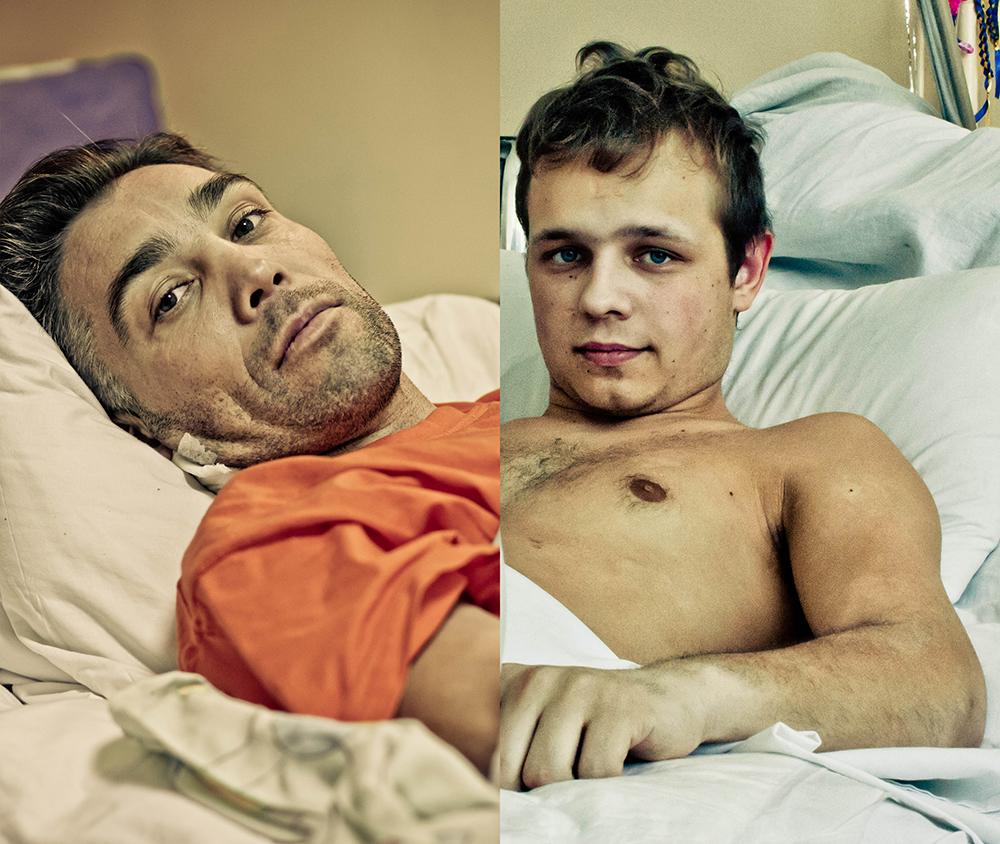 Serhiy Yushchenko (left), Yuriy Omeliukh (right) 
The war in Ukraine. "Little green men" (aka unmarked Russian soldiers) entered the Crimean peninsula at the end of February 2014. In spring of the same year, Russian troops moved into the Donbas, taking over the main administrations and setting up two puppet states – the "DNR" and "LNR". Despite political negotiations, agreements and truces, the war has not ceased and has penetrated the life of each Ukrainian. Western media have tired of reporting on these battles as daily combats are bland and boring, not spectacular… and this "hybrid conflict" is just too difficult to understand. The war in eastern Ukraine is entering its third year, men are dying, many are maimed or severely injured, others are traumatized for life. Here is but a small chapter of individual lives – soldiers and their personal hopes and fears: of death, of never seeing their family, of the camaraderie, despair – and evil – of war.
SERHIY YUSHCHENKO
Serhiy was born in the town of Uzdytsia, Sumska Oblast on November 8, 1975. Before the Revolution of Dignity and the war, he worked on construction in Kyiv as there was no chance of finding work in his area. Indeed, there was very little work in the nineties, a tough time for Ukraine that was just emerging from the many years of Soviet oppression. So, when Serhiy received his marching orders in 1994, he did not hesitate and went to do his duty. He continued to serve as a border guard in the army until 2005.
Serhiy took part in the Revolution of Dignity whenever he could, but by some stroke of fate he never made it to the Maidan on those "killer days" in February… he got stuck in traffic on the outskirts of Kyiv.
Serhiy was mobilized in March 2015 and underwent military training at the Desna Military Centre for one and a half months. He was then dispatched to Lysychansk with the 24th Separate Mechanical Brigade to hold the defense lines in Luhansk Oblast. It was there that he met Kateryna, and it was love at first sight. She's been with him ever since, never leaving his side, tending to his needs and fighting off inquisitive or invasive persons.
In November 2015, Serhiy was sent to the Yavoriv Military Training Centre where Ukrainian soldiers worked with Canadian paramedics.
"The Canadians were somewhat surprised by our combat readiness. I guess they were expecting a ragtag army, but by that time we'd gained fighting experience and some military skills. It wasn't at all rosy at the beginning of the war, and we survived thanks to volunteers. They provided us with everything! If not for them, our troops would've been wiped out to the very last man! Anyway, the Canadians had little knowledge of tripwire mechanisms and anti-personnel fragmentation mines as these devices have been banned by most countries. I believe both sides learnt a lot from one another."

(1997 Ottawa Treaty, although this treaty has not yet been accepted by a number of countries including the United States, Russia, China, Pakistan, and India-Ed.).
On May 8, 2016, Serhiy and six of his comrades set out on a reconnaissance mission near the village of Krymske. One man triggered a landmine which exploded, killing one soldier and injuring Serhiy and another. He was immediately transported, conscious and bleeding profusely) to Kharkiv Military Hospital where he underwent emergency surgery – fragments in the lungs, the hips, the back and the left side of the face, where doctors inserted a plate. Serhiy has had eight operations in all and still suffers from a contusion of the spinal column. However, he is optimistic as his spinal cord was not damaged, and firmly maintains that he will walk again.
"It will take a lot of time and effort, strong will and discipline, but we'll make it work!"
About the Russian invasion and the war:
"The worst time was in late summer 2014 when the Russians invaded the Donbas region. They placed tripwires and anti-personnel mines everywhere, even in playgrounds and near schools.

We didn't communicate much with the local population. They were very suspicious of us at first, but once we showed them we weren't alcoholics or drug addicts, they accepted our presence. You know… everything depends on the commanding officer and well-trained soldiers. We did a lot in these villages, cleaned up the mess and provided basic day-to-day needs. Army chaplains are also doing a lot, working with children and the local population.

Let me tell you about the OSCE… they're useless!  We witnessed Russian proxies withdrawing heavy artillery when everyone knew the OSCE guys were about to arrive… and then they moved everything right back!

What do I want? What all of us want – peace and return to normal life…But, we have to get them off our land first. The boys are sick and tired of just sitting there in those deep trenches, firing and waiting and being shelled. They're getting lazy, restless and depressed. It's wrong! We need to move forward and drive them away… and make sure they never come back!"
YURIY OMELIUKH
23-year-old blue-eyed Yuriy, fondly referred to as "Yurchyk" hails from the village of Lukiw, Volyn Oblast. Yuriy was enrolled in the local vocational school, an average student who would rather play football and listen to Led Zeppelin, the Rolling Stones or the Beatles rather than bury his nose in a book. There are three boys in the family.
On June 13, 2014, Yuriy and some friends travelled to the local recruitment station and signed up as they felt someone had to go:
"We can't just sit around and wait for them to come to our village. It was a normal decision for all of us."
They underwent one month of military training in Yavoriv and left for Volnovakha in October 2014. So, Yurchyk has been in active duty since the first months of the war. He was first stationed at a checkpoint for several months. He returned home on leave and then was reposted to a military garrison near his home in Lukiw.
On February 21, 2016, Yurchyk was on duty when he walked into the guardhouse, and saw a gun lying on the table, and a drunken lieutenant sitting half asleep on a chair.
"I simply asked him why that weapon was there, in full view, lying on the table. He grabbed the gun and shot me. Then he shouted: "What've I done!"… but what's that gonna change? That lieutenant was never a good man. We knew him well."
The lieutenant was from Luhansk, transferred to serve in the rear in Volyn when the war began. It is obvious that he was not fighting for his country and had chosen to run to a safer and more distant haven, while young boys like Yurchyk and his friends went east to meet the enemy… Yurchyk is bitter about this incident and says that it would be less painful and insulting if he had been wounded in battle or in the Donbas, and not at home… The case is currently under investigation.
Yurchyk suffered severe internal damage as the bullet ripped through his body – the liver, gallbladder rupture, damage to the duodenum, L2 vertebra and the spinal cord at that level. Severe lower paraparesis and blood in the peritoneal cavity.  The bullet was removed, but Yurko has no sensation in his left leg. But, the pain is worst of all… a pain that has been with him since that tragic incident. It sometimes hurts so much that he falls asleep only when totally exhausted! Pain killers do not help. Yurko writhes in pain, clasps his hands tightly and turns his face to the wall:
"It's a heavy hammering that never stops. It hurts even when you put your hand near my leg without touching it. I can feel it."
Sometimes the pain is so strong that Yurcyk's  body starts convulsing and the young boy cries out in pain.
Yurchyk is never alone. Someone from the family is always by his side. Last week, it was Sasha, his older brother. Today it's his father, Leonid, a simple man who is very proud of his son, but somewhat lost and frustrated in this world of suffering and pain. Yurchyk turns, a fleeting smile brightens his childish face:
"My greatest wish… to walk, run, and dance, like before."
War brings out the best and worst in men…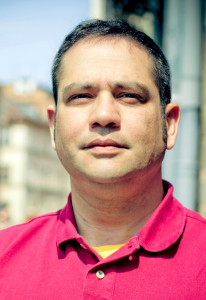 All photos courtesy of Juan Mora. Juan Mora is a photographer and volunteer with Con Ucrania. He is currently based in Lviv. 
Tags: Donbas war (2014-present), hopes and dreams, Stories from the Front, Ukraine, Ukrainian Army, Volunteers