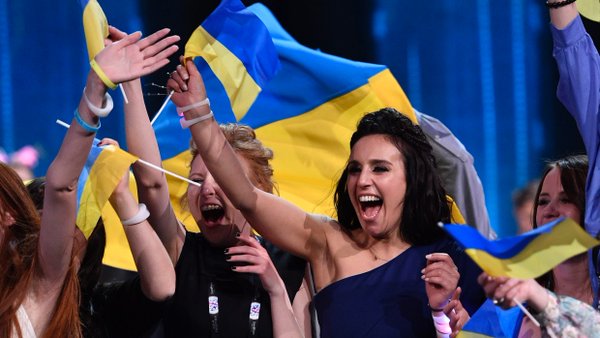 Jamala's win in Eurovision 2016 song festival brought a lot of joy, pride and happiness to people in all of Ukraine, but her victory was especially meaningful to residents of Russia-occupied Crimea where Jamala grew up and her family lives. Below are examples of their emotions and hopes collected from Twitter.
Please note that virtually all posts from Crimea are in the Russian language. Despite the claim by Kremlin propaganda that the Ukrainian state oppressed Russian speakers in Crimea, it was never true.
Эта песня о боли великого народа. Это песня о боли всех крымчан, у которых отобрали Родину. Победили здесь, победим везде. Сагъ ол, @jamala!

— Crimean (@hoholfcdk) May 14, 2016
The Twitter user "Crimean" wrote: "This [Jamala's song "1944"] is a song about the pain of a great people. This song is about the pain of all Crimeans who were robbed of their Motherland. We won here, we will win everywhere. Thank you, @Jamala!"
чок сагол, достлар! всем спасибо! это величайший день для Украины и крымскотатарской культуры. #Крым будет свободен!

— хуёвый Бахчисарай (@badBahchi) May 14, 2016
The user from Bakhchysarai, the ancient capital of Crimean Khanate, writes: "Thanks to everyone! This is the greatest day for Ukraine and Crimean Tatar culture. #Crimea will be free!"
Редкое зрелище на раша ТВ. Внизу, как голосовать крымчанам pic.twitter.com/flC118sZjE

— КРЫМский бандеровец (@CrimeaUA1) May 14, 2016
A tweet from the prominent Crimean blogger "КРЫМский бандеровец" ("CRIMEAn Banderite"): "[Referring to the Ukrainian flags] A rare view on Russian TV. Below is how for Crimeans to vote [for Eurovision winner, showing #21 for Jamala]."
Over 7 million Tweets were sent for tonight's #Eurovision smashing last year's record. Congratulations @Jamala! #UKR pic.twitter.com/ttvw7rXQou

— Eurovision (@Eurovision) May 14, 2016
Although this tweet did not come from Crimea, it made so many people in the peninsula happy and proud!!!
СПАСИБО ДЖАМАЛА! Слава Украине! Крым-Украина! Мы победим! pic.twitter.com/2FRSA7oZR6

— Хрущевый Инкерман (@fuckinginkerman) May 14, 2016
This Twitter user from Inkerman (a suburb of Sevastopol) says: "THANK YOU JAMALA! Glory to Ukraine! Crimea is Ukraine! We will win!"
Появилась надежда,на СКОРОЕ возвращение Крыма…Спасибо Джамала.

— Крымские Еноты. (@otvalitetrolli) May 14, 2016
Another Crimean Twitter user hidden under the handle translated from Russian as "Crimean Raccoons" wrote: "The hope of an IMMINENT return of Crimea has appeared… Thank you, Jamala."
ДжамалаНаша! pic.twitter.com/crcEZ9ASLT

— КРЫМский бандеровец (@CrimeaUA1) May 14, 2016
The next tweet from the Crimean Banderite says: "JamalaIsOurs!" in an ironic twist on the Russian propagandist hashtag "CrimeaIsOurs" used during Putin's Anschluss of Crimea.
https://t.co/M0gZYHlD7x pic.twitter.com/qjoLdFXUH6

— Ацтойный Севастополь (@fuckysebastopol) May 14, 2016
This tweet from another user in Sevastopol says: "The heart believed, but mind resisted! We won! Jamala is the best! Today is the Day of Commemoration of the Victims of Political Repressions, how full of symbolism! Glory to Jamala!! Glory to the Crimean Tatar people! Glory to Ukraine!"
))) pic.twitter.com/0Coah9LWoQ

— Крымская Хунта (@UASevas) May 15, 2016
The Crimean Twitter user under the ironic handle "Крымская хунта" ("Crimean Junta" – referring to Moscow propaganda's claim that the post-Euromaidan Ukrainian government being a junta and not a legal government) tweeted a no less-ironic picture of the Russian foreign minister Lavrov with a caption: "Sergey Lazarev [Russia's Eurovision entry] does not sing for us. He quit over a month ago," referring to Russia's practice to disown their soldiers when they are captured by Ukrainian forces.
Так проголосовали зрители в РФ
10 баллов знаете откуда?
Знаете
Из Украинского Крыма pic.twitter.com/gakZiRxe5Y

— RoksolanaToday&Крым (@KrimRt) May 14, 2016
The Crimean user "RoksolanaToday&Крым" pointed out that TV viewers from Russia also supported Jamala and attributes it to the residents of occupied Crimea: "This is how viewers in RF [Russian Federation] voted. 10 points comes from where, you know? You do. From Ukrainian Crimea."
Это лучшее из того, что могло случиться за последние два года. Сагъ олунъыз, Джамала! Дякую, Україно! Thank you, EU! #jamala Всех с победой!

— Zair Akadyrov (@zair_akadyrov) May 14, 2016
Zair Akadyrov writes: "This is the best of what could have happened in the past two years. Thank you, Jamala! Thank you, Ukraine! Thank you, EU! #Jamala Congratulations to everyone for the win!"
Джамала прославила Украину и Крым!!!

— Sevastopol_Vata (@Sevastopol_Vata) May 14, 2016
Another user from Sevastopol writes: "Jamala glorified Ukraine and Crimea!!!"
Не будет преувеличением предположить, что на победу Джамалы на Евровидении Кремль ответит новыми репрессиями в Крыму…

— Mark Feygin (@mark_feygin) May 14, 2016
Mark Feygin, a Russian lawyer who defended Ukrainian helicopter pilot Nadiya Savchenko against fabricated charges in Russian court and a person who knows the Russian system of oppression from close and personal experience, wrote some very somber words: "It will not be an overstatement to suggest that the Kremlin will respond to Jamala's win on Eurovision with new repressions in Crimea…"
Related:
Tags: Crimea, Crimean Tatars, Deportation, Eurovision Song Contest, Jamala, Russia's Anschluss of Crimea, Russia's occupation of Crimea, Ukraine national symbols