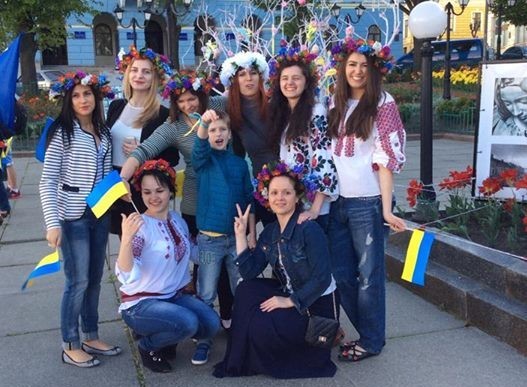 Volunteer Movement of Bukovyna 
It's ironic, but in the Ukrainian crisis President Putin managed to accomplish something that no Ukrainian president could. For the first time in its modern history, Ukraine is united. Ukraine is united in sorrow, united in hope, and united in a struggle against its oppressive neighbor. For 23 years, Ukraine's military was not only starved for modernization but outright neglected and systematically destroyed.  This realization only came when Russia annexed Crimea and then used terrorists and Russian regular troops to engulf Eastern Ukraine in a hybrid war. In the midst of profound economic and political turmoil in Ukraine, its citizens came to the rescue of their beloved country. Volunteer organizations sprung across Ukraine and carried the initial burden of Ukraine's new reality. This is a small story of one out of many Ukrainian volunteer organizations.
Kateryna Ponomariova from Chernivtsi is a founder of Volunteer Movement of Bukovyna. Together with her like-minded friends she founded this volunteer organization to provide vital assistance to refugees. From the very beginning of the Ukrainian conflict many Muslim families in Crimea felt it is dangerous to stay in their historical homeland under the new Russian rule. Raids on Crimean Tatar schools and places of worship forced many to evacuate.
The Volunteer Movement of Bukovyna and entire Chernivtsi community welcomed refugees with open arms. Homes which were ready to take incoming families were found. Food, clothing, transportation, and other necessary items were provided. Volunteers assisted newly arrived refugees in filing for social benefits, and in finding new employment. The purpose was not only to save people from Russian oppression in Crimea, but to assist them in assimilating in the region. With heartfelt warmth, kindness, and care provided by volunteers the success stories emerged. The family of Crimean Tatar Anver Kadyrov opened a new restaurant, and gave the citizens of Chernivtsi a taste of Crimean cuisine.
This was a way for Anver to give something back to the community that welcomed his family. Completely on the opposite of what Russian propaganda claims, it does not matter what language you speak or what God you worship; here everyone is Ukrainian.
After Russian expansion of the conflict to Eastern Ukraine many refugees from the war-torn regions looked for escape to Chernivtsi. The scope of the volunteer's involvement increased tenfold.  The generous people of Chernivtsi poured into Volunteer Movement of Bukovyna office and donated various items ranging from food, clothing and money. Additionally, volunteers organized a variety of fundraising and charity events selling hand-made items.
Collected proceeds were used to provide vital assistance to refugees. Right now, over three hundred children and their families found new home in Chernivtsi and three new Ukrainians were born. The volunteers are helping new mothers and providing diapers, baby clothing, bathtubs and other much needed necessities.
Currently, the mission of Volunteer Movement of Bukovyna is divided between helping refugees and providing supplies and equipment to Ukrainian Armed Forces. Volunteers made numerous trips to hot zones: delivering food, water, military equipment and children's drawings from home. Soldiers consider these drawings as good luck omens and always happy to receive them.
Volunteer Movement of Bukovyna and the entire Chernivtsi community symbolizes the Ukrainian unbreakable spirit and limitless kindness!
Tags: Chernivtsi, Crimea, Crimean Tatars, Volunteers