Antonina Yankova learned that her son was gay when he was 19 years old. She was shocked, frightened and miserable. But now, almost 13 years later, she is actively fighting to protect the rights of the Ukrainian LGBT community.
"My son and I are very close now." says the 64-year-old woman with tears appear in her eyes "I don't want to be constantly afraid… afraid that he'll go somewhere and get beaten up. This could happen in Ukraine."
Antonina Yankova is a member of a parent-oriented association called Tergo, the first and only organization registered in Ukraine, which helps parents of LGBT persons and LGBT members who have no support from their families.
Her path from homophobia to LGBT activism was long and difficult.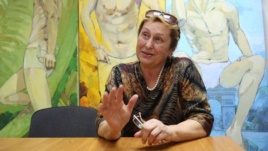 "When my son started bringing his friend to our house, and he stayed the night, I began to get nervous. I behaved badly. I was brought up to hate such people. I thought they were trying to be trendy or act older. I didn't like it. I insulted them…".
Antonina's husband died not long before she realized that their son was gay, so she was left all alone with her fears and worries.
"I was already aware what was going on. You know what I feared most? What people would say… It was such a shock. You don't know what to do; you can't share this with anyone. You start getting angry because you think you're guilty, it's all your fault."
Years of sleepless nights and depression finally drove Antonina to listen to her son and attend Tergo meetings. She says the first three days of training radically changed her life.
"I thought this was a perversion. But, they explained things to us, how and why it happens; it's all because of your genes; it's not so terrible after all."
Antonina has been a member of Tergo for nearly three years. She no longer worries what people will say about her son.
"I see that my son is much better person than many heterosexual men I know. He has a job, he's polite, cultured, educated, intelligent, and full of initiative. He keeps his nose clean!"
Maryna Didenko, a psychologist who works with Tergo, says that Antonina's example is not unique. Most parents like to imagine their children's future and automatically picture them as heterosexuals.
"When a young men or women "come out", parents suddenly realize that their dreams have fallen apart. They are frightened and in shock. They are afraid they'll be left with no grandchildren. They are afraid of what others will say."
Parents often feel guilty and think that they could have done something, or perhaps should not have done something in order to prevent their child from becoming gay.
"When they come to our training sessions, they realize that these are only stereotypes that have nothing to do with reality."
More than 100 parents have taken part in events and training sessions organized by Tergo, and more than 60 have become active members.
Anna Medko, one of the founders of Tergo says that the idea to create this association appeared nearly three years ago. Her daughter, who then worked as a psychologist in the public organization Gay Alliance invited her to a meeting with lesbians.
"During the coffee break, I was struck by a young girl with bandaged wrists. A suicide attempt. Her parents didn't accept her. They told her it would be better for everyone if she died!"
Anna was shocked and outraged. She had lost her first child, and the doctors told her she could never have children.
"I wanted children so much. I was so happy when Nastia was born. It wouldn't have mattered if she'd been a lesbian."
Her daughter is heterosexual, but Anna took in her daughter's gay friend. She says the boy's parents turned away from him when they learned of his homosexuality, and her daughter invited him to stay with them. They have been a family for over seven years.
"So then I started think how I could help children and parents in such situations, how I could create a secure environment where people would find support if there's none at home, and where parents who refuse to accept their LGBT children could get help."
Anna Medko says that not only do mother come to Tergo meetings, but also fathers, grandparents, and brothers and sisters.
"Tergo is the only organization of its kind in the post-Soviet countries. People from all over Ukraine, Belarus and Kazakhstan come to see us."
During the training sessions, parents get answers to questions that concern them, talk to each other, and to a psychologist.
Maryna Didenko states that it is very important for them to see that they are not alone.
"It was very difficult for our first mothers. They needed more time to accept their children. It's easier now because they see a lot of positive support around them. They share experiences. They laugh. They're no longer alone."
Maryna believes that Ukrainian society is still rather conservative, but there have been noticeable changes and some improvement. In early March, the Tergo association and the Ministry of Education of Ukraine organized training courses for teachers and instructors of biology and health education, as well as for school psychologists.
"They were ready to listen and discuss this new information. People are usually afraid of what they don't know. Previously, it was not acceptable to talk about such things."
Antonina Yankova is proud of being a member of Tergo. She participates in lectures, conferences, and helps with planning. She also organizes action events in her native city of  Zaporizhzhia.
"This is my life now. I don't know how it would've ended if not for Tergo."
For more information about the LGBT movement in Ukraine, please see: https://www.lgbt.org.ua/en/
Editor's note: This article is part of a special project called "Tolerant Journalism" created by Kyiv Post and The Media Development Foundation, an associated non-profit organization. The project highlights the problems and challenges facing sexual, national and other minorities in Ukraine. The project was made possible with the support of the US Agency for International Development (USAID) and the NGO Internews. The above article does not necessarily reflect the views of USAID, the US government and Internews.
Related: