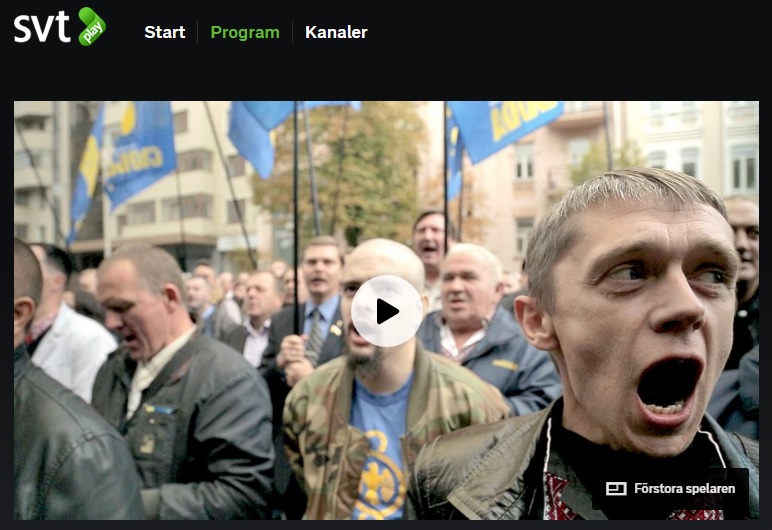 Trailer to Moreira's film on Swedish channel announcing airing on 1 May. Photo: Screenshot from svtplay.se 
Swedish national public TV is about to broadcast "Ukraine – the Masks of the Revolution", a controversial documentary by French director Paul Moreira that has already sparked fierce debates in Europe.
The airing is planned for 1 May at Sveriges Television dokumentär (STV), and the activists have already expressed their concerns.
The film portrays events of the Euromaidan Revolution in Ukraine. Before it was broadcast in France in February 2016, European journalists and activists protested, warning that the film distorted the image of revolutionary events in Ukraine and was biased. However, this didn't stop French Canal+ and "Masks of Revolution" was shown anyway.
Now Ukrainian organizations in Sweden and Norway are sending Sweden's public broadcaster the same message. "We deeply regret that SVT decided to air a documentary based on conspiracy theories, with the presented facts that are deceiving," an open letter to STV states.
The activists state that the documentary is very controversial and provides a distorted image of influence of the Right Sector and Azov battalion in Ukraine.
Ten non-governmental organizations, as well as up to two hundred activists mainly from Nordic countries have signed a letter demanding such a film to be presented accompanied by a discussion that will allow the critical voices to give their arguments.
Swedish journalist Stefan Olsson published an article on 15 April in one of the major Swedish dailies, Svenska Dagbladed criticizing Moreira's film airing. "There is a difference between an unobjective history, and the history based on false facts and fantasies. There is nothing wrong with alternative opinions, but even those need to be well substantiated, right?" he wrote.
Two days earlier Norvegian journalist and writer John Færseth wrote in Dagbladet, that "a fairy tale that was supposed to be spread by the Russian media is now expected to be on Swedish TV."
On 18 April SVT dokumentär editor Axel Arnö gave an interview announcind airing "Masks of Revolution" yet failed to react to an open letter spread by the activists and didn't mention organizing any debates around the film. He stated that the critics target the opinions and not facts themselves, thus, Arnö saw no reasons to not air the documentary.
Here is the full list of NGOs that have signed the letter:
Active Ukrainians in Europe
Maidan Norway
Ukrainska institutet i Sverige
Ukrainska Kulturcentrum i Skandinavien
Ukrainska Kvinnounionen i Skandinavien
 Ukrainska Sällskapet i Göteborg
Ukrainsk­-Svenska Kulturföreningen i Malmö
Unga Ukrainare i Sverige
VATRA ­ Ukrainian Association in Sweden
Östgruppen för demokrati och mänskliga rättigheter
Altogether, nearly 200 people have signed the letter and the gathering of signatures is ongoing.