On Thursday at around 1:30 PM local time there was a car bomb attack in
Novooleksiivka
, Kherson oblast, about 30 km north of the border with occupied Crimea. One person was killed, four were injured. According to an
 initial report
, the force of the blast was the equivalent of about 6.5kg of explosives, but the precise explosive used has not been determined.
Based on a video of the aftermath, the body of the car was crushed and charred and pieces of the car were scattered all over the street. According to one report, some parts were scattered as far as 200 meters away from the explosion.
The security services of Ukraine are not yet commenting on the incident, but the police have reportedly begun a criminal investigation under Article 258 of the Criminal Code of Ukraine which deals with an "act of terrorism."
"This is all Putin's methods…"
said Valentina Sechevaya
, the first Deputy Chairman of the Kherson regional administration. She state that this bombing qualified as a terrorist act and gave her opinion this attack and that the attack was directed against Crimean Tatars, who have a small community in the village. The head of the regional administration Andrei Putilov also made a statement about the attack,
saying
that this attack, and the Russian propaganda leading up to it are attempts to provoke ethnic hostility.
They are correct. Russia has engaged in a campaign to spread fear and lies in Kherson oblast since at least late December. In addition to a propaganda campaign that continues to insist that ethnic/religious conflict in the region is imminent, there has been terrorist activity. In February, there was a grenade attack on the local HQ of the Crimean Tatars. Last month the Ukrainian security services shut down a terrorist cell targeting Kherson that was reportedly prepared by Russia, coordinated by the Russian proxy "The Luhansk People's Republic" and was planning attacks on a prison and a mosque in Kherson Oblast.
As in Donetsk, Luhansk, and Kharkiv, the Russians are beginning to spread rumors of supposed local "resistance" fighters who could carry out attacks in order to mask Russia's hand. As of yet, no one has taken responsibility for this bombing, but Russian propaganda has been preparing a narrative that a local group calling itself simply "the Community of Kherson" is preparing to violently resist local Ukrainian security services, and particularly target Crimean Tatar activists located in Kherson. One Russian propaganda outlet has
already speculated
that this car bomb attack was a nearby cafe that is patronized by Crimean Tatars "whose community in  Novooleksiivka is one of the most numerous."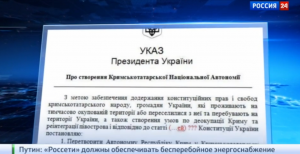 Russian propaganda has been actively spreading this and other disinformation about Kherson. Last week Russian propaganda featured a forged document that purports to be a draft Russian plan to turn Kherson Oblast into an autonomous area for Muslims, and flood it with Turks from Central Asia and Türkiye. The Majles representative for Kherson Ibrahim Suleimanov recently decried the amount of Russian fakes targeting Crimean Tatars in Kherson, and the tendency of some journalists to talk about Russian fakes without pointing to their purpose: to stir up ethnic tensions. "There is a kind of journalist who simultaneously raise the subject, except that he won't name it as "stirring up ethnic hatred."  ..For example, the (idea that the) Crimean Tatars will seize the Kherson region. This has appeared in separatists sources. It takes two or three days, and journalists quickly pick this subject and start posting about it with a different interpretation."
The West should take note of the overt attempts by Russian propaganda to create ethnic tension in Kherson Oblast and investigate these terrorist attacks, not to mention the other terrorist attacks last year in Kharkiv and Odesa. The Minsk agreements have been dead for a long time, but many Western diplomats continue to insist that they are the way forward. Are they still a way forward if Russia is toying with ethnic violence? So far, Russia's attempts in Kherson appear to have no effect. However, one should not become complacent. Russian propaganda and provocation could eventually have an effect, especially when combined with some other Russian-induced crisis in Ukraine.
If this kind of behavior is not promptly punished and if Ukraine is not speedily given assistance Russia will use its proxies to spread trouble through Ukraine even more.