American, Canadian, and British medics are back to Ukraine. Nine Western professionals are spending two weeks in Lviv State Prosthetic Facility teaching 15 Ukrainian prosthetists and reabilitologists. The project started in spring 2015 and seems to be just as relevant and needed as a year ago. 
Ukrainian prosthetists are quite skillful but lack experience with different kinds of orthopedic products and their completing parts, as well as in dealing with multiple gunshots and multiple limb loss, Antonina Kumka and Chad Nilson from Ukraine Prosthetic Assistance Project explain.
While some of Ukrainian war veterans receive treatment abroad, it is crucial to provide medical and rehabilitation assistance locally, Chad Nilson, Certified Prosthetist from Canada states. The amputee never knows what he or she will get abroad, as well as follow-up care will be a problem later. The prosthesis should be adapted the sooner the better, otherwise the person has to learn twice: first after amputation, then after prosthetics. Since prosthesis is a life-long solution, one needs to develop personal relationship with the doctor which is also easier to maintain in the home country.
That is why teaching specialists in Ukraine makes more sense than sending patients abroad, project participants argue. Antonina Kumka, Ukraine Prosthetic Assistance Project director points out, that ergotherapy and physiotherapy ensure 50% of success of functionality of the prosthesis. Yet, two years after the conflict in the Eastern Ukraine began, no program to teach them in Ukraine hasn't been established on a state level.
Canadian volunteer faces bureaucratic walls in Ukraine
Unlike many foreign volunteers, Nilson learned about Ukraine's Revolution a year after it happened, when he was already in Kyiv participating in the project. The trip to Ukraine was just one of his many foreign experiences.
Now he tells he became friends with Ukrainian patients and is willing to commit to a bigger project here. Yet, the bureaucracy on the state level leaves doubts on whether it would happen.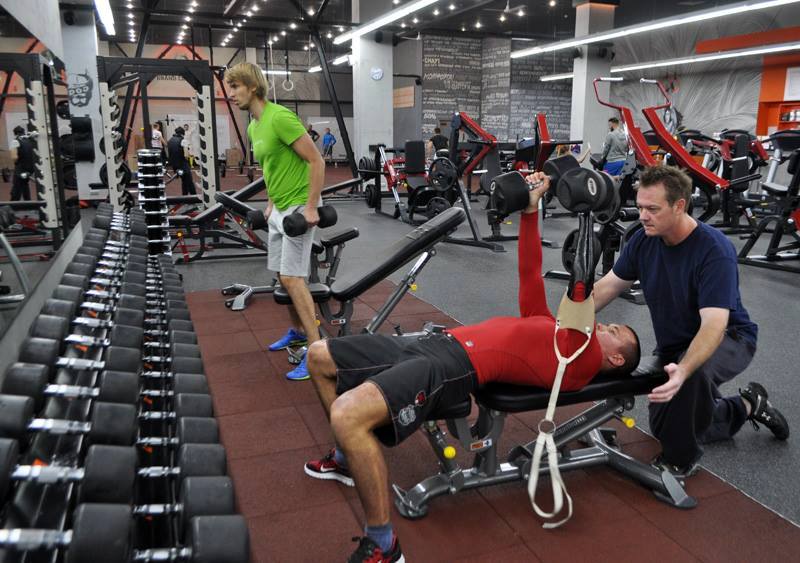 "I offered my help to the Military for coming over here for longer term, helping prosthetically, rehabilitation-vise. I thought they would've been open for it, but there have been some walls that I have encountered so far. At this point it doesn't look like it will happen," he shares.
The problem is in hiring a foreigner and some paper work has been taking longer than the Canadian specialist expected. "My little experience with Ukraine is that things seem to happen when they want them to happen," he shrugs.
When asked, whether such obstacles discourage him from dealing with Ukraine, he denies and smiles: "Without speaking about any political stuff or the climate of that, corruption and anything, I'm still willing to come and help Canada – Ukraine International Assistance Fund whenever they ask – to help raise money in Canada or to come here. I still want to be involved in helping."
Ukrainian doctors are the most eager to learn
"Ukrainians are the most eager to learn from all specialists I've ever worked with," Nilson states. When asked where else he'd been to, he says it will take long to name all of the countries: the Americas and Europe are on his list.
He came to Ukraine a year ago to share experience and then half year ago to evaluate the project. The biggest gap between Ukrainian and North American specialists is about language, but not so much about medical knowledge, he claims. "They (Ukrainian prosthetists – ed.) knew what they were doing and wanted to be hands-on trained, so the only thing they lacked was experience."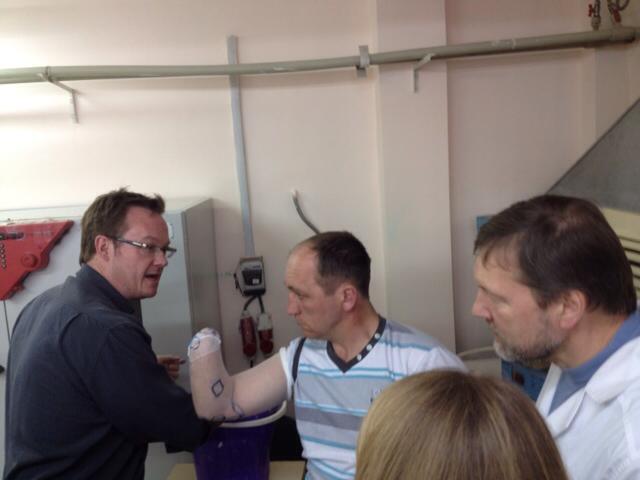 What was different in Ukraine was lack of a holistic approach to physical therapy, the prosthetist says. He emphasizes, that Ukrainian system needs to work out an established scheme, starting from the moment of injury, all the way through surgery and release from the hospital to the pre-prosthetic and prosthetic treatment and then follow-up. "I'm not sure why there is a delay in time between these stages of treatment."
Canadian doctor states that "there isn't a start and end point in prosthetics, it's a journey," and Ukrainian specialists are in the very beginning of it. Nilson gave an example of Kyiv State Prosthetic Facility which has all the plans in place: bringing physicians, therapists, prosthetics and even massage specialists into one facility.
Little has improved in Ukrainian prosthetic system since last year
"The question of lack of reforms in Ukraine is being discussed more and more often. Many citizens that used to donate for charity projects connected with Ukraine stopped doing so," Kumka says.
According to her, while financing for veterans' prosthetics has been increased during the last year, improvements in Ukrainian system were imperceptible and the bureaucracy didn't decrease. Ukraine's private prosthetic facilities manage to fund the abroad trips for their staff, yet majority of state clinics' doctors have no opportunity to receive foreign training at all.
"When we were planning the second stage of the project, we experienced issues within the system that contradicted each other," Kumka tells. For example, The State Service for Veteran's and ATO Participants' Affairs, as well as Ministry of Social Politics have been declaring support to the project yet delaying financing the state facilities which were supposed to take part in it. One of the state facilities Ukraine Prosthetic Assistance Project wanted to run the project at was lacking funds even for gypsum and simple materials, Kumka states. The excuse for the delay in funding was bureaucratic procedures.
Ukraine's Cabinet of Ministers adopted a decree #518 which allowed installing high-tech prosthesis facilities (bionic hands) but the decree hasn't been signed and published yet thus hasn't came into effect. Kumka says, until this happens, Ukrainian veterans will be forced to get care abroad which is unaffordable to majority of them.