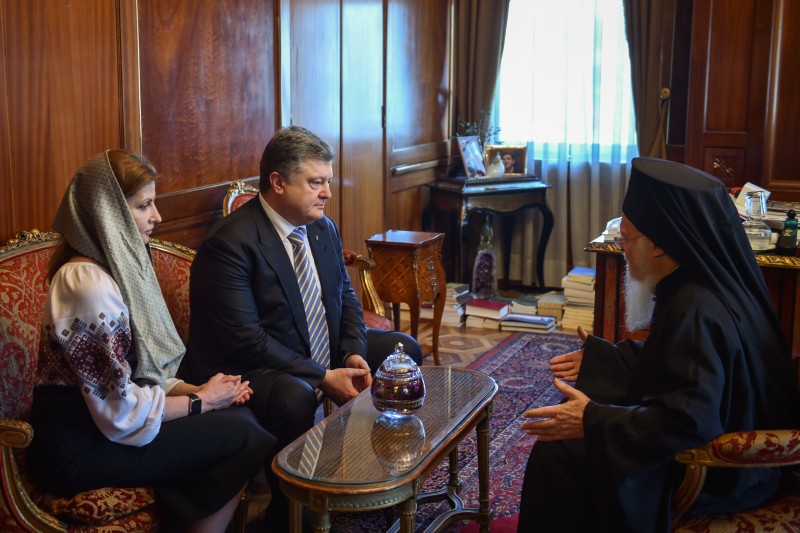 Ukrainian President Petro Poroshenko met with the Ecumenical Patriarch of Constantinople Bartholomew I on March 10, in Istanbul, during his official two-day visit to Turkey, March 9-10.
At the briefing following the meeting, Poroshenko expressed his gratitude for the Patriarch's assistance to the Ukrainian people
"I am very grateful to the Patriarch for his constant care and prayer for Ukraine, for its prosperity, for peace on the Ukrainian land, for the continued assistance that the Mother Church has given Ukraine," he said.
Poroshenko reported that the future of both Ukraine and the Orthodox church was discussed:
"Of course we talked about the future of Ukraine, about peace, about a single national Orthodox Church that the Ukrainian people are waiting and yearning for," he said. "We are confident that God will hear the prayers of the Church. We are confident that peace will come to the Ukrainian land, along with tranquility and prosperity. I am very grateful to His Holiness Patriarch Bartholomew I for this very important dialogue on the future of Ukraine," he said.
According to the president's press service, the Ecumenical Patriarch emphasized the importance of Poroshenko's visit for mutual relations and expressed support for Ukraine and for unity and peace in the world. "You know that the Church of Constantinople is the Mother Church of the Ukrainian nation. We feel a spiritual bond between the Church of Constantinople and Ukraine," Bartholomew said.
The Ukrainian Orthodox faithful are appealing to the Ecumenical Patriarch of Constantinople, who according to ancient tradition is "first among equals " in the Orthodox world, to take advantage of the Church's privileged position as the mother church for all the Orthodox to grant canonical recognition to the Ukrainian National Orthodox Church. Today canonical recognition in Ukraine is granted only to the Russian Church — the so-called "Ukrainian Orthodox Church of the Moscow Patriarchate," which is autonomous within the structure of the Moscow Patriarchate of the Russian Orthodox Church. The Ukrainian Orthodox Church of the Kyiv Patriarchate, the leading Ukrainian Orthodox Church, and the Ukrainian Autocephalous Orthodox Church are not canonically recognized in the Orthodox world.
Moscow seized church control over Ukraine in 1686 when, using pressure and bribery, it managed to persuade the Ecumenical Patriarch Dionysius IV to recognize the canonical transfer of the Orthodox Church of Kyiv and all Rus, which had been directly subordinated to Constantinople, to the jurisdiction of the Patriarch of Moscow. Soon afterwards this act of bribery-"simony" (the selling of Church offices or services — Ed.) by Dionysius IV led to his dismissal from office by the Synod of the Ecumenical Patriarchate, but his decision was not overturned.
The Russian Orthodox Church was not canonical itself for 141 years — a period that began with its unauthorized exit from the authority of the Ecumenical Patriarchate in 1448, when it installed its own primate and rejected the canonical appointee, and ended in1589, when the Moscow Patriarchate was established.
Tags: News, Patriarch of Constantinople, Petro Poroshenko, Ukrainian Orthodox Church