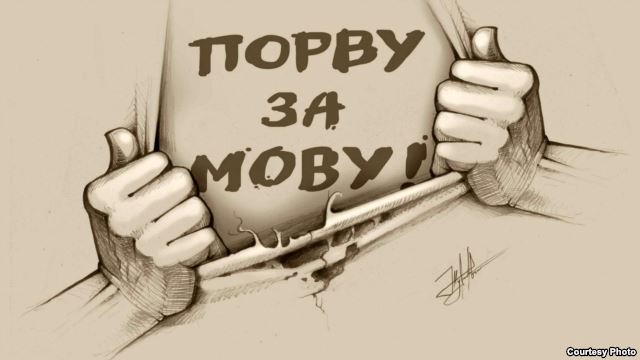 Bust out for Ukrainian! Caricature by Yuriy Zhuravel 
Radio Liberty's Bozhena Antoniak: "Education and books are the two most important factors in shaping national identity."
A simple definition considers language to be a means of communication, but a language is more than that. Language is not a product of its own and cannot exist on its own. So, to understand language proper, a brief introduction on culture and society becomes inevitably important. Language is a product of a society, language is that very expression that connotes who we are as a person, as a society and as a nation.-Ed.
Ukrainians of all walks of life have "laid body and soul" for the freedom and independence of their country as Russia launched a military aggression under the pretext of protecting Russian-speaking Ukrainians. Despite the fact that experts of the European Charter for Regional or Minority Languages say the Russian language in Ukraine is more protected than other minority languages and is recognized all over the country, the Kremlin continues to pursue its mission to "save" Russian-speakers in Ukraine. Ukrainian specialists believe it is essential to support the Ukrainian language, culture, science and education. Unfortunately, the government and politicians do not feel the need to finance the humanities and leave it to Ukrainian civil organizations.
Serhiy Kvit, Education Minister of Ukraine at the Ukrainian Language Forum:
"The Ukrainian language occupies a very important place, and we all understand that there can be no Ukraine without the Ukrainian language. Therefore, our language is the foundation stone of the Ukrainian state, and it's essential to support, protect and promote it."
The minister added that there are a number of ethnic minorities in Ukraine; many of them are becoming more and more interested in the Ukrainian language and culture, and are often surprised by the diversity of the language.
According to sociologists, more than half of the population considers Ukrainian their mother tongue. The majority of Russian-speaking citizens of Ukraine have no problems understanding the official language. Moreover, since the beginning of the war, more and more Ukrainians have switched to Ukrainian.
Some popular statements noted by journalists:
"I'm afraid to speak Russian because Putin may decide to come and protect me!"

"I don't want to communicate in the language of our enemy. I want to speak the language of my country."  
Despite growing respect for and interest in the Ukrainian language and traditions, the government complains about the lack of funds required for programs to promote the language, traditions, culture, etc. Therefore, support and development projects have been initiated by Ukrainian activists and organizations (scientists, scholars, educators, volunteers), who in turn ask the government to observe the Constitution and ensure all-round development of the state language, as noted by the All-Ukrainian Committee for the Protection of the Ukrainian Language.
Currently, the Committee is studying the development of national languages ​​and cultures in the European Union. For example, 15 years ago Lithuania launched a language call centre which informs callers about the latest trends in the Lithuanian language and advises on writing and reading in Lithuanian. The Latvian government plans to introduce a single standard of education in Latvian state and municipal schools, as announced by the Honourary Consul of Latvia in Chernihiv, Olena Vishnyakova.
"30 percent of the population in Latvia is Russian-speaking; virtually the same number of residents supports the imperialist ideas of Russia. In addition, specialists believe that Latvia may be Russia's next target due to a significant number of Russian-speakers living there. Therefore, it's important to educate the younger generation and teach them national traditions, instilling a love for the mother tongue in young children."
A public project called "Switch to Ukrainian" was launched to promote and support the Ukrainian language.
This moving video tells the story of a Donbas couple that decided to switch to Ukrainian in 2014. Screenplay by Yaryna Chornohuz and Oleksandr Ivanov.
"Sweetheart, are you sure you want to start now? (i.e. speak Ukrainian – Ed.) If so, let's start!" say Pavlo and Inna Vyshebaba.
Creating a trend for the Ukrainian language, culture and arts requires a greater circulation of Ukrainian books, art projects and documentaries, as well as more Ukrainian-language content in television and radio, say experts. Famous artists, such as the Kapranov brothers, the Telniuk sisters, Oleh Skrypka, Antin Mukharsky, Sasha Lirnyk and many others have demanded that "Ukrainian TV and radio broadcasts be freed from Moscow invasion." The artists declared that the government should impose sanctions on Russia's cultural products. It is about adding all video and audio productions, including copyright payments, to the list of Russian goods that have been banned in Ukraine.
Writers, musicians and cultural figures have posted a petition demanding a ban on Russian products in Ukrainian media on the website of the President of Ukraine. It must be signed by 25,000 people to be considered by the president.
Popular musicians recently took part in a round table discussion on "Supporting Ukrainian music: efficient and populist measures". They addressed the government with a proposal – to provide real support to Ukrainian music and culture in general, and not just by limiting quotas on Russian music products.
Ukrainian writers, in turn, asked the government to support Ukrainian literature and culture through concrete actions, and not just empty words. First, existing laws and programs in support of Ukrainian publications must be "modernized". Radio Liberty essayist and translator Bozhena Antoniak said that rather than cutting funds for education and science, the government should allocate more money to the humanities.
"Ukrainians are poor relatives in their own country. How to change this situation? First, Ukrainian literature should be available throughout the country because there are many cities where people have no choice – just Russian books. Whether a person wants to or not, he gets used to this situation and will rarely fight back. If the state takes appropriate measures to organize a sensible distribution of Ukrainian books in the country, people will then be able to buy Ukrainian books anywhere. The same applies to the press, the same applies to education as these are the two most important factors in shaping national identity."
The Ukrainian government is examining the initiative submitted by several publishers and writers to ban Russian books. Prime Minister Arseniy Yatsenyuk instructed the government to decide by the end of February whether to ban the import of Russian books. However, this initiative was not approved by all publishers, although they acknowledge that the book market in Ukraine was "saturated" by Russian literature before the Kremlin's military aggression.
Historian and journalist Oleksandr Paliy feels that Ukrainians should popularize their victories in different historical periods, study and form images of invincible heroes and thus build up respect for the country where they were born.
"History doesn't allow lessons to disappear, and these must be learnt by successive generations. Just as a man with no memory is completely helpless, so a nation with no historical memory is doomed to repeat historical mistakes. Therefore, people who know their history, language and culture will be neither stupid nor helpless."
The historian also says that more essays on the history of Ukraine should be put on the market, i.e. educational books, comics and films with popular heroes. American journalist Sergey Loiko's photo portraits of Cyborgs defending Donetsk Airport and documentaries and books about Cyborgs (including Radio Liberty's project AD242) have contributed more to creating a modern image of the Ukrainian soldier than the state propaganda machine. These are historical, but present-day events that may determine the existence of Ukraine in the future, says Paliy.
Tags: Ukraine, Ukrainian language