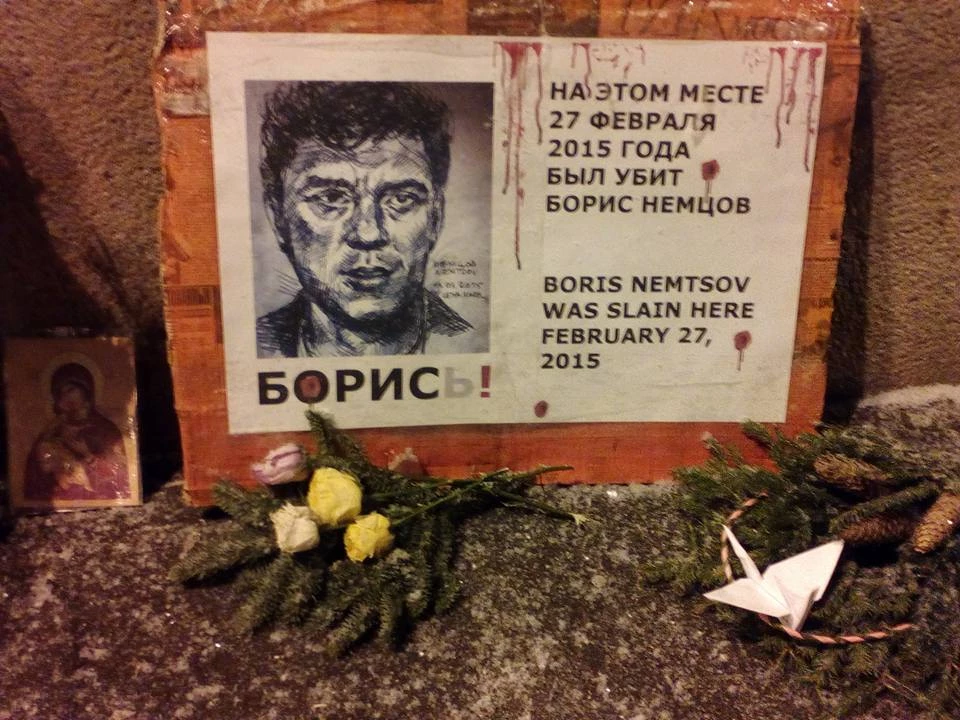 The site of the murder of the prominent Russian opposition leader Boris Nemtsov near the Kremlin in Moscow (Image: nemtsov.org) 
The flood of news stories from a country as large, diverse and strange as the Russian Federation often appears to be is far too large for anyone to keep up with. But there needs to be a way to mark those which can't be discussed in detail but which are too indicative of broader developments to ignore.
Consequently, I present a selection of 13 of these other and typically neglected stories at the end of each week. It is only suggestive and far from complete – indeed, once again, one could have put out such a listing every day — but perhaps one or more of these stories will prove of broader interest.
1. Should Street in Front of Russian Embassy in Washington Become 'Nemtsov Place'? First, Russian propagandists put up a poster in front of the American embassy in Moscow attacking US President Barack Obama. Now, they pledge to erect a memorial to the genocide of the indigenous populations of North America there. At the end of the Cold War, Washington responded by renaming the block in front of the Russian embassy in the US capital "Sakharov Plaza." Might that location now be renamed in honor of the murdered Russian opposition figure, Boris Nemtsov?
2. With Putincare, Russians are Suffering and Dying. Vladimir Putin's medical care "optimization" – a euphemism for serious cutbacks – is already leading to serious health problems in Russia. One town of 5,000 people can now get medical care only 30 kilometers away. In Moscow itself, there is now only one urologist on duty for emergencies in the entire city with 12-million population. And basic medicines are disappearing across the country because of the Kremlin's counter-sanctions.
3. Moscow Libraries Can't Afford Subscriptions This Year. The intellectual degradation caused by the Putin government's shift of resources from society to the military continues apace. Moscow libraries have announced that they cannot afford to subscribe to most of the newspapers and journals they had been getting. And a study of citations shows that Russia is rapidly falling out of a leadership position in many branches of science.
4. Putin was Preparing to Seize Crimea in 2004, Newly Discovered Video Shows. Each week provides more evidence that the Kremlin leader was planning his aggression against Ukraine far earlier and at a time when he enjoyed good relations with Western leaders. Now, a newly discovered video shows that he was making plans to seize Crimea at least as early as 2004.
5. Duma Deputy Wants No Elections in Russia Until Sanctions Lifted. In another indication that sanctions are having an impact on Russia, a Duma deputy has proposed cancelling all elections in Russia until Western sanctions are lifted, an attempt to force the West to back down lest it retard the development of Russian democracy.
6. Is Russia about to Run Out of Prison Space? Moscow detention centers are now holding 30 percent more prisoners than they were designed for, an indication that the Putin regime may be running out of space in its prisons as a result of the rise in crime and its own repressive policies.
7. Northern Peoples Forced to Violate Law to Survive. One of the management techniques of Soviet totalitarianism was to create a situation in which everyone would have to violate some law in order to get by and thus be at risk of punishment for such "real" crimes. That has now happened again for the peoples of the North who are so hamstrung by Moscow's rules about fishing that they can only survive by violating the law.
8. Moscow Accuses Estonia of Using Nation of 64 People to Overthrow Russian Power. In a story somewhere between "The Mouse that Roared" and "Our Smallest Ally," Russian commentators have accused Estonia of trying to undermine Russian power by supporting the Vod, a Finno-Ugric nation that now numbers only 64 people. At the same time, these writers are attacking Lithuania for planning a meeting in Vilnius of Russian opposition figures supposedly to plot a new Russian revolution.
9. Kadyrov Postures as Defender of Freedom of Speech. Chechen head Ramzan Kadyrov complained that the decision of some Internet portals to take down his own video, in which he put Russian opposition figures (party colleagues of murdered Boris Nemtsov) in the crosshairs of a sniper sight (below) constituted a violation of his freedom of speech.
10. As Times Get Worse, Russians Drink More — and Moscow Tries to Profit. Despite official claims that Russians are drinking less, most observers say that they are drinking more, albeit shifting to cheaper types of liquor. And the Russian government is working to profit from something it says isn't happening, moving to restore its monopoly on alcohol production.
11. Duma Doesn't Want a Russian Groundhog Day. Although Russia seems to be a country that could be described as the embodiment of groundhog day as the same things continue to happen again and again, vigilant Duma deputies want to ban the importation of groundhogs lest that holiday spread to their country.
12. Moscow Patriarchate Worried about Spread of Sectarianism among Russian Officer Corps. Officials at the Moscow Patriarchate of the Russian Orthodox Church are expressing concern that significant numbers of Russian officers are turning away from the national church and following Protestant and other "sectarian" groups. They have called for a new struggle to root out this threat to Russia.
13. Zhirinovsky Wants to Purge Letter Ы from Russian Alphabet Because of Its Mongol Origins. Vladimir Zhirinovsky, the flamboyant leader of the LDPR Party, has called for eliminating the yerry from the Russian alphabet because he says it has its origins among the Mongols. He also wants to eliminate the word "hurrah" for the same reason. But he has not explained what he would put in its place.
And three additional stories this week from countries bordering on Russia:
14. Ukraine and Belarus Introduced European Culture to Russia. As Russians debate whether they are a European country or not, a group of scholars in Kyiv has given them another reason to decide against that idea. The Ukrainians document that half a millennium ago, people from what is now Ukraine and Belarus introduced European culture to Russia.
15. Russian Churchman in Ukraine Calls Putin and Kirill 'Bandits.' A metropolitan of the Ukrainian Orthodox Church of the Moscow Patriarchate says that Vladimir Putin and Patriarch Kirill have behaved like "bandits" in their attacks on Ukraine (see the video below), yet another indication that the Moscow church in Ukraine is increasingly informed by Ukrainian patriotism rather than Moscow loyalty.
16. Uzbek Singer Says She Was Victim of 'VIP Xenophobes' in Moscow. When people talk about xenophobic outrages in Russia, they usually focus on the actions of lumpen groups. But Nargiz Zakirova, a popular Uzbek singer, says she was attacked by "VIP xenophobes" at one of the Russian capital's better restaurants, a warning that Russian xenophobia now affects some in all classes of Russian society.
Tags: Anti-westernism, Demographic decay, International, Putin, Russia, Russian Orthodox Church, Ukraine, xenophobia