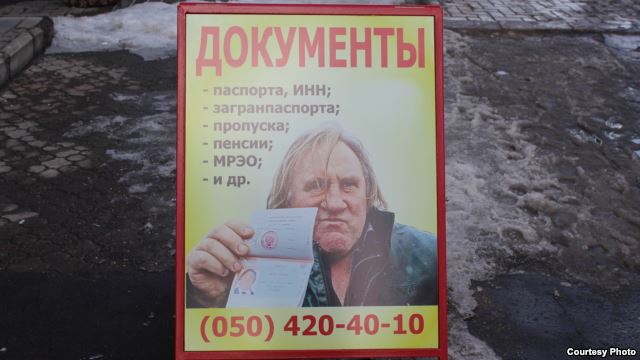 Depardieu: Documents (internal passport, ID number, international passport, travel documents, etc) 
When I went back to Donetsk after an absence of six months, I was greeted by Lenin and Depardieu. The mining capital of Ukraine hasn't heard anything about decommunization, which is underway in most Ukrainian cities. Monuments to Lenin and Shchors (Red Army commander-Ed.), as well as Krasnoarmeyskaya Street used to be familiar, but now seem strange and even exotic.
When I expressed my surprise, locals looked at me strangely and said: "But what else? This is part of our history. Don't they have anything else to do in Ukraine besides knocking down Lenin statues and renaming streets?"
Cinemas show films that were screened in Ukraine a month or two ago.
"We don't go to the movies. First, it's expensive. Second, it makes no sense. Before, films that we watched at a cinema appeared online about a month later. Today, everything you pay for at the movies can be viewed online, but it's free and good quality." remarked a 20-year old girl.
Donetsk residents have gone overboard with their "local patriotism". Many cars are decorated with tri-colour "Donetsk People's Republic" flags, while magnets and stickers are sold and money is collected at the entrance to underground passages to help the "Donbas defenders".
New or renamed grocery stores remind us of the tales of the Soviet past recounted by our mothers and grandmothers, because I personally don't remember those times.
An elderly lady (babushka) remarks that the queues at the "First Republican Bank" hark back to the good old USSR. This is the only bank operating in the occupied territory.
There are no Ukrainian banks in occupied Donetsk. However, many people have found cunning ways to withdraw cash with Ukrainian bank cards.
There is also the "First Republican Supermarket". You probably recognize the ATB logo (ATB stores in the Donetsk People's Republic were seized to form a new supermarket chain called the "First Republican Supermarket".-Ed.)
Stores sell local, Russian, Belarusian and Kazakh products. I found only Ukrainian-produced Milka chocolate.
After two weeks, I was sick and tired of all those black, red and blue colours as the "DNR" flags are everywhere, at every corner. Women in uniform proudly walk hand in hand with their men. They're also everywhere, but fortunately, not all are armed.
Only the power lines reminded me that until recently Donetsk was controlled by Ukraine…
Photos courtesy of author
Tags: DNR ("Donetsk People's Republic"), Donbas war (2014-present), occupied Donetsk, Soviet times, tri-colour flags