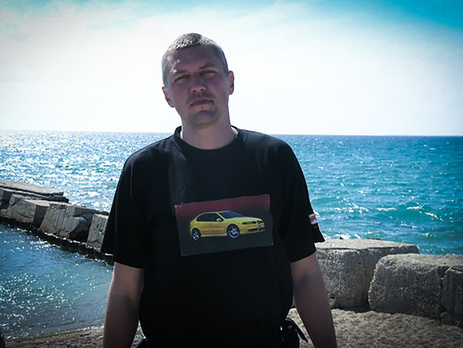 Stanislav Klykh at the seaside. Photo from family archives 
Stanislav Klykh is going to meet his 42nd birthday in a Russian pretrial detention center. He has been under custody for almost one and a half years, having been arrested on 11 August 2014 during a visit to his girlfriend in the city of Orel. Like 20 other Ukrainians highlighted in the #LetMyPeopleGo campaign, he is being held on political grounds, accused of crimes he didn't commit. Like no other prisoner, he needs your support: send him a letter/postcard and show he's not alone. Address: Клыху Станиславу Романовичу, 1974 г.р. – 64037, Чеченская Республика, Грозный, Ленинский р-н, ул.Сунженская, 2, СИЗО-1
Here is what you need to know about the former college history teacher being charged with fighting against Russian soldiers in Chechnya 20 years ago on Basayev's side.
 1. After Klykh was kidnapped, his whereabouts were kept secret for 10 months
On 8 August 2014, Stanislav was arrested while visiting his girlfriend that he recently met in Crimea. Suddenly, he ended up in a prison in Orel, later to be transferred to a solitary confinement cell in Pyatigorsk near Chechnya. His mother was unsuccessful in contacting Klykh's investigators. Moreover, the Ukrainian consul was denied a meeting with Stanislav for over 10 months. The databases of Russia's Federal Penitentiary Service did not have a listing for Klykh, and even the Russian ombudsman Ella Pamfilova was unable to verify that he indeed held in Pyatigorsk, according to Open Russia. It became clear that information on the Ukrainian is classified. His current lawyer Marina Dubrovina only managed to meet her defendant after 10 months after his arrest.
2. The Russians he is being accused of shooting in Chechnya did not actually die from gunfire in Chechnya
The Human Rights group Memorial Center has published a report that demolishes the prosecution's claims that Klykh together with Mykola Karpiuk killed 30 Russian servicemen while supposedly fighting in Chechnya: of those 30, 18 were killed in another place altogether, while a further 11 did not die from gunshot wounds, as the prosecution claims.
Read more: Tortured for the Wrong Confessions: Russia's 'Ukrainian Nationalist' Charges Demolished
Additionally, none of the Russians they allegedly wounded in Chechnya were able to identify Klykh and Karpiuk. Stanislav Klykh has denied all the allegations against him. He never took up arms, his lawyer says, and even couldn't tell the caliber of a Kalashnikov when forced to confess under torture of shooting Russian prisoners.
3. Together with Mykola Karpiuk, he faces from 15 years to a life sentence
According to the investigators, Klykh was part of a group of members of the UNA-UNSO ( a Ukrainian right-wing political party which ceased to exist in March 2014, joining the Right Sector) and in 1994-2000 as part of a group of other unidentified people joined Mashadov, Basayev and other Chechen separatists to attack citizens, soldiers of the Russian army. The criminal case under which he is being accused was launched in 2000 and shortly paused until 2010, after which the investigation was repeatedly suspended and resumed.
Stanislav Klykh, born in 1974, entered Kyiv's Taras Shevchenko University in 1991, where he studied until 1996, as multiple witnesses confirm.
4. His accusations are based on confessions given under torture
Klykh appealed to the European Court of Human Rights on being electrocuted, beaten, and administered psychotropic substances.
"Illegal methods of inquiry and investigation were applied to me, including beatings and injuries with the use of handcuffs and electric current, prolonged kneeling, resulting numerous scars on my wrists, knees, and ankles. I was also given alcohol and psychotropic drugs which were administered to me intravenously. All this took place in a temporary detention facility in Zelenokumsk and Vladikavkaz between 28.08 on 22.09 2014," says his letter.
This torture led to Klykh losing over 15 kilos and developing asiderotic anemia. Despite his medical condition, prison doctors have delared him fit for trial. According to Marina Dubrovina, all "incriminating" testimonies of Klykh and Karpiuk were given under torture.
Read more: Beaten, drugged, electrocuted. Ukrainians tortured into "confessing" of Chechnya crimes in Russia
One of their "testimonies" of the two men, picked up by Russia's investigative committee, named Ukraine's timid-looking Prime Minister, Arseniy Yatseniuk as fighting alongside Dudayev's separatist army in 1994-1995 (supposedly being 20 y.o. at the time). Widely mocked in social media, it raises a harrowing question: what did a person have to endure to produce such an absurd allegation?
5. The only incriminating testimony against him comes from a mystery Ukrainian national already sentenced to 24 years
All Russia's evidence against Stanislav is based on a statement of a Ukrainian citizen Oleksandr Malofeiev, whom Dubrovina was denied meeting with. Malofeiev, who allegedly was caught on tape fighting in Chechnya, was sentenced for 23 years in prison in 2009 for crimes he commited in Russia in 2008. Malofeiev, who has AIDS, hepatitis and opiates addiction, "identified" both Mykola Karpiuk and Stanislav Klykh. Another witness, who shared a cell with Klykh in 2014, allegedly told the investigators Stanislav "confessed" his crimes to him while in jail (after refusing to tell anything under torture).
Read more: "Chechnya case": Putin's next show trial targets Ukrainian nationalists
6. Torture in FSB prisons has affected his mental health
Unlike the other 20 Ukrainians, it seems that the farce trials, torture, and sham accusations have affected his mental health. During the court hearing on January 13, Klykh showed troubling signs of psychological instability: according to the Human rights organization Memorial Center, he shouted, stomped his feet, uttered meaningless phrases etc. On January 18, the Supreme Court in Chechnya where Klykh is being tried suspended the trial and ordered that Stanislav Klykh undergo psychiatric assessment.
Klykh's lawyer Dubrovina is convinced that the reason for his temper tantrums are illegal methods of investigation, by which, according to the lawyer, the investigation got the necessary evidence, and abuse by inmates. In its turn, the investigation opines that these changes in Klykh's behavior are due to drug addiction.
In the open letter that Klykh submitted to the European Court of Human Rights, in which he described the torture he was subjected to, he mentions that he, apart from being electrocuted and beaten, was administered psychotropic drugs in order to receive the right "confessions."
If Klykh will be considered mentally ill, his case will be allocated in a separate proceeding, and he himself will be directed to undergo compulsory treatment by a court decision. In this case, evidence that was given by the defendant will be questioned, according to lawyer Dubrovina, and the investigation remains only speculation based on "unsupported testimonies of witnesses." So, however, would the torture that both Klykh and his co-defendant Karpiuk have consistently said was the reason for their grotesque testimony, according to Halya Coynash.
At the latest press conference, Marina Dubrovina claimed that Stanislav is being persuaded by operatives in the pretrial detention to perform certain actions in return for promises of "fantastic benefits." Dubrovina considers that the case might take an unexpected turn.
Tags: #LetMyPeopleGo, Act!, Klykh, News, Political prisoners