Oleksandr Abaiev, a 26-year-old from Khmelnitsky was shot three times during the violent clashes on Maidan in February 2014. After treatment, he enlisted and saw active duty with the Kyiv-2 Battalion and is now a volunteer.
The Revolution of Dignity has led to irreversible changes in our country and people have changed. Volunteer movements, which help many military units, are organized in Kyiv and have rescued an almost extinct army. However, nothing would have happened if ordinary men and women had not come to the central square of Kyiv. They came here from different cities and villages, leaving work and businesses to defend the barricades. Oleksandr Abaiev from Khmelnitsky was one of them.
Sasha has a knack for becoming the heart and soul of any company. He loves to joke and meet new people. But, he becomes thoughtful and intent when we start asking some serious questions. This young man was shot three times and saw death on Institutska…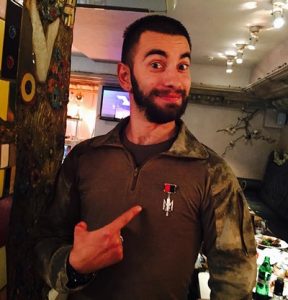 Two years ago, Oleksandr did not care what happened in his country.
– I worked for a construction company, life was good. I wasn't interested in politics, the government or EU-Ukraine relations. These things didn't bother me. But, when I saw young students being savagely clubbed on the Maidan, something snapped. Suddenly it became personal… I arrived in Kyiv on December 1 and stayed until the end. At first I took off work and finally resigned from my job.
Oleksandr saw the first young men who were killed on Institutska Street on February 20. He helped doctors attend to the dead and wounded.
– We couldn't save many and had to accept that they were dead. Even then, the brain refused to accept the fact that people were being killed with real bullets. I ran up the street, reached Zhovtnevy Palace, saw a burning car. I watched as three activists escorted a wounded government soldier from a building. He gave them his bag of dressings and bandages. Then, I saw a group of activists escorting leading away soldiers, who had been abandoned by their commanding officers. Remember, they were led through a human corridor on the Maidan, but no one was allowed to touch or hurt them in any way. But, I won't hide that there were many people who wanted to do just that…

I then zigzagged across the street to the subway. There were a lot of wounded men lying there, and they had to be evacuated. I took a shield from one guy to use as a stretcher and rushed to a man lying closer to me. As soon as I sat down beside him, a bullet pierced the shield, hit my finger, and then penetrated into my cheeks and neck. It's like getting hit in the jaw. I spun around and two bullets entered the buttocks. I thought: "I'm really a good-for-nothing rescuer." I tried to crawl away from the danger zone. I took a few steps and my leg froze. This happened not far from Hotel Ukraina. A fighter from my unit saw me and pulled me away. We reached the field hospital in the Kazak café. Only then did I realize that we were being shot at from real weapons. My right-hand thumb was hanging by a tendon. I asked the doctors to bandage it so I wouldn't lose it… I was hoping it could be sewn back on. The medics told me my neck was badly hurt…
Sasha lifts his head and I see a long white scar. Two millimetres to the left, and the bullet would have torn through vital blood vessels and the trachea…
– And two bullets hit my ass… One went right through and the other remained in my body.
On that day, five men from the Lvivska Brama unit, which Sasha commanded, were killed by sniper bullets… But, he found out about his comrades when he returned to Maidan after forty days of rest and intensive care.
– I had a lot of fragments in my neck… as many as 55. They came out by themselves. It was extremely painful and unpleasant. My finger couldn't be saved, only a stump remains.
We notice it when Sasha picks up a glass of water.
– Sometimes I forget I have no thumb. I can't pick anything up with my right hand. If a cup or saucepan is very heavy, I drop it. I've broken a lot of dishes, but my wife understands…
Sasha got married after his treatment. Being close to death taught him to appreciate sincere feelings.
– Zhenya and I have known each other for some time; she stayed with me all through my treatment. She nursed me and taught me how to use my injured hand. She's a real fighter! We got married on August 1, the next day we celebrated the Day of Airborne Troops, the third we celebrated my wife's birthday, and the fifth I left for the ATO zone, but told my wife that I was going on a business trip. I got to Debaltseve and enlisted in the Kyiv-2 Battalion.
Oleksandr arrived with a sniper rifle that was given to him by Yuriy Butusov, journalist and chief editor of Censor.net:
– I met Sasha on the barricades that protestors had built near the underpass on Institutska. Then we met again after he'd been wounded. Even then he was burning to go to the frontlines to defend his country. Such people are worth supporting so this flame doesn't burn out. Oleksandr grew up in military family and knows how to handle weapons. Volunteer battalions were just being created and I felt Sasha could be very useful. So I approached people who could afford such a weapon and get a permit. He was well-equipped when he went to war…

– I knew there'd be a war when they occupied Crimea. I'll tell you something right away… We should dig across the Krasnoperekopsky Isthmus and cut the peninsula off from the mainland. I understood that Russia wouldn't stop. My mother and father served in the army and I spent my childhood in military camps. I also served in the army and was in charge of reconstruction after major battles. I could analyze enemy behaviour and I was right… unfortunately. I helped create the Kyiv-2 Battalion and fought in Debaltseve and Chernukhine that everybody heard about last year. After the volunteer units were drawn into the Armed Forces and the Ministry of Internal Affairs of Ukraine, we had to fill out many documents, sign a contract and undergo a medical examination. Seeing that I have no thumb, the doctors ordered me to stay home. I tried bribing people to let me go and fight or work in the police force, but I was refused. I have so much combat experience! And, frankly, a missing finger wouldn't stop me from dealing with those guys in an emergency.  Men like us should be given some leeway.
Why are you called Khan?
– My family descends from a very old khan dynasty; ruins of the Abaiev family castle have been preserved in Vladikavkaz (Republic of North Ossetia-Alania). In addition, when I studied our family history, I learned that seven generals were descended from Tamerlane, Genghis Khan's successor. Three of them fell out of favour, and four were highly esteemed. My family comes from one of the generals of the last group… I told the guys this story when we were building barricades on Institutska. They started calling me Khan.
A silver star of David dangles from Sasha's neck. It also has a story.
– When I was in the Kyiv-2 Battalion, I got a tryzub (trident) as an amulet. I wore it all the time. A friend arrived from Israel; he serves in the Israeli Army. He saw my tryzub and asked me to exchange it for his star of David, it's also a talisman. Now I wear it around my neck and my tryzub protects my friend in Israel.
Sasha had another reason for leaving his unit – his wife became pregnant. But, Sasha has never been one to sit at home, so he regularly drives to the frontlines and delivers supplies. He tries to spend every spare moment with his baby son, who is almost six months old. As soon as we start talking about children, Oleksandr takes out his phone and shows us pictures, commenting: "He's really good-looking, like his father, isn't he?"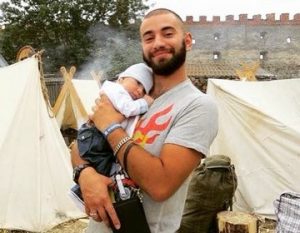 Sasha looks up and smiles:
– I wasn't afraid of dying on the Maidan or in the war zone. After all, we had a sacred duty. We want justice; we want to protect our country. But, I have a son now; he's my future and this gives me even more strength. I live for him, but I'm also ready to die for him.