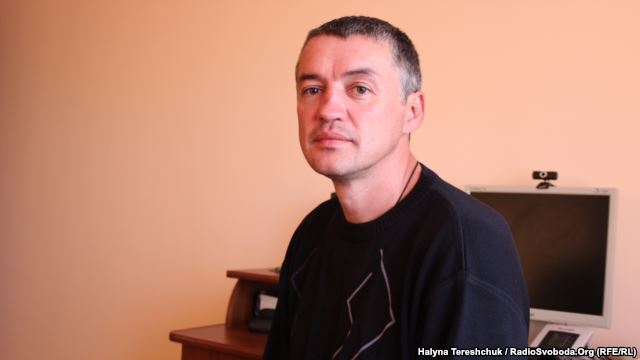 Orest Petryshyn was held captive for nine months. He recently returned home to Lviv where family and friends were waiting for him. Orest was captured in Debaltseve where he and his comrades fell into an ambush. Behind him – physical and mental pain; ahead – plans, medical treatment and wiping out terrible war experiences.
In August 2014, 41-year-old Orest Petryshyn, a dental technician from Lviv, was called up for military service.  First, he underwent military training near Lviv, and then sent to serve in a military unit of the National Guard in Kharkiv.
Orest was stationed at checkpoints in Luhansk Oblast. "Our duty was to stand at checkpoints and check all documents and vehicles."
He was then assigned to Svitlychne, a village near Krymsky and Shchastia (Luhansk Oblast) where Ukrainian troops were engaged in combat every day. Orest Petryshyn worked as a medic, providing first aid and pulling friends away from the battlefield, but there were times when he also had to shoot and defend himself. The soldiers lived in the village hostel.
"It was awful there when we arrived, but we managed to clean the place up. We took out the garbage, cut down old trees, cleared the courtyard; we installed our own kitchen, a TV set and a stove brought by volunteers. They delivered everything they could."
Orest spent that Christmas with his family, on a 20-day leave. He then travelled back to join his unit in Kharkiv, where the men were waiting for the March rotation. But, on the night of February 14, the soldiers were ordered to depart and 120 men were driven to an unknown destination.
"We asked where we were going and for how long. First, we were told we'd be gone for 24 hours, then it was two and finally we found out we were heading for Debaltseve."

"We knew that it was a real hellhole. At the last military checkpoint a soldier told us we'd all be killed. He didn't want to let us through, saying he'd have to live with this sin… Our commander replied that we'd go through the fields, driving quietly without headlights. That didn't convince the soldiers on duty, so our commander started phoning people, probably some generals. I don't remember the commander's name; he was colonel of the Kharkiv unit. So, we got through…"

 "The colonel didn't tell us anything… only that our goal was to reach Debaltseve. I still don't know why we were taken there. Our commander probably had a direct order from a general."

"We understood that we had to defend Debaltseve until the morning of February 15, to the truce. But, there were so many enemy vehicles around us. We were supposed to take and clean out Debaltseve by 12:00 on February 15, but we were cleaned out instead. Perhaps the person who gave the order was promised some kind of bonus…"
In Debaltseve, the men were positioned in the railway station that was constantly shelled by  Russian proxies.
"When I was captured, the enemy gunmen told me they could see us driving around; they watched us all the time, fired at us from flame throwers; they knew how many of us were at the station."
The Ukrainian soldiers shot back and then began retreating. The commander ordered them to defend their positions. The soldiers were divided into groups of 20-30 men and took up positions in an automobile service station. The cellar had to be cleared so that the soldiers could hide. When Orest went down to the cellar, the enemy forces launched their assault, surrounded the area and took him prisoner.
"I was trapped; I couldn't get out of the cellar… I could run out and be shot or wait."
Orest Petryshyn was taken prisoner and transported to Makiyivka. He was held in a large building – a resort complex or hotel, which had a pool and sauna on each floor.
He was detained with other prisoners, who had been captured earlier, in a sauna. First, he was handcuffed and chained to a radiator, could only sleep in a sitting position with one arm raised; he was violently and regularly beaten…
They hit Orest with their fists, legs, rifle butts and helmets. When he was brought in, he was beaten all day until the evening. Then they called the nurse; she gave him some shots and tablets. They questioned him – who, what, where and why. Orest saw Chechens, Abkhazians, Russians, but not many local Donbas men.
"So, when they heard I was from Lviv and in the National Guard, they began shouting, calling me a fascist, Banderite, Nazi."
Orest Petryshyn was in the hands of the Pyatnashka international brigade. At Easter he was still a prisoner in Makiyivka.
"There was this young guy from Donetsk, a local… he went home, brought back some Holy Paska (Easter bread) and gave it to us with some krashanky (single-colour Easter eggs)."
After Easter, the prisoners were transferred to Donetsk, to the former building of the SBU (Ukrainian Security Service), where he met many other Ukrainian soldiers, mostly Cyborgs.
There were 60 men in one room. The soldiers slept on narrow shelves, ate and used the toilet according to a strict schedule.
Orest was allowed to wash his clothes only once in the nine months of captivity. He was given a sweater. In Donetsk, the prisoners were not beaten, but were taken out to work as slaves.
"We cleaned up debris, unloaded material, worked as slaves, cheap labour."
The prisoners were confined to one room; one day dragged into the next…
"When we were taken out to work, at least we could get some fresh air. It was difficult to sit in the room; you look out the window, but you can't do anything. You have a meager breakfast and wait hungrily for supper. When we worked outside, they fed us better as they were responsible for us. They must've received strict orders about prisoners-of-war towards the end."
Orest was sometimes allowed to call his family. The separatists let five prisoners call home every day; they wrote down all the names and phone numbers.
"It all depended on our work. Also, if you knew people who would allow you to call… One day, a young man from Donetsk came up to me and asked me if I'd called home. He gave me his phone. My family usually called back."
Orest now thinks and worries a lot about his comrades who have remained in captivity. There were 21 soldiers in his room. He maintains that the Russian proxies are in no hurry to free soldiers because there are fewer and fewer prisoners, so they come up with more stringent conditions for exchange.
Orest Petryshyn is currently undergoing medical tests. He suffers from severe dizzy spells and needs psychological help. He was promised there would not be any delays for official documents and demobilization, but he has to get combatant status first. Orest dreams of getting married and raising a family…
What's more Orest cannot get used to the idea that he has returned home to his family.
"The first nights home I'd wake up early in the morning thinking I had to go out to work and clean up, but I felt so warm, I didn't want to move…Then I hear the phone ringing and my mother's voice. Yes, I'm home and yet here I am thinking of cleaning up the courtyard."
The Russian proxies were in no hurry to free Orest Petryshyn. They drove him out several times, but nothing came of it.
"There are reasons, but I can't talk about it as there are still lots of our guys in captivity."
Orest Petryshyn was released on October 30, 2015 as reported on President Poroshenko's official page. "DNR" militants released nine Ukrainian soldiers from captivity on October 29.
139 Ukrainian soldiers are still held hostage by Russian proxies and 788 are missing.
Tags: Debaltseve Battle (2014-2015), Donbas war (2014-present), Russian proxies, Stories from the Front