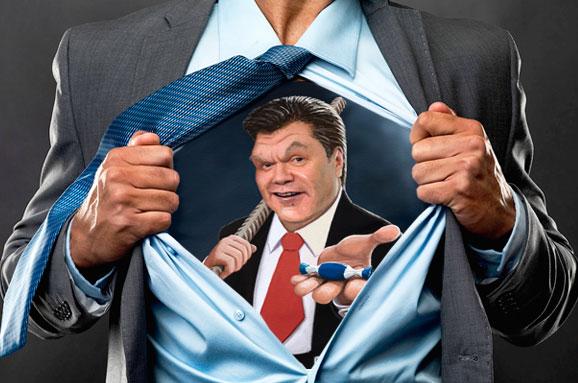 What the Yanukovych regime really brought into the political and public life of our country is the culture of beatings, the culture of thugs, the culture of the impunity of the "titushky" (hired thugs — Ed.) who beat peaceful demonstrators when there were no legal pretexts to limit the protests. The beatings of activists. The beatings of journalists. According to numerous accounts, Yanukovych even beat up his associates in his own office. Perhaps he even kicked them. None of us liked it. Then there was the final act — the beating of students. And then Maidan. It seemed that society understood clearly that the beating of anyone is a manifestation of savagery, of baseness, of the absence of self-respect.  It seemed that Ukrainians really wanted to join Europe not because there were more baubles and money there but because politicians in Europe do not engage in beatings.
But no! It turns out that there is a Yanukovyh in everyone. It is not the beatings that are considered unacceptable but the beating of one's own people. And when unpopular people are beaten, it is a good thing. And when the assailant gets off scot free, all is wonderful. What triumph of democracy!
There is no need to explain all this by the fact that judicial reform has not yet taken place in the country, that those responsible for the tragedy on Maidan have not been brought to justice, that the question of justice has not been resolved. When you want to engage in beatings you will always find a justification. Simply today you will beat strangers because they are criminals. Tomorrow you will beat your own because they are traitors, The next day your wife and children because life has let you down. There is a civilizational chasm that separates the culture of discussion from the culture of fist fights. The chasm between punishment and violence, between Europe and the "sovok" (Soviet man — Ed.), between respect for rules and the belief in the priority of one's momentary instinct. This is the chasm between a human being and a Yanukovych.
I don't know if it is necessary to explain one very simple thing. In a country where an activist attacks (Mikhail) Dobkin, the master will always be Dobkin or someone like Dobkin. Because this is the norm for Dobkin. To hit, not to harangue. To frighten, not to discuss. To demonstrate who is strong and not to argue. In this situation the winner is not the person with the law and the truth on his side but the one who has no restraint. We know very well that Dobkin has none. I don't know anything about the activist who hit him. If he has no restraint either, he will go all the way and turn into Dobkin. Because the person who hits another — first out of helplessness and then out of impunity always turns into Dobkin. First into Dobkin and then into Yanukovych. (Mikhail Dobkin, deputy from the "Opposition Bloc" and former Yanukovych associate, was recently attacked by an unknown assailant who accused him of crimes against Maidan demonstrators — Ed.)
Because impunity is when you hit with the assurance that no one will dare even lift a finger against you. Impunity is beating with a mandate. In that case the beating can involve even kicking, why not? Volodymyr Parasiuk differs from Viktor Yanukovych not because one demanded the resignation of the other during the last horrible night on Maidan, but because one was already president and the other one not yet. But if you exchange their places, you will understand that Yanukovych — if he had been in Parasiuk's place during the meeting of the parliamentary committee — could have kicked just as skillfully if not better. This is the country of Yanukovych — a country where you strike with your feet if you disagree with something. It does not matter if it is out of despair, bitterness, or satisfation. The motive is not important, only the action. We are not interested in the motives of Yanukovych or Putin. It is possible one simply wanted to establish order and the other to save collaborators from extremists. Perhaps they really think so? But the motive is not important, only the result. (Deputy Volodymyr Parasiuk kicked Gen. Vasyl Pisnyi, accused of corruption, during a scuffle at a meeting of the Parliament's anti-corruption committee. — Ed.)
The same is true here. A country of fist fights will always be a country of Yanukovych, whatever the illusions of its inhabitants. When some attack and others applaud this is a clear indication that we have not changed much over these past two years, that we continue to live "in the region" and not in a European country.
And in order to make it to Europe, we must first squeeze out the Yanukovych in us.
Tags: Dobkin, Parasiuk, Portnikov, Yanukovych