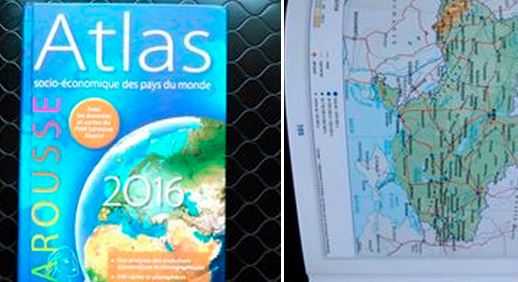 The Atlas released by the French publisher Larousse shows Ukraine without Crimea 
Editor's note. This article has been updated from a previous version, which informed of two publishing houses, Larousse and Rocher, releasing Atlases where Crimea was misplaced in Russia. It has been updated to reflect a
correction
by  the twitter account of @EuroMaidanFranc. The Atlas released by Rocher pictures Crimea as part of Ukraine. Up to date, we are aware of only one publishing house in France selling cartographical products where Crimea is not part of Ukraine – Larousse. We apologize for the inconvenience that we have caused to our readers.
The French publisher Larousse has published and is selling an Atlas that shows Crimea not as part of Ukraine. Ukraine is pictured without the Crimean peninsula in a socio-economic Atlas of the 2016 edition.
Crimea is pictured as part of Russia.
#Correction la carte publié hier venait de l'Atlas de @LAROUSSE_FR et pas Le Rocher #CrimeaIsUkraine pic.twitter.com/TVZdmkKeZM

— EuroMaidanFrance (@EuroMaidanFranc) October 24, 2015
The Ukrainian ambassador to France has written a letter to the publisher, to no answer. To date, Larousse has not issued any public statements and has not replied to press inquiries. However, Larousse did tell AFP it did "not wish to be drawn into this controversy."
The French Ambassador to Ukraine had tweeted "France does not recognize the annexation of Crimea. I am glad that Larousse corrected their map of Ukraine." Her statement was warmly welcomed by the twitter account @EuroMaidanFranc, however, it is not clear what Larousse actually corrected.
.@isabelledumont au sujet de la carte de l'#Ukraine publié par @LAROUSSE_FR #Crimée #CrimeaIsUkraine #Merci pic.twitter.com/G1vaxRdmyr

— EuroMaidanFrance (@EuroMaidanFranc) October 21, 2015
Insofar, Larousse is selling Atlases where Ukraine is shown without the Crimean peninsula.
Ukrainian activists are taking photos in support of #CrimeaIsUkraine:
On 19 October 2015, Ukrainian activists had launched a #CrimeaIsUkraine twitter storm  where they demanded that Larousse and another publisher, Oxford University Press, recall the erroneous editions and correct the mistake.
Oxford University Press stirred up a scandal when it referred to Crimea as an "enclave" of Russia, which Russia "took from Ukraine in 2014" in its geography textbook. Following an official inquiry by the Ukrainian ambassador to the UK and a public campaign, Oxford University Press had agreed to correct the mistake and now pledges that customers that purchased the erroneous version can receive an updated one free of charge.
Read also: Larousse & Oxford Press place Crimea in Russia, sparking outrage; activists call for action
In February 2014, unmarked Russian soldiers occupied Ukrainian territory and initiated the takeover of government buildings in the Crimean peninsula. On 16 March 2014, a so-called "referendum" was held in Crimea, following which the territory was attached to Russia. On 24 March 2014, 100 countries, including France, adopted the UN Resolution 68/262 that affirms the territorial integrity of Ukraine.
After Russia's illegal annexation of Crimea, the self-proclaimed authorities had engaged in numerous repressions against its indigenous population, the Crimean Tatars, which some commentators have called a "hybrid genocide."
Tags: #CrimeaIsUkraine, Crimea, France, Larousse, News