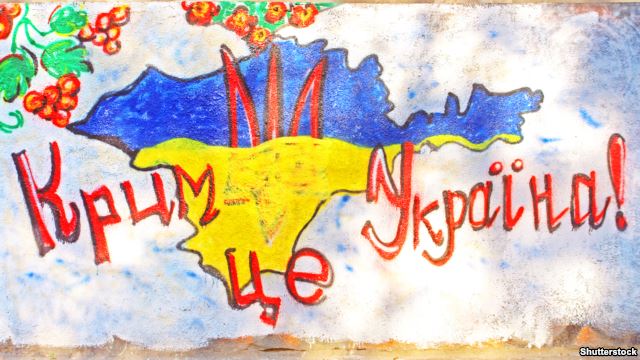 A graffiti with the words "Crimea is Ukraine" adorns a building in Ukraine 
Following an inquiry from the Ukrainian ambassador to the UK and a public campaign, Oxford University Press has stopped distributing the geography textbook for students aged 11 to 14 which pictured Crimea as part of the Russian Federation.
A representative of the publishing house commented to Euromaidan Press that they had "stopped distributing the title with immediate effect," are reviewing the section in question, and are considering how best to manage the process of getting the updated version to our customers. The official statement released by Oxford University Press notes that they will be adding "further detail" to explain the "complex situation in the Crimea."
On October 19, activists held a #CrimeaIsUkraine twitter and message storm where they addressed Oxford University Press and Larousse, a French publisher that similarly had published an Atlas picturing Crimea as being not part of Ukraine, and demanded the publishers issue public statements stating that this publication was a mistake, withdraw all unsold copies of the Atlas and Textbook with erroneous information, publish a corrected version of the chapter for downloading by those that have already purchased it, and issue an apology before Ukrainians and Crimean Tatars.
Read more: Larousse & Oxford Press place Crimea in Russia, sparking outrage; activists call for action
Larousse, meanwhile, has not responded either to the inquiry of Ukrainian ambassador to France, or to the media inquiries of Euromaidan Press. However, Isabelle Dumont, the French ambassador to Ukraine, has tweeted "France does not recognize the annexation of Crimea. I am glad that Larousse corrected their map of Ukraine."
La France ne reconnaît pas l'annexion de la #Crimée. Je me félicite que @LAROUSSE_FR ait corrigé sa carte de l'#Ukraine

— Isabelle Dumont (@isabelledumont) October 19, 2015
It is unclear what map Ms. Dumont is referring to. The paper edition of the Atlas with Crimea belonging to Russia is still being sold in the bookshops of Paris. The digital map of Ukraine on Larousse's site has been edited for the last time on 2013-04-08 15:22:11 GMT according to the image metadata analysis of Fotoforensics, a digital photo forensics site, and has likely not been updated from that time.
Read also: Mariani's visit to Crimea shame for France – French citizen
The Crimean "referendum," held on 16 March 2014 after unmarked soldiers that Russian president Vladimir Putin later acknowledged as Russian soldiers, took over government buildings in Crimea, was declared invalid by the UN Resolution 68/262, where 100 countries, including France and UK, supported Ukraine's territorial integrity. The UK is also a signatory of the Budapest Memorandum on security assurances to Ukraine, while France is a signatory of a separate document that provides weaker guarantees to Ukraine.
Read also: Crushing dissent. Timeline of repressions against Crimean Tatars in occupied Crimea

 
Tags: #CrimeaIsUkraine, Crimea, France, International, UK