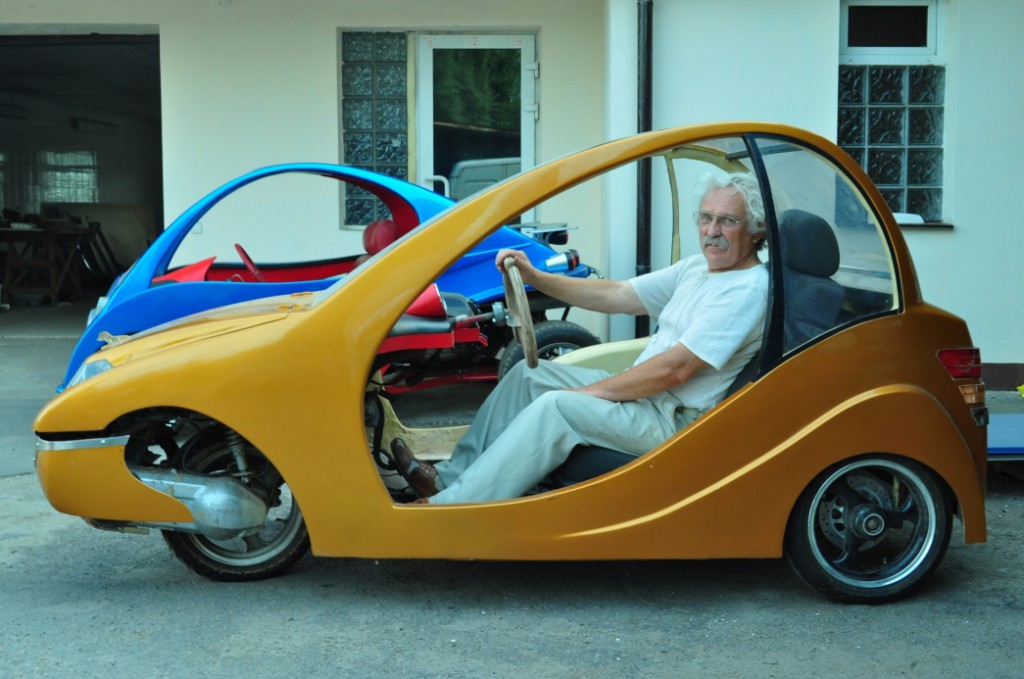 Eduard Rudnyk inside his creation 
75 year-old Kyiv resident Eduard Rudnyk has been assembling personal vehicles made of Styrofoam and fiberglass since the age of 43. He has already created 22 affordable cars starting from the low price of UAH 18,000 [roughly $850 – ed.] and dreams about mass producing them. In order to do this, he needs investments of $2mn to launch a mass production.
Eduard was born in Soviet Russia to a family of Ukrainian soldiers. After school he moved to Fastiv, a city in Ukraine's Kyiv Oblast. At the age of 12, Mr. Rudnyk became interested in cars, only to construct his first vehicle in 1983 when he was 43.
It took Mr. Rudnyk 3 years to construct his first automobile, which he named "Pulsar." The invention was basically created out of spare parts from a Tula motorcycle. Since then, the carmaker has created more than two dozen two-seaters and established his own design office with four other people.
All of Eduard Rudnyk's cars are made of metal frames and housed in fiberglass. They're equipped with motorcycle suspension and steering mechanisms. Some of the models are even equipped with electric motors. In either case, such a two-person minicar won't break the bank. According to the inventor, these cars have the simplicity of a motorcycle and the comfort of a car all in one vehicle, take up little space yet at the same time offer comfort for passengers.
The mini-automobile is also good in that it doesn't need a powerful motor because of its lightness and low fuel consumption. The maximum speed of such a car is 100-120 kph, which is enough for the city. "Already in the 1970s I understood that cars should be two-seaters. Standing in Kyiv on prospect Peremohy, I observed that cars seated a maximum of two people. Why, one asks, do we need to set in motion half a ton of iron to burn 15-20 liters of gasoline?" Mr. Rudnyk recalled.
If you compare Rudnyk's mini-cars with other models on the market, they surely have their advantages: the Laska [Ukrainian for "caress"] model carries 280 kilograms and holds 3.8 liters of gasoline per 100 km. It's the fastest car in Rudnyk's line. The doors of the Bursak model, the cheapest of them, open towards the sky. He calls the Bursak a car for students, which can be had at just UAH 18,000 [$850]. Also worth mentioning, Eduard Rudnyk gives all of his creations Ukrainian names, which are written in Cyrillic.
Creating cars is an art. From the outset, Eduard draws the car's profile on some cardboard and then makes the frame from pipes, filling in the space of the future car with Styrofoam. From this, metal graters are carved out, like a sculptor, to the shape. Later, he covers it with liquid glass. It solidifies and forms the body of the car. The carmaker dreams of mass production but for this he needs investment – according to Rudnyk's estimates, about $2mn. But he doesn't really expect to find sponsors. "The time isn't ripe for my cars. Businessmen aren't interested in the production of such automobiles. An automobile plant becomes profitable only after 4-5 years," says the inventor.
Tags: Science and Innovation