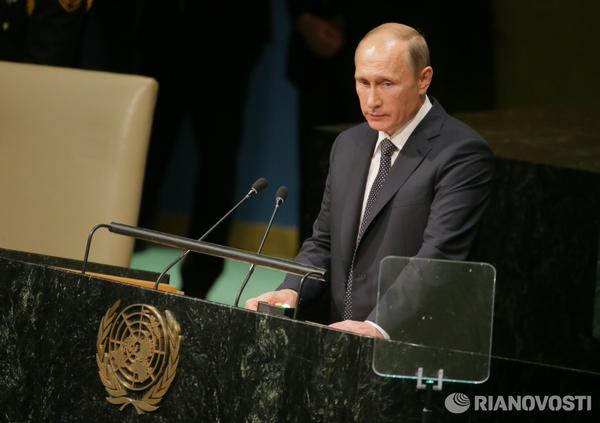 Putin giving a speech to the UN General Assembly on September 28, 2015 in New York City 
Putin's visit to the US triggered a flurry of predictions. Some predicted Putin and Obama would at least find consensus on the Middle East. Others believed Putin would exchange his participation in fighting the Islamic State for Western and US refusal to support Ukraine. Some argued this visit would mean Russia's rapprochement with the civilized world: Putin allegedly had realized how Russia's economy could be damaged by Western sanctions and falling oil prices and would try to find common ground. But somehow no one suggested the most obvious reason: Putin needed the US voyage only as a nice TV image – the way Kremlin spin doctors see "nice".
It is obvious: Russia's ruler spent but a few hours in the US. He only had time to adress the UN General Assembly, arriving only a few minutes before his speech, attend a dinner, conduct a few short meetings and a long one with Barack Obama. And then he was gone.
Photo: EPA/UPG
Why did he even fly there? Firstly, because this UN anniversary session was attended by almost all the world leaders, and sending PM Medvedev or FM Lavrov would be an affront not just to the US, but to the international community as a whole. Putin had to show he was a world leader.
But this world leadership wouldn't mean anything without meeting Obama. This is why from the very moment Putin decided to fly to the US, Russia has started giving public hints the US should ask Putin for a meeting. The US pretended not to take the hints. Then the Russians started asking themselves, but were repeatedly denied, because the leader of the free world doesn't have time for some guy called Putin. Then the Kremlin performed a whole Syria operation – with reports coming of new Russian equipment and eve soldiers arriving there.
The West was really scared that Russian presence would be another destabilization factor in Syria or could lead to accidents like Russian soldiers supporting Assad taking fire from Western-backed Syrian rebels. This is when Berlin joined the calls on Obama to meet Putin.
It's not the first time Putin is throwing a fit for everyone to take notice of him. But this trick works every time – and he knows that.
However, when Putin did arrive to New York, it turned out he had nothing to say at all – neither to the General Assembly nor to Obama. Surprisingly, the main newsworthy item for Putin's address was the Ukrainian delegation leaving the hall before the agressor's head of state started speaking. Everyone, including Russian propaganda outlets, reported on that.
If Putin's address had any substantial message, no one would have noticed the Ukrainians leaving. However, Putin's address was rather shallow – a sort of retort to Obama who spoke of supporting democratic reforms and reminded that "color revolutions" were not coups but popular protests, and also condemned Russia's actions in Ukraine. The only meaningful part of Putin's address was the call to create a coalition like the anti-Hitler one against the Islamic state – but after the meeting with Obama Putin de facto rejected his own offer, saying that setting up a joint command structure to fight the extremists made no sense. However, Putin also denied the possibility of Russia's ground operations in Syria. This was evident from the very beginning: Russia just hasn't got the resources for such an operation. However, neither it has the resources for a large-scale bombing campaign against ISIS.
The only thing Putin can do in Syria is protect Assad while pretending his troops isn't there – just like in Eastern Ukraine. This is what his "foreign partners" fear – Obama, French president Francois Hollande and Turkey's prime minister Davutoglu have said in the UN that keeping Assad in power means strengthening the Islamic State. This is why Putin's actions in Syria don't oppose, but support the terrorists.
It is also significant that Russia's president did all he could to ignore Ukraine in the UN. His failure of a speech only mentioned Ukraine in passing, and after the meeting with Obama he only gave a couple of remarks on the topic to the press. We learned that the presidents spent half of their meeting talking about Ukraine only from the White House's spokesman. There's logic behind that as well – Putin has no new agenda on Ukraine. His strategy is biding the time, resisting attempts to push him out of Donbas and hinder the occupation forces in Crimea. This is why during the upcoming Normandy format meeting on Friday he'll do anything he can to delay the Minsk agreements implementation. The only thing he could do during the meeting with Obama was listen to accusations – the facts that accusations did happen and were Ukraine-related is proven by the presence of State Dept's Europe leader Victoria Nuland at the negotiations.
Soon Putin'sn US voyage will be forgotten. But Russian TV viewers will see their ruler walking around the UN building, clinking glasses with Obama and talking to him for longer than it was planned. Russian and world media will keep mulling over what Putin's said in his interview to US journalists – as if he came with an official visit, not for a fleeting UN appearance. All this will be the leading topic on Russian TV channels – look how he scolded them! How they had to listen to him! How Obama cringed! How Poroshenko left the hall! Rus-sia! Ru-sia!
Sometimes it's not enough to get Kremlin's mouthpieces like Dmitry Kiselev to blabber praise to Putin on TV. Sometimes you have to create something for Kiselev to blabber about.
Tags: Barack Obama, Portnikov, Putin, UN