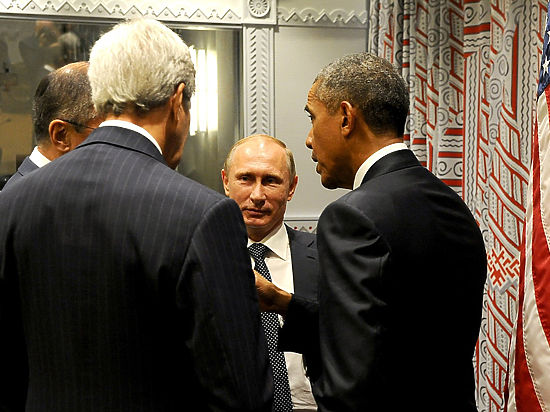 Neither the Russian nor the American side put out an official statement about the meeting of the two presidents in New York, but the comments by Vladimir Putin and US Secretary of State John Kerry suggest the two agreed on far more about Ukraine and Syria than Moscow or Washington have acknowledged, according to Andrey Illarionov.
The Russian analyst says it one must "distinguish between solemn declaration and hidden agreements" which can lead to war, and thus it is especially important not to be caught up in either the words of Vladimir Putin or the content of Barack Obama's UN General Assembly speech in assessing where things are headed.
Despite the emotional terms in which they were couched, Illarionov says, both the Putin and Kerry versions of the agreement achieved "differ little from one another." Moreover, "both sides noted that the negotiations were open, civic and constructive."
According to Kerry, "a significant amount of time' was devoted to Ukraine, and Putin and Obama reached four points of accord:
"1. We together want to solve 'the Ukrainian crisis.'
2. The joint task of Russia and the US is to seek the fulfillment of Minsk-2.
3. For this in particular, on October 2 will take place a meeting of Hollande, Merkel and Putin in Paris (Kerry did not consider it necessary to mention the name Poroshenko).
4. [And] the task is to seek the fulfillment of Minsk-2 in the course of the next three months before the end of 2015."
"That is all," Illarionov says. There was no mention by the US of the withdrawal of Russian forces from Ukrainian territory, an end to external support of the separatists, establishment of Ukrainian control over the internationally recognized border, or an end to the annexation of Crimea.
Again, the Russian analyst continues, according to Kerry, Putin and Obama reached the following agreements on Syria:
"1. Syria must be preserved as united and secular.
2. There must be developed (continued) military actions against ISIS.
3. There must be an administered transition process within a definite period of a change in the political regime in Syria…
4. Disagreements remain relative to what this transition process means and what could be its results.
5. In this transition process must participate Russia, Iran, Saudi Arabia, Türkiye and Qatar…
6. A coalition between the US and Russia in the war against ISIS is 'absolutely possible' once there is agreement on the transition process.
7. [The US now does not demand Assad's immediate ouster.]
8. [Concerning Iran,] 'The Iranians obviously will be a component of this process."
Kerry made three other comments, Illarionov remarks.
First, he said that the US had asked Moscow to use its good offices to prevent Assad from using barrel bombs against the population.
Second, he stressed how pleased he personally was to have "a chance to speak with President Putin."
And third, Kerry said that if Russia acted alone in Iraq, it could have serious negative consequences for Russia and for Putin personally.
All this suggests, the Russian analyst continues, that there were real agreements between Putin and Obama on both Ukraine and Syria. (Adding to that impression is the fact that Obama chose not to meet with the Ukrainian president at UNGA but handed off that task to Vice President Joe Biden.)
And he argues that Russian bombing in Syria "is nothing other than the direct result of agreements between Putin and Obama. Without Obama's approval, the Russian military actions in Syria would have been either impossible or unilateral. Now, however, they have received official cover from the US administration."
"With all due respect to those who hold dear and who sincerely believe in the correct, wise and remarkable words spoken from time to time by Mr. Obama," Illarionov says, "all the same one must distinguish between solemn declarations which do not have practical consequences and hidden agreements behind which wars begin" especially when such agreements involve authoritarian regimes.
Tags: Barack Obama, International, Putin, Russia, Russia-US relations, USA