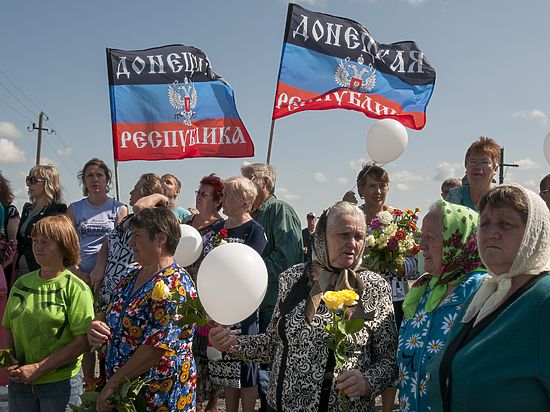 The "DNR" meetings normally feature mostly older people who still remember and long for the USSR (Image: AP) 
One of the major Russian newspapers "Moskovsky komsomolets" yesterday published the results of a poll conducted by pro-Moscow sociologists in the "Donetsk Peoples Republic," results that the Moscow paper suggested would surprise those who watch Russian television because they show the population there doesn't support either Russia or the "militias."
The poll found that "far fewer than half of the residents support the DNR and those who consider themselves patriots of Russia are also fewer than half." Judging from the number of views this report has received so far, Russians in Russia are paying attention to those results.
This poll was conducted last month not by Ukrainians but by Russian specialists at the Special Status Center for Sociological Research. It surveyed 6500 people in 19 cities and towns of the region now under the control of Russian military units and pro-Moscow "militias," the article continued.
Despite what many would expect, "Moskovsky komsomolets" reported, the majority of the people in the region were not against the Ukrainian Maidan and for the DNR, "and although the agency with pride reports that the number of such people in recent times has increased by seven percent, that brings the number only to 29 percent, that is, not even half."
"Still sadder statistics for the apologists of the idea of Novorossiya," the paper's Ostap Zhukov writes, were the responses when people in the Donbas were asked "'do you consider yourself a patriot of Russia?'" On average across the region, "only ten percent" of the sample said they did.
In general, Zhukov says, people there "consider themselves patriots of the Donbas with between 34 and 48 percent making that declaration.
Compiling and publishing in Moscow such statistics is perhaps easier now that Vladimir Putin is insisting that the Donbas must remain part of Ukraine, but these numbers show that his earlier claims about pro-Moscow feelings in the region, claims that he used to justify the Anschluss of Crimea and involvement in eastern Ukraine, were completely false.
That Russians are being provided evidence of that and in one of the most widely read Moscow newspapers is thus both striking and encouraging, an indication that ever more Russians however much they may support Putin in the abstract are going to learn that he has been lying to them and the rest of the world about Ukraine.
Tags: DNR ("Donetsk People's Republic"), Donbas, Donbas war (2014-present), International, Poll, population, Russia