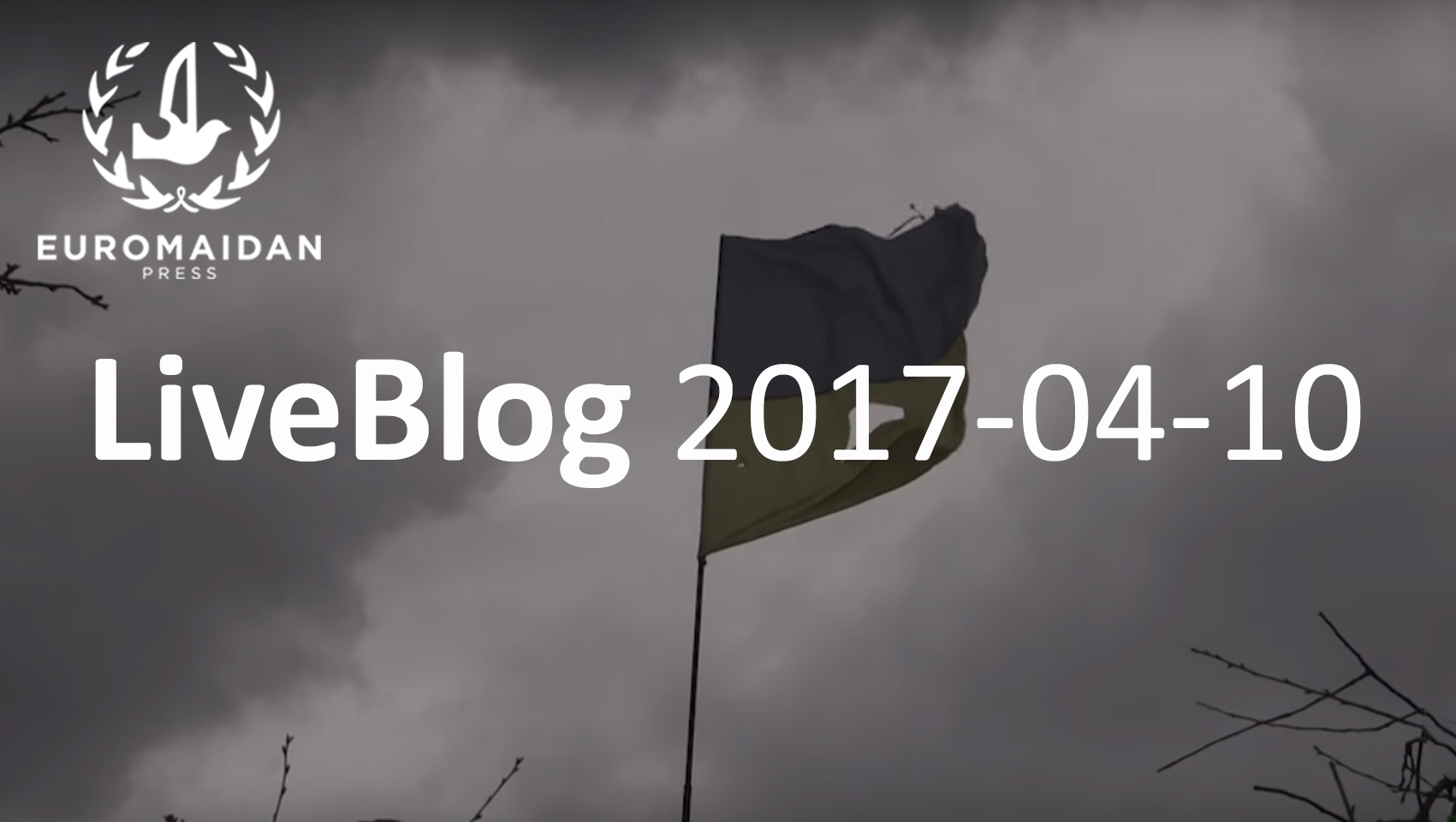 "Easter ceasefire" in Donbas as of April 8: 2 killed in action, 33 wounded. 394 attacks in 9 days
4 soldiers wounded in 59 attacks on April 8
2 WIA in 44 attacks on April 9
"DNR" fake news about 500-person "Islamic brigade" in Mariupol debunked
On April 9 and April 10 (as of 17:00), minor military activity reported by local residents on social networks
Contaminated area in Balakliya reduced to 200 meters – State Emergency Service
Czech court closes down organization posing as "Donetsk People's Republic Consulate"
Artillery bombardment south of Donetsk amid "Easter ceasefire" – social networks (April 10, 17:00-23:59)
---
Artillery bombardment south of Donetsk amid "Easter ceasefire" – social networks (April 10, 17:00-23:59)
Local residents reported activation of artillery in the area of occupied Dokuchaevsk, south of Donetsk. A cannonade could be heard in Mariupol. Less activity near Avdiivka today, though southwest Donetsk recorded skirmishes. Quiet in Luhansk Oblast.
Inactive skirmishes in Marinka, Ukraine-controlled southwest suburb of Donetsk:
15:35 Marinka: booms, rattling
17:28 Marinka: so far calm
18:03 Marinka: short-lasting gunfire and periodic booms
#Александровка слушает Марьинку-Трудовские 10/04/17 pic.twitter.com/x3ZhqaJI5C

— Necro Mancer (@666_mancer) April 10, 2017
Translation: Oleksandrivka is listening to Marinka-Trudovski.
Novhorodske settlement, facing occupied Horlivka, heard explosions:
19:07 Novhorodske: For about 30 minutes it has already rumbled and ceased
Trudovski, a settlement in southwest Petrovskyi district of occupied Donetsk could hear outgoing fire:  
19:30 Donetsk Trudovski: "#school106 bus stop: they fire from a slagheap, bullets whistle overhead, be careful"
An evening cannonade in Mariupol:
19:39 Mariupol: Sounds from artillery has been heard intermittent over the day, last was heard around 18:15. The new normal in Mariupol
19:49 [Novoazovsk district]: A smoke raised over Pikuzy

Occupied Dokuchaevsk, a town south of Donetsk, activates:
20:33 Dokuchaevsk: Evening "ceasefire" has started

Some explosions heard in Avdiivka:
Occupied Trudovski, southwest of Donetsk:
20:47 Donetsk: "I called my folks at Trudovski, it's sad there –  a mortar, BMP, AGL, signal flares
20:51 Kadiivka Romashka: Quiet.
20:51 Luhansk Horodok: Quiet

Avdiivka's Promzone is still noisy:
20:54 [Avdiivka] Promka: After all, it's still noisy at short pauses

Heavy artillery starts shelling from Dokuchaevsk area:
21:07 Dokuchaevsk: Bigger [gun] started [to shell]…
A rare report on military activity from occupied Crimea: 
21:28 occupied Sevastopol, Crimea: an unprecedented activity of military aviation today, flying all day, often low altitudes over residential areas.

A resident of occupied Dokuchaevsk identifies the gun shelling as a self-propelled gun:
21:31 Dokuchaevsk: SPG has started to work. Seldom

Volnovakha, a Ukraine-controlled town southwest of occupied Dokuchaevsk can hear incoming rounds:
21:35 Volnovakha: "It falls relatively close to the city, f*cking bastards"
21:38 Dokuchaevsk: From the old concrete products plant, 3 SPGs are working, and I think they contribute from #Komunarivka too
21:39 Dokuchaevsk: It sounds like we are being liberated [=irony]
21:41 Volnovakha: So far it falls somewhere north, northeast of the town, heard through closed windows
22:00 Donetsk Trudovski: frequent assault rifle bursts and rare heavy [booms]
22:05 Dokuchaevsk: They have ceased
22:17 Volnovakha: Again [incoming artillery rounds] in our direction, falls roughly in the same place
22:21 Dokuchaevsk: SPG, massively [=outgoing fire]
22:22 Dokuchaevsk: From the same place, f*ck
22:26 Volnovakha: The impression is like ruscists know that we won't return fire today and pound more frequent
23:20 Makiivka #Avtotransportna street: Tracked hardware has moved towards Donetsk
23:49 Dokuchaevsk: The second run has started, they pound ruscists very dense
23:52 Volnovakha: "Dense booms are heard "

 
---
Czech court closes down organization posing as "Donetsk People's Republic Consulate"
The District Court in Czech Republic`s Ostrava started proceedings to liquidate the "DPR" Representative Center in Czech territory headed by Czech national Nela Liskova, UAposition reports. The court handed down the ruling on the second attempt.
As EuromaidanPress reported, the opening of the Ostrava destination was announced on 1 September 2016 and widely advertised as such in Russian media, being called either a "diplomacy center," or a "representative office" of the self-proclaimed "DNR."
---
Contaminated area in Balakliya reduced to 200 meters – State Emergency Service
Special teams of the State Emergency Service of Ukraine have removed explosive devices from the territory of Balakliya and nine villages in the vicinity, the State Emergency Service reports. "The contaminated area in and around Balaklia was reduced from 10 kilometers to 200 meters," the report reads.
As EuromaidanPress reported, on March 23 about 02:45, a massive fire broke out at some sites of ammunition storage depot, located near the city of Balakliya, Kharkiv Oblast, which triggered explosions.
---
DFRLab debunks DNR fake news about "Islamic Battalion" deployed in Mariupol to facilitate illegal trafficking of chemical weapons
On April 8, spokesperson of the "DNR ministry of defense" Eduard Basurin made an extraordinary claim: an "Islamic brigade" with as many as 500 fighters had been deployed to the Ukrainian port city of Mariupol. Even more shocking, according to Basurin, they had taken control of Mariupol's port and were facilitating the illegal trafficking of chemical weapons to unidentified Middle Eastern countries.
Atlantic Council's Digital Forensic Research Lab debunked DNR claims monitoring public Vkontakte groups of Mariupol residents. There is indeed a military base on Bakhchivandzhi street mentioned by Basurin, though it is difficult to imagine that an additional 500 people could be based out of this location.
---
Minor military activity on April 9, April 10 (as of 17:00)
On April 9 and April 10 (as of 15:00) Donbas residents reported minor military activity.
Reports of April 9 on social networks
08:57 Novhorodske: It rumbled all night through and ceased roughly between Usyk and Hvozdyk [fights of UA boxers last night]
17:47 Donetsk: Starohnativka – something rumbles good and plangent from time to time
19:21 Mariupol: How distinct are the sounds of "ceasefire" from Shyrokyne direction
19:32 Avdiivka: "Boom-boom" at the southeast outskirts
20:56 Popasna: The evening is not boring anymore. They are firing, loud, sometimes in series
21:32 Luhansk Mala Verhunka: quiet
21:34 Novoazovsk district: quiet
21:40 Krasnohorivka: Powerful booms
22:28 Avdiivka: Noisy
23:14 Kadiivka: Outgoing rounds are heard. Bakhmut_road direction
23:31 Donetsk: Distant indistinct booms sometimes come from the south
Reports of April 10 (00:00-17:00)
Residents of Donetsk and its suburbs report mostly calm night and minor military activity in the morning, afternoon:
02:15 Marinka: Several booms and gunfire, not long time
05:45 Marinka: Just before the dawn they were shooting a bit
07:25 Marinka: Quiet
12:51 Donetsk Kyivskyi district: Just now AA-gun has been shooting something now, I guess from #Tochmash plant
12:51 Donetsk Kyivskyi district: The last night was somehow calmer, quieter than previous one
12:52 Donetsk: Putilovka woke up [=activated]
12:53 Donetsk Shakhtarska square: Strange sounds, kind of close combat, just very much close
13:15 Donetsk: #Kirsha direction – 2 medium ka-booms
14:46 [Taramchuk?]: One can hear Olenivka–Dokuchaevsk

Bakhmut_road, Luhansk Oblast:
Inactive battle southwest of Donetsk:
Toretsk could hear an explosion:
16:30 Toretsk: Just now something has boomed f*cking strong. My window frames shuddered clinking
---
2 soldiers wounded in 44 attacks on April 9
The ATO Headquarters reported 44 attacks on Ukrainian positions in the Donbas on April 9, two servicemen were wounded in action.
Mariupol sector

120mm mortars, anti tank grenade launchers, BMP armament were used to attack Ukrainian positions near Novotroitske.
Vodyane, #Lededynske, Krasnohorivka came under fire of grenade launchers of various types, heavy machine guns.
Strongholds near Hnutove, #Novohnativka were attacked using grenade launchers.
Heavy machine guns fired on the areas of Pavlopil, #Novomykhaylivka.
BMP armament and small arms were used to attack Shyrokyne.
#Novohryhorivka area was attacked using BMP armament.

Donetsk sector

Anti tank grenade launchers and heavy machine guns were used to attack Ukrainian positions near Avdiivka and Butovka_airshaft.
Verknyotoretske and Zaytseve stronghold were attacked with anti tank grenade launchers and small arms.
Enemy snipers activated in Pisky area.

Luhansk sector

Ukrainian strongholds near Novozvanivka were attacked using 82mm mortars and heavy machine guns.
Positions near Troitske, Krymske, Stanytsia_Luhanska were attacked with grenade launchers of various types and heavy machine guns.
Heavy machine guns fired on #Novotoshkivka
https://www.facebook.com/euromaidanpress.en/photos/a.220820914768385.1073741828.220542374796239/665655950284877/?type=3
Tags: Czech Republic, DNR ("Donetsk People's Republic"), Donbas war (2014-present), Donetsk, fake consulate, Fake news, Mariupol, News, Russian diplomacy, Volnovakha