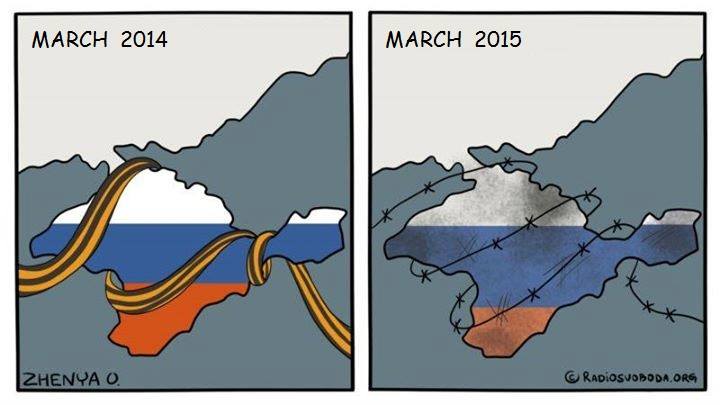 Immediately after the Russian occupation of Crimea, kidnapping and enforced disappearances began, with the help of the Russian army, which continue to this day.
Alexandra Romantsova, project coordinator of the Center for Civil Liberties, a volunteer of "Euromaidan SOS", told about it at a press conference.
The victims of such actions are participants in peaceful demonstrations for the unity of Ukraine, Ukrainian servicemen, local Euromaidan leaders, social activists, and members of the Crimean Tatar community.
"All these things cannot be regarded as isolated crimes. They can be traced to a single political motive and focus on involuntary termination or change of public activity of the victims," said Romantsova.
The human rights activist noted that during the occupation of Crimea, the following Euromaidan activists disappeared:
Ivan Bondarets (born in 1990) disappeared in Simferopol on March 7, 2014;
Vladislav Vashchuk (born in 1985) disappeared in Simferopol on March 7, 2014;
Vasily Chernish (born in 1978) disappeared in Sevastopol on March 15, 2014.
Missing members of the public initiative "Ukrainian People's House":
Timur Shaimardanov (disappeared on May 26, 2014);
Seyran Zeynedinov (disappeared on May 30, 2014);
Leonid Korzh (disappeared on May 22, 2014).
Missing Crimean Tatars:
Islyam Djeparov (disappeared on 27 September 2014 on the Simferopol – Feodosia highway);
Mukhtar Arislyanov (disappeared in Simferopol on August 27, 2015);
Jevdet Islyamov (disappeared on the Simferopol – Feodosia highway on September 27, 2014);
Eskender Apselyamov (disappeared in the village of Kalinino, Chervonogvardeysky district on October 3, 2014).
In addition, Fedor Kostenko, father of Alexander Kostenko, who was illegally detained by the occupation authorities of Crimea, disappeared March 3, 2015: approximate location of his disappearance:  administrative border crossing with Ukraine in the direction of Crimea.
At least three of those who went missing in the temporarily occupied territory of Crimea in 2014 – Reshat Ametov, Belyal Bilyalov, and Edem Osmanov – were later found tortured and killed. On 29 August 2015, Memet Selimov (born 1986) and Osman Ibragimov (born 1988) were also found dead.
A recording of the press conference is available here.
Tags: Crimea, News, Occupation