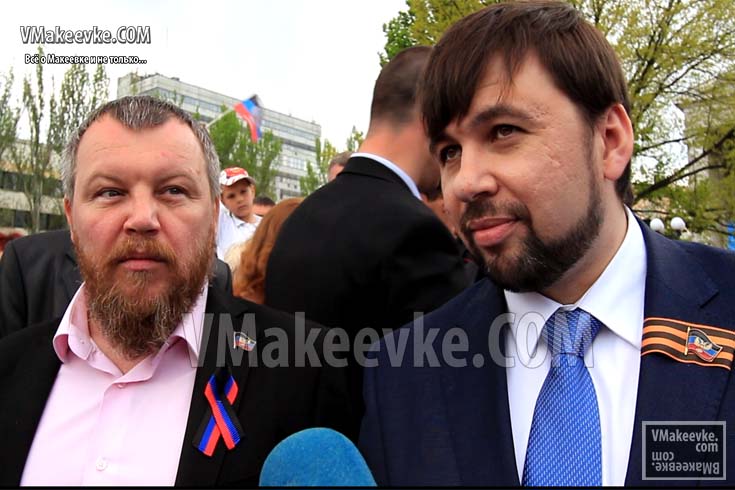 Andrey Purgin and Denis Pushilin, the main characters of the "Game of Thrones meets House of Cards" drama thay played out in occupied Donetsk on a Friday night 
In the evening of Friday, September 4, news came out from occupied Donetsk which ultimately boiled down to a shift of power in the Moscow proxie authorities, with Denis Pushilin replacing Andrey Purgin as speaker of "DNR's" "parliament".
This is probably the first time many outside observers found out "DNR" even has a parliament or that Andrei Purgin or Denis Pushilin exist. We've decided to help you understand what the turmoil in Donetsk means.
Key players
Andrey Purgin
Purgin is (was) "DNR's" "parliament speaker", who got his post during a sham election held by Moscow proxies in November 2014, without any credible international observers and in violation of the Minsk agreements. Purgin is a "Founding father" of the fake republic who was into Donbas separatism way before it went mainstream with the help of Russian money. Here's a video of Purgin handing out St. George ribbons under a very recognizable flag in Donetsk… in 2011.
Denis Pushilin
Before Kremlin set its eyes on Donbas, Pushilin headed the Ukrainian branch of Russian-based MMM, the biggest Ponzi scam in the post-Soviet world. In 2014, according to Russian Novaya Gazeta (whose reporters are banned from occupied Donbas for some reason), Pushilin hit a windfall with streams of money pumped through him by Russian intelligence in a bid to make half of Ukraine follow Donetsk and Luhansk into Russia's embrace. Somehow this did not succeed, partly because the money could have gone wrong ways under Pushilin. Recently leaked messages revealed Pushilin's exploits during the war, from profiteering from US-led multi-level marketing scheme Amway to meeting key Kremlin representatives like Vladislav Surkov. He represents the "rebels" in Minsk peace talks and is considered by many pro-Russian observers to be Kremlin's lapdog intent to sell Donbas back to Ukraine.
Alexander Zakharchenko
Before his political career skyrocketed, Zakharchenko was a mine technician/poultry trader. After Kremlin politely asked muscovites Igor Girkin and Alexander Borodai to leave Donbas, he assumed nominal leadership over "DNR", his status confirmed in the same sham elections of 2014. Zakharchenko is known for controlling lots of Donbas businesses (i.e. groceries retail chains), a love for expensive cars (of questionable origin) and a keen eye for planes (claimed spotting and identifying a Ukrainian jet that shot down MH17 at a 10 km attitude).
Arseniy "Motorola" Pavlov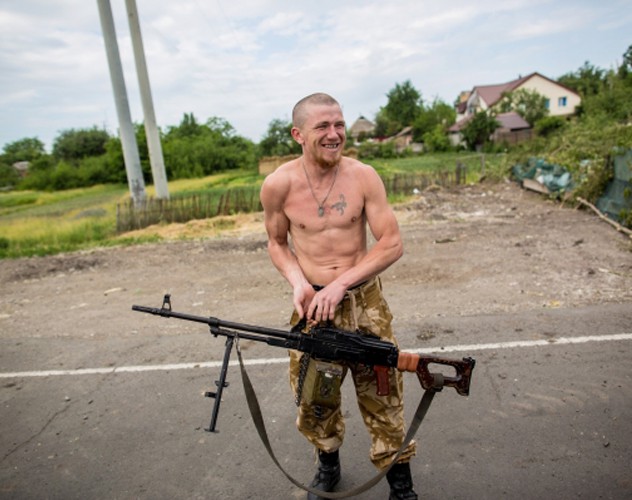 This Russian ex-car washer turned Kremlin propaganda poster boy is one of the most decorated "heroes of Novorossiya", whose best-known achievement is executing Ukrainian POWs. His "Sparta" battalion has insignia snatched from a Ukrainian made postapocalyptic video game series "Metro". Could turning Donetsk airport into a wasteland be an elaborate reenactment?
What happened?
This section is mostly based on the coverage of the events by Donbas News, a good source of information on the situation within the fake republics and in Ukraine-controlled Donbas
As Andrey Purgin was returning from an alleged meeting in Moscow with Vyacheslav Volodin, Putin's powerful chief of staff, he (or his aide Alexey Alexandrov, depending on which source you believe) was barred entrance by "DNR" border guards. What passes for "DNR's" secret police declared on a Russian social network vk.com that they indeed denied Alexandrov access due to his "subversive activities to undermine the Republic".
This North Korea-esque accusation is pretty indicative. It can be harder to understand what happens in Russia-occupied Donetsk than in the Kim dynasty hermit kingdom, Donbas News admitted. However, rumors did persist that as Purgin and Alexandrov managed to cross the border, "DNR" "parliament" went into emergency session. However, besides the "MPs", the former Donetsk administation building had some unexpected guests.
Meet Alexey Lomayev, Russian paratrooper with a vk.com profile "lomaev1488" suggesting a true ̶a̶n̶t̶i̶fascist background.
This perfect "selfie soldier's" story is best summed up via his own Instagram posts.
Apart from video game reenactors and Russian paratroopers inside the building, sources from Donetsk say the "parliament" was surrounded by armed men, who packed some heavy firepower like this anti-aircraft cannon:
Зенитка возле ДонОГА во время заседания pic.twitter.com/EWHgnk5don

— Все Плохо (@sranysovok) September 4, 2015
The combination of heavy weaponry and Russian neo-Nazi contract soldiers ensured no "subversive activity to undermine the Republic" happened inside the administration building. Pushilin emerged triumphant, with 70 out of 73 "MPs" (according to the ex-Ponzi scammer's own statement) voting him in as speaker in lieu of Purgin. "DNR's" "law enforcement" promtly started investigating Alexandrov's "subversive activities" (that's a lot of quotation marks for one sentence, but remember, we are dealing with fake "republics" here).
No detailed official "DNR" explanation as to what Purgin and Alexandrov actually did to warrant their fall from grace has been issued.
So what happened?
Depends on who you trust. For instance, you may believe pro-Kremlin experts hailing the events as a manifestation of democratic process thwarting Purgin's coup d'etat. Ok, didn't think so either.
Donbas News believe the turmoil in Donetsk is just the tip of the iceberg representing clashes in the Kremlin over who's playground occupied Donbas really is.
#Donetsk situation's result of Cremlin fights. Surkov(controls Pushylin) vs Volodin(controls Purgin).Locals've nothing to do wth it,as usual

— News of Donbas (@novostidnua_en) September 4, 2015
Oliver Carrol, a British journalist currently working in Donetsk (not the Graham Philips kind of journalist) doesn't buy into the Surkov-Volodin struggle theory, attributing the coup to local politics (though it's hard to say what would the exact point of contention between Pushilin and Purgin be).
Re 2day's events, local politics explanation much more likely than Moscow infighting 1. Surkov v Volodin unlikely 2 b played out in Donetsk

— Oliver Carroll (@olliecarroll) September 4, 2015
A third theory is widely accepted by die-hard "New Russia" supporters who keep accusing Putin of treason and leaving Donbas to the enemy (polar opposites of some Poroshenko critics who essentialy say the same). In a FB post, pro-Russian volunteer Juchkovsky blasted Pushilin's bid for power an "anticonstitutional coup" (apparently "DNR" also has a constitution, in addition to a parliament). This, Juchkovsky grimly predicts, is the triumph of a clan bent to "peacefully resolve" the Donbas conflict (which apparently means handing the "republics" back to Ukraine).
The "New Russia dispatches" group (of the "we just shot down a plane" fame) went even further, openly accusing the putchists of "selling our independence". Other pro-"rebel" commenters were just as vocal:
NOOOOOOOOOOO pic.twitter.com/rqytt9gm3P

— Все Плохо (@sranysovok) September 4, 2015
"We're being sold! Purgin, the man who made DNR, is ousted, replaced by Pushilin who is a sell-out to the Ukrainians!"
Some evidence to support those rantings may come from the always reliable Russian media. Reacting to the controversial Ukrainian constitutional amendments providing for Donbas's special governance as per Minsk agreement, Purgin outright rejected them, while Pushilin talked of dialogue with Kyiv over local elections (which are also part of Minsk agreement, that Pushilin, being part of the peace talks, may have actually read).
If true, this theory could mean we saw the beginning of an end of the bloody war in Donbas, Putin's "vacation soldiers" heading for warmer waters in the Mediterranean.
The murkiest part of the puzzle is the (non-)involvement of "DNR's" Dear Leader Alexander Zakharchenko. Some say he left Donetsk, others claim he initiated the "parliament" session that ousted Purgin, still others say he wasn't even present there. Some believe he is part of the coup, others fear he could face Purgin's fate. A pro-Russian blogger argued Zakharchenko would have to adapt the new political reality (or else…).
Of course, it could be that we got everything wrong and  the Donetsk coup really was an elaborate Amway plot.
ПЕРЕВОРОТ В ДНР ЛОББИРОВАЛА АМЕРИКАНСКАЯ ТРАНСНАЦИОНАЛЬНАЯ КОРПОРАЦИЯ AMWAY pic.twitter.com/rHl3Y7l2YA

— Киселев: вести дня (@dailykiselev) September 4, 2015
Tags: Donbas