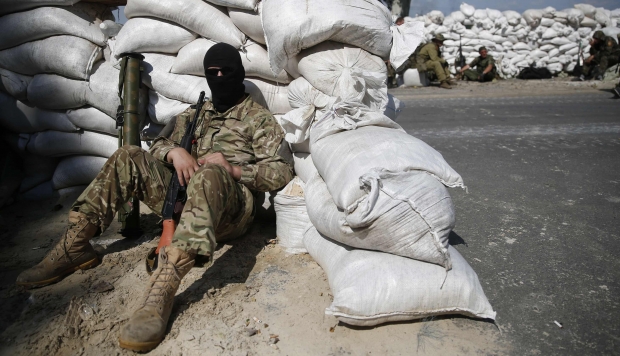 The popular Donetsk online publication Ostrov has released data of its own survey, which indicates that  the majority of respondents (representative of Ostrov users) want to remain in Ukraine and only a tiny minority support the separatists, reports UNIAN, July 11.  According to the survey, 75%  of the respondents see their future with Ukraine; 15% would like to live in the West; 4% are ready to move to Russia, and only 3% see their future with the self-proclaimed Donetsk People's Republic or the Luhansk People's Republic.
According to analysts, the important point is that more than 7500 users of the online publication (currently more than 11,000 — Ed.) have taken part in the survey — a much larger number than the usual selection in representative nationwide public opinion surveys.
Commenting on the results, political scientist Kost Bondarenko, director of the Ukrainian Politics Foundation, notes that "results of these kinds of public opinion polls capture a very important population — people who are intelligent, thoughtful, and who are trying to keep up with the times."
According to Bondarenko, "these are people who appreciably influence public opinion and set the tone of public life. And it is significant that this part of society is categorically opposed to separatism, considering it a risk and a dead-end for regional development," he says." The 75% figure of those who see their future with Ukraine is more than significant, as is the 3% supporting separatism. This demonstrates that separatism, as a political phenomenon, has fallen below the conventional threshold. Separatists, despite all attempts to increase their military-technical presence in the region, have failed to achieve the most essential thing — they have not been able to win over people who influence opinions and set the development strategy for the region," Bondarenko says.
However, Bondarenko thinks that people may question the representative nature of this kind of survey.
"At at time when it is virtually impossible (because of the fighting and unstable conditions) to conduct a series of field surveys in the Donbas, similar internet-based surveys do not provide absolute results, but they indicate the dynamics," he explains. "With a 75% result, it is meaningless to argue about the degree of survey error — we are dealing with trends, with attitudes. The fact that a significant majority of the population lives in urban areas suggests a high level of internet access and, accordingly, a high degree of reliability of such surveys. To speak about real and undeniable attitudes will be possible only after the Donbas returns to normal life and the population is able to participate in elections," the analyst concludes.
Translated by Anna Mostovych
Source: UNIAN