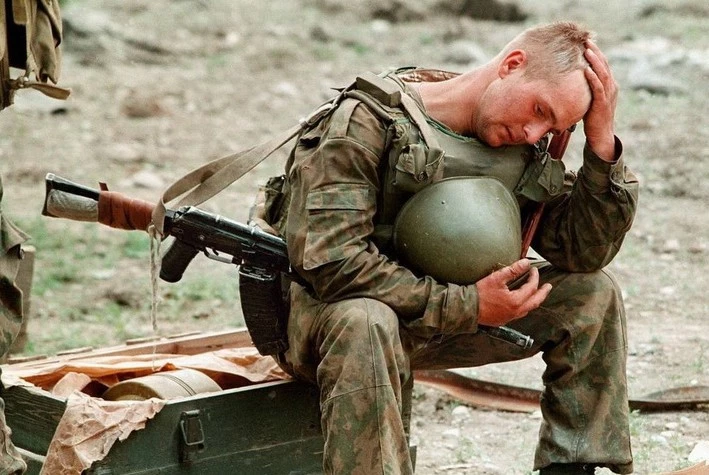 Source: report.if.ua 
The bloodshed in eastern Ukraine will change its people forever. It is unclear when the conflict will end, but the issue of healing their psychological wounds must be addressed already today.
In her late teens, my sister had a pen pal in the United States, a sort of "long distance boyfriend." Michael was a few years older than her, and probably about ten years older than me. Over dinner table we heard some stories, all very nice and innocent from the far-away USA. One day her story was not so nice, and came as a real shock: Michael had been called up for military duty and was about to be sent off to Vietnam. To avoid this he had shot himself in the foot during military training; the risk of being sent to the jungle fighting the Vietcong had been negated with this violent act of self-harm.
Almost two million American boys were drafted to be sent to Vietnam, and of the almost 60,000 American deaths during the Vietnam war 30% were draftees, young American boys who had no choice but to be hauled to the other side of the world to fight Communism. The war was lost, Vietnam became communist, and those who fought came back in shame, and often severely traumatized, to a country that had massively demonstrated against the war and was not ready and willing to recognize the horrors that many of their compatriots had lived through, fighting in tropical heat, in an unknown jungle and against an often invisible enemy that usually attacked from the back using a maze of tunnels deep into American-held territory.
The war changed America forever. It took American society almost a decade to start to respect those who fought in Vietnam, and only in 1982 a Vietnam Memorial was unveiled in Washington D.C. Ever since, any discussion about US military involvement abroad is invariably linked to the Vietnam War trauma, and the fear of repeating the same mistake has repeatedly limited or curbed military intervention. The downing of American helicopters in Somalia, and the military intervention in Iraq that led to a next wave of traumatized veterans returning to their homes, only deepened the wounds that Vietnam caused.
Vietnam was perceived as a liberation war, and so were the 1993 military intervention in Somalia and the Iraq War, yet that fact did not alter the level of trauma and the long-lasting consequences for society at large. War leaves deep scars that not only affect the person who took part in military action, but also his family and social environment, including his offspring into the second and third generation. Many of my American friends have a Vietnam War related story, be it an alcoholic father who started hunting his own kids with a shotgun in the middle of the night or the never-ending loss of the twin brother who came back in a casket, and the scars influence their behaviors to this very day.
Almost paralyzed, Europeans watched how a peaceful country was propelled into a volcano of hatred and revenge
On the European continent, the Yugoslav War of the 1990s brought back horrors to the European continent that most thought were forever banned from this part of the world. It turned out that the European security system put in place after the Second World War could not prevent massive bloodshed, ethnic cleaning, mass rape and pillaging. Almost paralyzed, Europeans watched how a peaceful country that had been considered a benign socialist dictatorship and a favorite holiday destination, was propelled into a volcano of hatred and revenge, leaving hundreds of thousands of people dead and many more severely traumatized.
A Canadian documentary on the psychological effects of the war in former Yugoslavia, with the meaningful title "Is my story hurting you?", tells the story of one of my colleagues, the Serbian psychiatrist Vladimir Jovic from Belgrade. Jovic escaped military service in the Yugoslav army at the front and, by doing so, avoided becoming directly involved in the many horrors that took place in his country. Being a psychiatrist, he saw the effects of the war on a daily basis and decided to establish together with a couple of friends an organization to meet some of the needs he encountered. In the film we see Jovic return to parts of Bosnia where Serbians are still living. He visits people who have been evicted from their homes and lost everything, without the chance of ever going back, and who do not even know the comfort of being recognized as "victims." The stories are terrible.
The Serbians are generally seen as the instigators of the war and it is often forgotten that they are victims as well. Without going into details of the thousand years of history that led to the suffering and bloodbaths in former Yugoslavia, and which might lead to more bloodshed in the future, one can state that the Serbians are in a way double traumatized. A populist dictator led them into a war in which they were defeated on all accounts: they lost the leading positions in a federal state, they became the outcasts of Europe and were forced on their knees by a science fiction-like bombardment with cruise missiles by NATO. At the same time they had to acknowledge that they were guilty of committing atrocities and by doing so added a dark black page to Serbian history. The feelings among the population must be quite similar to those of the Germans in 1945. It is a suffering that continues, but is not recognized as such because the role of a war criminal is seemingly incompatible with that of a victim.
Ukraine is going through a war that holds both of the above. For the larger part of the country, the war is one of liberation against the Russian aggressor and their Ukrainian collaborators, a mix of local criminals and social outcasts mixed with a quickly decreasing number of political activists who actually believe that the creation of the DNR and LNR has brought something good. Thousands of boys have been drafted into the army and sent to the East to fight a war that they often find hard to see as "theirs." They come back on leave, sit on the bus or subway in their hometown next to boys their age who are having fun, courting girls, or going to parties as if no war exists. They are not the volunteers, who after Maidan decided to go East to defend the country and did so out of conviction. These boys had no choice, and couldn't find a solid reason why they should not be drafted.
Yet on the other side we see a population terrorized into a proxy state of Putinist Russia, run by a bunch of crooks and criminal politicians, with paramilitary gangs establishing a hold on the territory through intimidation, coercion and pure terror. They too are Ukrainians, and once the country is reunited they will have to deal with a trauma that is not much different than that of Serbian society. They made a wrong choice, lost their freedom and their future, and gained the status of aggressor and perpetrator – yet at the same time they are victims as well.
Yes, Ukraine needs a system of trauma-related services that help those who cannot cope with the psychological after effects of the war on their own. Slowly but surely these services are developed, with expert support from outside and much dedication and perseverance of local specialists. But to help a country come out from these horrors this is not enough. Ukraine will need a multi-faceted program of national reconciliation, focused on (re-)building bridges between West and East, between those who come out as victors and those who lost the cause they were made to believe in. One part of the country made huge strides towards a European society based on the rule of law, while the other part slid back into a criminal version of Sovietism. This brings such tensions within one country that are virtually insurmountable and will take a colossal effort to somehow manage. The worst of it all is, that we are not yet at the end of the road and do not know what is yet to come. Yet that is no excuse not to address the issue at this very moment.
Tags: Donbas, International, psychology, Russian invasion, trauma