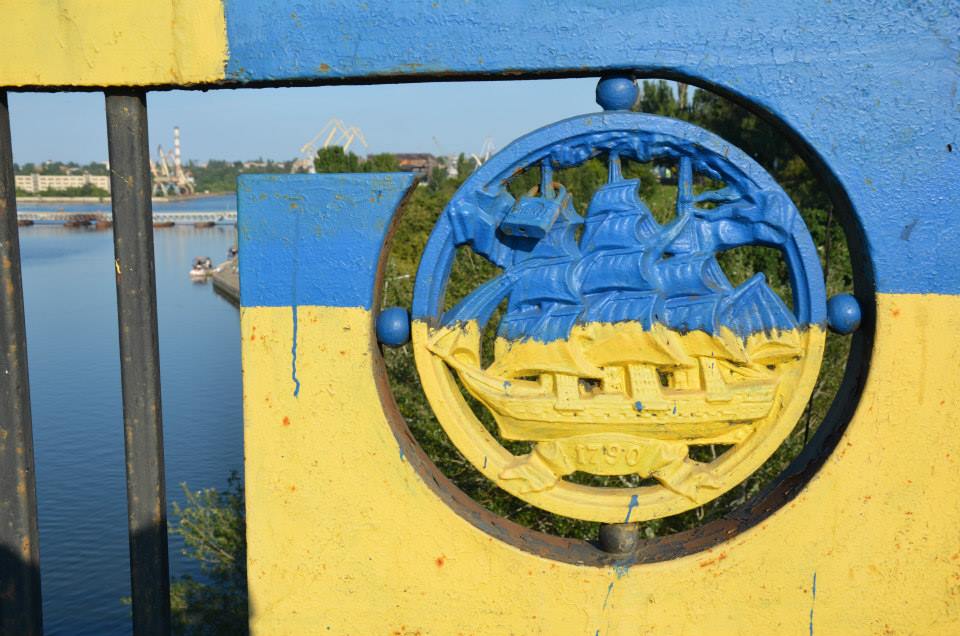 A bridge is painted in the colors of the Ukrainian flag in Mykolayiv. After the Euromaidan revolution, Ukraine was covered by a wave of blue-and-yellow paintjobs. Photo: Lina Rusch 
On 20 May 2015, Oleg Tsarev, leader of the "parliament" that unites the self-proclaimed Donetsk and Luhansk "People's republics" ("LNR" and "DNR") 
announced
that project "Novorossiya" is closed. "We could not keep our people at the rallies, and our supporters in Odesa and Kharkiv rose up too soon," wrote Alexander Kofman, the "minister of foreign affairs" of the "Donetsk Republic", on his facebook. Numerous pro-Russian protests swept through Ukraine's south-eastern regions against Euromaidan's victory in late February 2014, but resulted in a "Novorossiya" much smaller than planned. We interviewed the witnesses of the post-Euromaidan pro-Russian unrest to understand why.
Mykolayiv separatist movement organized by local pro-Russian party with Russian money and actors
In Mykolayiv, the city administration was waiting to see the direction of the wind. On 7 April 2014, the decisive evening when the pro-Russian separatist demonstrators started to assault the city administration and were violently dispersed by numbers of pro-Ukrainian locals far greater than theirs, the local authorities didn't interfere, simply observing from the top floors of the local administration.
"When they saw that the Ukrainian side had won, they came outside and told the victors 'long live united Ukraine!'" details Andriy Lokhmatov, a journalist of the local Mykolayiv outlet Prestupnosti.net. "The fact that the authorities did nothing to stop the Russian threat mobilized the local people to act forcefully to stop it."
Andriy, a tall and serious man of 26, wears a pendant with the trident, a Ukrainian coat-of-arms going back to the 10th century. He remembers every day of the protests, having been covering them for his media outlet.
Starting from March 2014, in the aftermath of the Euromaidan revolution, pro-Russian protests swept through Ukraine's south-eastern regions. In some places, the local administrative buildings were captured and Ukrainian flags removed. The "LNR" and "DNR" breakaway republics of today and the gruesome Russian-backed war in Donbas stem from those days.
In Mykolayiv, the demonstrations were quite a success at the start: 1000-1500 protesters with Russian flags and agitation, compared to the 50-100 pro-Euromaidan protesters that showed their solidarity with Kyiv through the winter. On 7 April 2014, 50 of the former moved to capture the local administration. They called it a Duma, the Russian word for council that is not used in Ukraine.
This would not get as much fame as when the masked armed men taking control of the local police station in Kramatorsk on 13 April 2014 told passers-by to get behind the "porebrik," a St. Petersburg localism for "curb." Ukrainians would have said "bordyur."
When word of the attempted assault in Mykolayiv got out to social media, Ukrainian-unity minded locals came to the city center from all around the region and took the matter into their own hands, dispersing the demonstration and demanding that the pro-Russians wrap up their camp in the center of the city. They did, and that was the end of the demonstrations for a Novorossiya in Mykolayiv.
Most of the pro-Russian protesters in Mykolayiv were indeed locals. But the organizing and resources came from Russia. "You could see a major difference in the way that the Mykolayiv Maidan and pro-Russian protests were supplied: the Maidan always had a money box where local people donated money, volunteers that prepared food," told Andriy. "The Antimaidan, and later, pro-Russian protests were organized in the best possible way but had no box for donations, everything was prepared for them, I never saw anybody making sandwiches there. Even if they didn't get cash handouts, they had food and heating prepared for them, and that's why they attracted the poorest people – not teachers and businessmen, but even homeless people."
Novorossiya didn't happen in Mykolayiv because the Russian security services didn't invest as many resources as in Crimea and Donbas, because Mykolayiv is too far away from Russia. And because the pro-Ukrainian Mykolayivans were stronger.
Andriy Lokhmatov, journalist at prestupnosti.net
The protests were organized by the Russian Bloc party. Being a marginal political entity before Euromaidan, they suddenly started organizing demonstrations after the fugitive Ukrainian president Yanukovych fled the country. "They were transmitting the same official Russian propaganda word for word, about crucified soldiers and so on," Andriy recalls in the scorching south-Ukrainian sun outside Mykolaiv's Petro Mohyla University. "Our Security Services worked well; they worked to isolate the leaders, and the movement dwindled off. As soon as the bloc stopped going on the square with a loudspeaker, it all ended – because the pro-Russian people don't get organized by themselves, their Soviet thinking doesn't permit it. That's why Novorossiya didn't happen here, and we are very glad for that."
Kryvyi Rih: civic activists thwart plan of authorities to stage assault of local administration
Kryvyi Rih, an industrial city of the Dnipropetrovsk Oblast, also experienced a decisive moment in choosing to be with Novorossiya, tells Anton Kravchenko, who participated in the events as an organizer of Kryvyi Rih's Automaidan. 
"Kryvyi Rih is an industrial city, like Donetsk. Most of the people are industrial workers, and the plants are owned by [pro-Yanukovych oligarch] Akhmetov," Anton tells me in his car, a Soviet-produced Lada with the sign "Kryvbas" on its side door, the name of the region's  volunteer battalion that deployed to Donbas to fight Russian-backed militants. "Most of our city dwellers had a negative attitude to Euromadan events." Moreover, the city became a center for recruiting titushkas, thugs that got paid to beat up Euromaidan protesters.
On April 19, the pro-Yanukovych authorities were planning a storming of the local city administration. Industrial workers were being promised UAH 300-500 ($35-65) to make a crowd in front of the building while the Ukrainian flag would be replaced with the Russian one. Those in power had all the resources: Oleksandr Vilkul, the son of Kryvyi Rih's mayor Yuriy Vilkul, was serving as the deputy of Mykola Azarov, then Prime Minister of Ukraine and right hand of Yanukovych. He was shipping in workers from Donetsk by trains, all local media was under their control. The situation was grave.
Anton, who managed to popularize the Euromaidan movement by organizing parades of up to 200 cars dressed in Ukrainian colors of blue and yellow with his friends, acted fast. In less than a week, they managed to organize a mass pro-Ukrainian unity rally of over 10 000 participants. There was no administration-capturing on that day.
A mass rally in support of Ukraine's territorial integrity on April 19, 2015. Photo: http://www.0564.ua
A mass rally in support of Ukraine's territorial integrity on April 19, 2015. Photo: http://www.0564.ua
"They tried to organize a few more pro-Russian rallies afterwards, but couldn't organize a numerous one like ours, and it died out," recalls Anton.
Now he is a volunteer that is active in supplying frontline battalions with supplies. More than a year into the war, supplying Ukraine's troops still often remains a grassroots effort. Apart from that, Anton together with his Automaidan group launched a campaign against the roads of his city being destroyed by heavy-load trucks that shouldn't have permission for transit, only to have a prosecutor's probe opened against his activities. Yuriy Vilkul is still in power. I ask Anton if he thinks Euromaidan changed anything in Ukraine.
"Yes, – he says confidently. -We now have a network of activists, all the Automaidans that know each other. Right now there is a war, but when it will be over, we will change the regime."
Ultimately, why did Novorossiya not take root in Mykolayiv and Kryvyi Rih?
In both cases, self-organization of the population played a great role. People mobilized quickly to stop the threat and had the communication channels for this. Mykolayiv, being overall pretty passive with low attendance of pro-Euromaidan protests, managed to mobilize quickly when facing a real Russian threat and being fed up with the inaction of the local authorities. In Kryvyi Rih, an active organizer acted pre-emptively in a team with like-minded people on the basis of existing networks communication channels.
This article is based on research that was conducted within the framework of the Summer School "Historicity and Post-Revolutio
n – a Journalistic Retrospective in the Maidan Movement throughout the Country", organised by the National University of Kyiv-Mohyla Academy and the Lectureship Program of the Robert-Bosch-Foundation in Kyiv. For more information about the project please visit this homepage and blog.
Tags: Donbas, EuroMaidan, Novorossiya, Politics