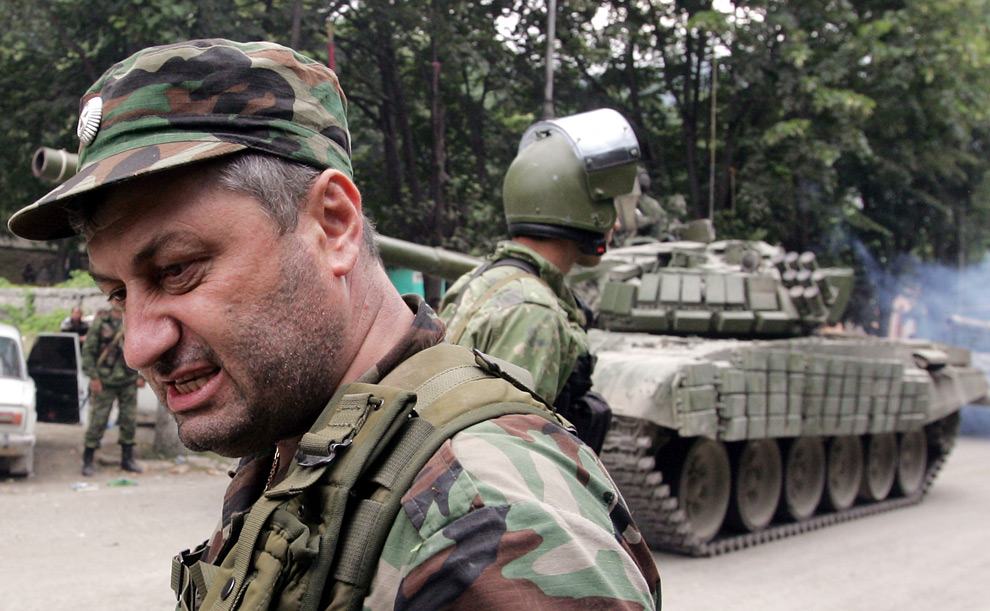 "President" of the breakaway South Ossetia region, Eduard Kokoity stands near Russian tanks and troops in the South Ossetian town of Dzhava on August 9, 2008. (Dmitry Kostyukov/AFP) 
On the 7th anniversary of the Russia-Georgia war, it is worth to once again take a look at this first application of Kremlin's tactics we've seen years later in Ukraine
Over the years since the Russian war of aggression in Georgia, a more-or-less-accepted narrative has become to be accepted by world media (Ukrainian outlets being no exception). After a week of shelling by South Ossetian separatists, the story goes, Georgian troops were forced to move troops into the breakaway republic to restore peace and constitutional order. This, in turn, was used by Russia as a casus belli for the large-scale invasion of sovereign Georgia and subsequent recognition of the separatist South Ossetia and Abkhazia.
Naturally, Kremlin's narrative is more about Georgian fascists launching an unprovoked invasion of South Ossetia, leveling its capital Tskhinvali and committing massive ethnic cleansings. This allegedly forced Russia's hand, prompting a "peace enforcement" operation that somehow spilled over to Georgia proper. These claims are refuted by satellite damage assessment, suggesting that Georgian villages in South Ossetia suffered way more than Tskhinvali did. Also, accounts of civilian casualties due to causes other than shelling have never surfaced. Most Russian accounts also suspiciously omit the week of separatist provocations preceding the full-scale war.
Both sides, however, fail to answer one crucial question: why did then-Georgian president Mikheil Saakashvili order the offensive in the first place, given Russia's prior promises of intervention on South Ossetian behalf in case of hostilities? Russia's army vastly outnumbered Georgian forces and conducted military exercises specifically intended to "repeal Georgian aggression" less than a month prior to the conflict.
Russian accounts either label Saakashvili's decision as mad or made in hope of US intervention. However, according to ex-US Secretary of State Condoleezza Rice, she specifically told Saakashvili during a meeting in Tbilisi that "no one would come to his aid". Secondly, during the week of escalations preceding the war, Saakashvili made numerous efforts to resolve the situation peacefully, going as far as announcing a unilateral ceasefire and almost pleading for negotiations on national TV on August 7, 2008, hours before the war.
In Saakashvili's own words, the Georgian operation was a response to Russia deploying tanks to the little statelet even before Georgian troops moved in. This is corroborated by Georgian intercepts of South Ossetian border guards' talks on a military convoy moving through the key Roki tunnel connecting the breakaway republic to Russia. Numerous accounts in pro-Kremlin media describe Russian regular soldiers (not part of the peacekeeping force manning lookouts around Tskhinvali) entering South Ossetia in the days before the war and staying at a Russian military base in Java, a town in the mountains to the north of the monitored conflict zone.
While Russian military officials did not deny these allegations, they tried to explain them away as routine troops' rotation in preparation to repel Georgian aggression. At first glance, this would make Saakashvili's decision even more baffling, as it would imply a knowing assault on Russian troops. The explanation lies in an unlikely place: Russian state media outlets.
Throughout the early days of August 2008, Russian state news agency RIA Novosti extensively reported on "Georgian shelling of South Ossetia" (which was a response for separatists' attacks on Georgian troops and civilians). The quasi-state's Russian-backed "president" Eduard Kokoity proudly announced the arrival of "volunteers" from Russia and threatened retaliation with heavy weaponry. One might recall DNR's leader Zakharchenko's similar statement of Russian-trained "volunteers" arrival to the Donbas in August 2014, right before regular Russian troops entered the war.
Seven years later, we can clearly view the buildup to the Russo-Georgian conflict as a trick from Kremlin's "hybrid war" playbook. Russian analyst Yulia Latynina argues that Russia and South Ossetia had been extensively preparing for the Georgia war, going as far as evacuating most civilians from Tskhinvali long before the war even started. According to Latynina's book written hot on the heels of the conflict, the combined South-Ossetian-"volunteer" offensive (or, rather, a Russian army operation disguised as such) would take place days after the actual war broke out. Numerous Russian journalists were brought in to Tskhinvali and called to a briefing by Russian peacekeepers (which was disrupted by the Georgian offensive that took place after the briefing was called).
Latynina believes Saakashvili faced a hard choice: whether to begin the war on August 8 in South Ossetia or be forced to defend Georgia proper days later. Prompted by news of Russian forces' arrival, he chose the first option. While we know how this one turned out, it is not negligible that Russia was forced to admit involvement in the war right off the bat – the sudden capture of Tskhinvali shattered the myth of "mighty South Ossetian militia". This, in turn, allowed putting international pressure on the Kremlin to at least contain the occupation within the breakaway republics. The original plan likely was to capture Georgia's capital Tbilisi under guise of "South Ossetian militia and Russian volunteers" (possibly aided by the Russian army), forcing a regime change and reversing the country's Western orientation. As this would be portrayed as actions of the South Ossetian regime, Kremlin would likely be able to wash its hands and be free of responsibility.
Saakashvili's decision thwarted that plan, although earning him a reputation of a reckless leader. To this day, the proof of Russian presence in South Ossetia prior to the war is held in doubt. However, this was a failure of the first attempt of the same tactics employed years later in Ilovaisk and Debaltseve. The second time, Russian state media reporters knew better not to uncover Russian army activities at times and places where they weren't meant to appear. It took months for open-source investigators to finally piece together conclusive evidence that Russia has been covertly involved in the war in Donbas – just how it was meant to in South Ossetia seven years ago.
---
Related:
Tags: Georgia, International, Russia, Russia's hybrid war, Russia-Georgia relations, Russo-Georgian War of 2008