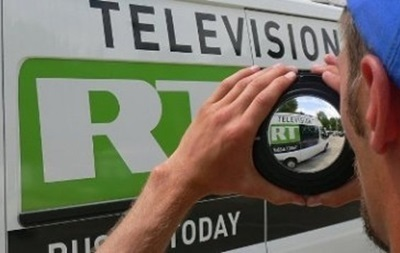 Bailiffs in France, carrying out court orders to seize assets belonging to the Russian Federation, have issued seizure notifications to Russia's RT state-funded television network (Russia Today), reports Forbes Russia, June 18, citing a source close to the former shareholders of Yukos. The action was based on a decision  by The Hague Permanent Court of Arbitration in a lawsuit filed by former Yukos shareholders. The RT channel is funded by the budget of the  Russian Federation.
This information was confirmed by Tim Osborne, head of Group Menatep Limited, a subsidiary of Hulley Enterprises Limited, which is acting as the plaintiff in the Yukos case.
"According to my information, we're talking about the seizure of the building in Paris housing the offices of Russia Today. There are several buildings in Paris that belong to the Russian Federation, and this is one of them, he explained.
Additionally any revenues the TV channel brings to the Russian state will be seized as well. According to Osborne, employee salaries probably would not be seized because they belong to the employees and are not property of the state.
RT Editor-in-Chief Margarita Simonyan told Forbes that RT "took care of this in advance and took measures to prevent the disruption of our radio and online broadcasts in Europe and elsewhere by the blocking of accounts."
Simonyan told the RIA Novosti news agency that the account of the French representative of Rossiya Segodnya information agency, which includes the Russia Today TV network as well as the RIA Novosti news service, were also seized.
In addition, seizure notifications were also received at the offices of the TASS news agency in France and Belgium, reports Gazeta.ru, citing the agency's press-service. TASS representatives refused to provide details.
Earlier it was reported that bailiffs have begun carrying out court orders in France and Belgium to seize Russian assets in those countries, based on the decision of the Hague arbitration court in the claim of the former shareholders of Yukos.
Andrey Belousov, assistant to Vladimir Putin, said that Russia would "appeal this decision in France, in Belgium and in all countries."
Law enforcement agencies in France had seized the accounts of Russian companies at the French subsidiary of VTB Bank, the bank's head Andrey Kostin reported on Thursday. According to Kostin, the accounts of Russian diplomatic missions had been frozen but have since been unfrozen.
On Wednesday, June 17, Belgium courts gave the order to seize Russian state property held by Russian institutions in the country based on a July 2014 decision by an arbitration court in The Hague awarding some 1.b billion euros to the former shareholders of the now-defunct Russian oil firm Yukos. The lawsuit represents one of several cases filed against Russia by the former company's shareholders.