Ukraine's Ministry of Foreign Affairs announced today that the National Chamber Ensemble "Kyiv Soloists" will hold a classical music open air concert "Night Serenades" dedicated to all the Ukrainian prisoners illegally detained by the Russian Federation.  This concert aims to raise awareness in Ukraine as well as in the international community that Russia is violating these individuals' human rights as well as disregarding the rule of law by continuing to hold them as prisoners.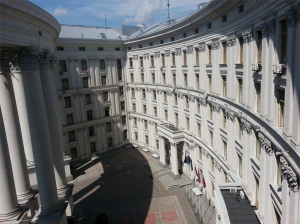 The outdoor event will be held on Friday, June 19, 2015 at 21.00 Kyiv time on Mykhailivska Square located in front of the Foreign Ministry between the columns and the facade of the building, a location with uniquely beautiful acoustics. This project is an important step in the process of developing the Foreign Ministry not only as a governmental office but also as an art venue. Join the fb event here.
The National Chamber Ensemble "Kyiv Soloists" will perform its program entitled "Night Serenades," consisting of musical compositions dedicated to lyrical hymns of love and tenderness, including works by Peter Tchaikovsky, Wolfgang Amadeus Mozart, Antonin Dvorak, Edvard Grieg, Felix Mendelssohn, Edward Elgar, Fritz Kreisler, Johann Strauss, and Astor Piazzolla.
"Serenades," from the Italian word for "calm" and "serene," "serenada," harken back to musical concerts performed in the warm air of Italy and Spain. Now they will be played under the night sky in Kyiv's historic Mykhailivska Square.
Partners of the event are: Ukrainian Human Rights Group EuromaidanSOS, Amnesty International, Українська правда. Життя, Ukraine Today, EuromaidanPress, Kyiv Post, hromadske.tv, Zinteco Design & Engineering, LoraShen, and Camellia.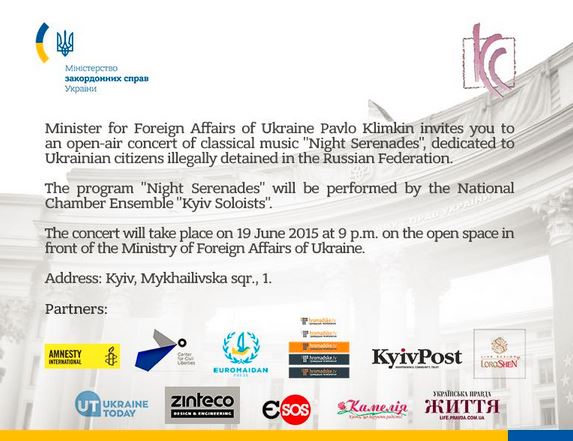 The National Chamber Ensemble "Kyiv Soloists" is unique in both diversity and sound. As each of the musicians has an impressive history as solo performers, the resulting ensemble has an extraordinarily beautiful sound. The musicians of "Kyiv Soloists" are all from the conservatory founded by the "Ukrainian Paganini," conductor and teacher Bohodar Kotorovych. The Chamber Ensemble has held the title of "Ambassador of Ukrainian culture in the world" for more than 10 years. The Ensemble's current musical director is world renown cellist and conductor Dmitry Yablonsky (USA/Israel). Its artistic director is Honored Artist of Ukraine Oles Yasko. You can find more information on Kyiv Soloists here and here.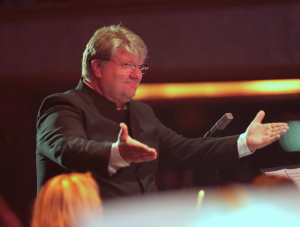 Dmitry Yablonsky has performed on such famous stages as Carnegie Hall, La Scala, Moscow Great Hall, St. Petersburg Philharmonic Hall, Taiwan National Hal, Théâtre Mogador, Cite de la musique and the Louvre. His chamber music partners have included Victor Tretyakov, Leif Ove Andsnes, Yuri Bashmet, Vadim Repin, Boris Berezovsky and many more. In 2007, the cellist was nominated for a Grammy Award. Dmitry Yablonsky has organized many international festivals all over the world, including the Qabala (Gabala) Festival in Azerbaijan, the festival of "Wandering Stars" which is held by young performers in Europe, Russia, the US and Israel.
Concert organizers and partners invite everyone to this unique concert (please note that while seating is limited, there will be plenty of standing room to enjoy the music). Let's spread our hopes and good wishes that our compatriots will return home to their loved ones soon.
The program:
Peter Tchaikovsky – Serenade for String Orchestra in C dur, Op. 48 Part I: I.Pezzo in forma di Sonatina. Andante non troppo
Wolfgang Amadeus Mozart – Divertimento for Strings in B flat dur, KV.137 II.Allegro di molto & III.Allegro assai
Antonín Dvořák – Serenade for Strings, op.22, part 1: Moderato Edvard Grieg – Suite In The Old Style, or.40, Part 1: Prelude
Felix Mendelssohn – Symphony for String Orchestra in B moll, # 10 Edward Elgar – Serenade for Strings, or.20, Part 1: Allegro piacevole
Fritz Kreisler – "Love's Sorrow", "Love's Joy", "Persian march"
Johann Strauss – Waltz 'Viennese Blood "
Astor Piazzolla – Two Tango: Meditango, Libertango
Peter Tchaikovsky – Serenade for String Orchestra in C dur, Op. 48, Part 2: Walzer. Moderato.Tempo di Valse