Under the pretext of another Russian "humanitarian convoy," militants from the so-called DNR and LNR are preparing a provocation using Ukrainian prisoners,  said Yuriy Tandit, chairman of the Joint Coordination Center for the Liberation of Hostages at the Ministry of Defense of Ukraine. He says this information has come from volunteers and is  being currently reviewed by the Security Service of Ukraine (SBU). According to Tandit, close to 600 Ukrainian soldiers and volunteers are currently in captivity.
We do not distinguish between the military and civilians. They are all defenders. They include, for example, volunteers who have been helping and continue to help our soldiers defend Ukraine. Additionally, members of the volunteer battalions are in captivity, as well as members of the National Guard and the militia. We only know the approximate number, which the minister of defense announced several days ago: 185 men, representatives of the Armed Services of Ukraine.
In total, we're talking about some 600 defenders. However, they also include men from the area. Because several days ago, as a result of a special operation in the Luhansk Oblast, 6 soldiers were released. The night before last we freed one "cyborg" who was there near Kurakhov. The guys from the Patriot Fund and I brought out one of the last "cyborgs" who was there. Tomorrow I think we will bring back more men.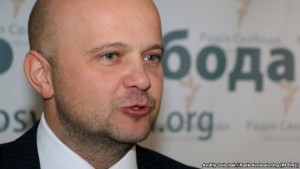 What is known about the "cyborgs" remaining in captivity in Donetsk?
We just spoke with the Security Service of Ukraine (SBU). I received information from volunteers that a provocation is being prepared — possibly to take place during the next so-called "humanitarian convoy" from the neighboring state. We don't know who is preparing it or if Russians themselves are directly responsible for it. I don't want to accuse them, but we know an attempt will be made to put a group of our hostages, military guys, supposedly under this "humanitarian convoy." In order to imitate an attack on the "humanitarian convoy" with the purpose of destroying our men who are hostages there. This information is being currently reviewed by the SBU.
And we need to talk about it so that if someone is crazy enough to do this, we would have warned about it and said that we know about it. It is possible that someone will create such a provocation in order to demonstrate that we, the citizens of Ukraine, are "punishers," "bandits," "fascists." We even have a list of people they could possibly use. I want to talk about it loudly to avoid such a situation.
 Earlier, the militants declared that they do not want to exchange prisoners according to the "all for all" principle. What is the situation now?
I phoned them yesterday. Yesterday I was in Popasna (Luhansk Oblast) near the line of fire. Battles were going on. Certain representatives of these so-called "republics" are already denying this information. After certain mass media published the information that they were completely stopping the release, or as they call it exchange, that they would no longer exchange according to the principle of "all for all" but "one for one," we immediately called back. I spoke with the representatives of the so-called DNR and they told me this information has not been confirmed and that they allegedly would continue to take care of the release.
We are now in the stage of preparing the large lists. They are being worked on, and perhaps we will show these lists again in Minsk. We will go ahead according to the Minsk agreements. Ukraine, for its part, is ready to fulfill what was signed in Minsk. Let's just say we are open to that side. We keep our word. So we hope that the other side also keeps its word.
I am sure the fifth point — release of "all for all" — will help not only us but them. After all, we are returning to the other side people who associate themselves with that territory, with these "self-proclaimed republics." And the most important thing is that freeing people is kind. After all, a person who is in prison, in captivity, must definitely be freed. In battle he defends some idealistic interest or he defends his country, as we defend Ukraine, or he defends some other ideas of that side. But if he has already been captured, detained, what sense is there to keep him? Give him up!
How do they treat Ukrainians in captivity now? Hasn't their treatment worsened after the escalation of the conflict?
There are groups that have been there for some time; there is a certain process. They are like us, in principle; they are people too, they are Christians. At least as far as I know, certain people were saved, were given first aid. That also exists, and we need to talk about it as well. After the events at the Donetsk airport, it is important to know who is in charge there, who is making decisions. I expect that the deterioration of the situation will not affect the treatment of these people (hostages). Even though there is information that they are sometimes used for publicity. We see the "cyborgs," for example, who were paraded by the trolley (in Donetsk). But we ask them not to do this. I think they will hear us.
What can you say about the video from Krasnyi Partyzan, where militants took Ukrainian soldiers in captivity and allegedly shot several of them.  Is that a real video?
You know we already had cases where Bezler (one of the DNR leaders) was shooting the men, and some of the information has not been confirmed. It is very important for the legal authorities, including the SBU, to give their assessment of this video. But we hope that this video is a fabrication, that it is not true.
What is Ukraine bringing to the new round of negotiations in Minsk scheduled for January 30 (the negotiations scheduled for January 30 have been cancelled — Ed.)?
We have many things, but  the most important thing is to return to the agreements, that even the Russian representatives often spoke about. We are ready to carry out what was signed in Minsk, and we did so. We are going there to say that we are open. We do not want an aggravated situation again, since if we are to follow the Minsk agreements, we are supposed to keep the territories that were discussed.
We have prepared lists of men that we see there. We are ready to take them. Similarly, we are preparing lists of men that we are ready to turn over. Moreover, they prepared a bill, which is now in the appropriate committee, to alleviate the plight of those that we are holding captive , to speed up their release legally.