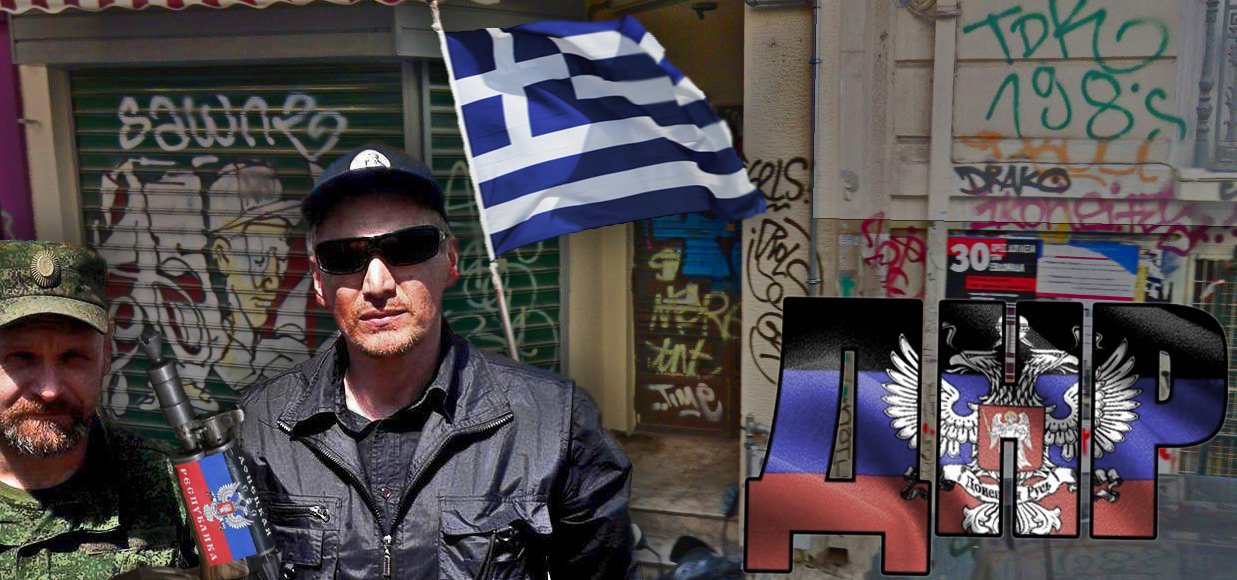 Collage by author. 
Russia's fake Donbas "republics" keep opening up fake "diplomatic missions" in Europe, trying to create an illusion of their own statesmanship and ongoing diplomatic processes towards their recognition in the world.
A "grand opening of a Representative center of the DNR in Greece" will be held in Athens on March 21, the "DNR" terrorist organization 
reports
, "Greek public and political figures are invited to the event alongside with representatives of the European media".
Google Street View service
shows
 the mentioned venue (
#52/3, Themistokleous, Athens)
:
Andreas Zafiris (right) and "Cossack" warlord of occupied Alchevsk Aleksey Mozgovoy. Luhansk region, May 2015. Credit: FB andreas.zafeiris
October 16, 2015, Athens. Andreas Zafiris (left) protesting against MH17 Dutch investigation. Credit: tvzvezda.ru
February 2017. Andreas Zafiris (left) at an event honoring assassinated warlord Mikhail Tolstykh, nom de guerre Givi, "hero of the anti-Fascist race" according to Zafeiris. Credit: FB andreas.zafeiris
In 2016 during his visit to the occupied parts of the Donbas Mr. Zafiris
said
, "
We can see the real democratic processes in the Donbas… We came to the Donbas [from Greece] to be taught by you, we are your students.
" Of course, those "democracy students" had illegally crossed the Ukraine's eastern border to see democracy prospering in the territories controlled by "DNR" and "LNR" terrorists
.
The Russian and pro-Russian sources
call
the "Representative center of the DNR" in Greece "
the third in Europe
" mentioning three fake embassies opened earlier in the European countries:
Finland (2015)
Czech Republic (June 2016)
Italy (December 2016)
In September 2016, "LNR" was going to open its "diplomatic mission" in Austria, but the Austrian Foreign Ministry denied any possibility of establishing either a diplomatic or a consular mission of the "LNR" on the Austrian territory.
With fake diplomatic missions "DNR" uses the Soviet tactics. Back in 1919, the Soviet Russia established a Russian Soviet Government Bureau in the United States, it was an unofficial "diplomatic organization" functioned as a trade and propaganda agency of the Soviet government. The bureau was headed by German citizen Ludwig Martens who was born in the Donbas city of Bakhmut. The "mission" was terminated early in 1921 as its head was deported from the USA.
Ukrainian journalist Vitaliy Portnikov considers that the opening of such offices is a well-planned propaganda campaign, for which the Russian Federation has allocated a lot of money, with the purpose of putting pressure on Ukraine and on Ukraine's western partners.
Both "LNR" (Luhansk People's Republic) and "DNR" (Donetsk People's Republic) are designated as terrorist organizations by the Ukrainian Government.
No real country recognized any of Russia's puppet states in Ukraine, even Russia itself. The only quasi-state who recognized "LDNR" republics is the "Republic of South Ossetia", a region in Georgia occupied by Russia in 2008, which is recognized as a state by Russia, Nicaragua, Venezuela and Nauru.
The opening of the "DNR office" in Ostrava, Czech Republic, was widely advertised in Russian media in 2016, being called a "DNR representative office," the Czech MFA disagreed: "According to our information, what some call a 'diplomacy center or a representative office' of the self-proclaimed DNR, is just a union registered in Ostrava. It cannot be considered a diplomatic office of a country. The Czech MFA will not have any relations with this center."
Read more:
Tags: Andreas Zafiris, Athens, DNR ("Donetsk People's Republic"), Donbas war (2014-present), Greece, News, Russian diplomacy, SYRIZA