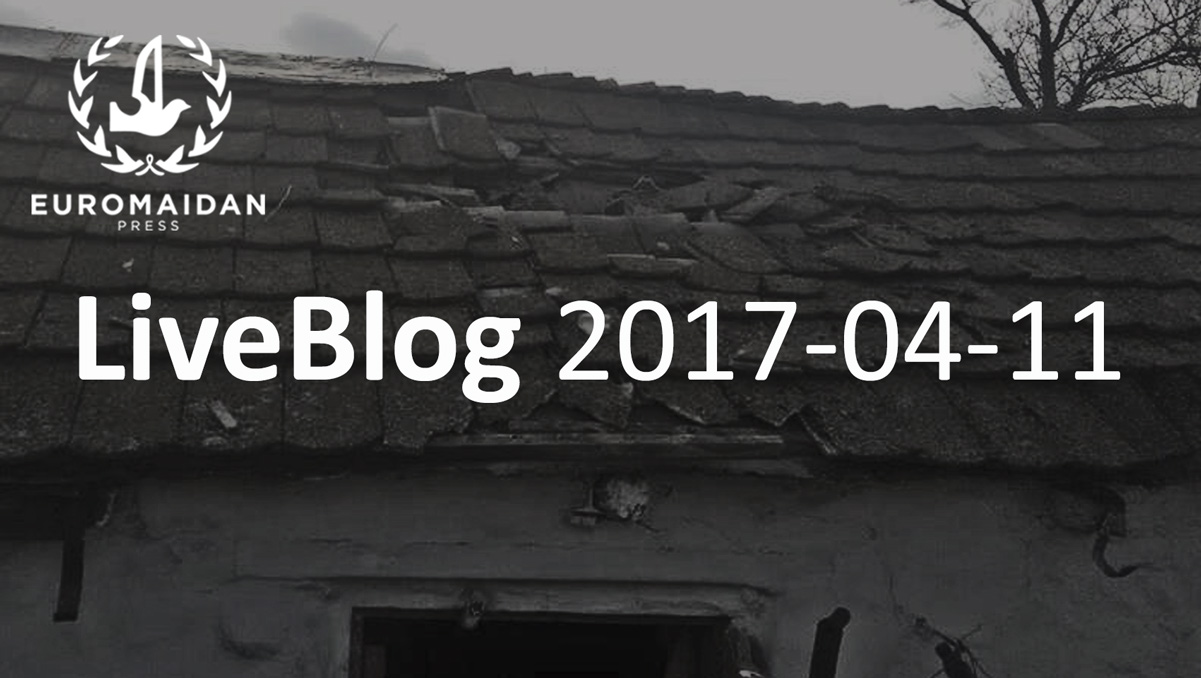 April 1-10 "Easter ceasefire": 2 killed in action, 38 wounded. 458 attacks in 10 days.
5 WIA in 64 attacks in the Donbas on April 10.
One civilian wounded in Avdiivka on April 10.
Residential area bombarded with 120mm and 82mm mortars in Novotroitske, Donetsk Oblast. No one was hurt.
Pupils were evacuated to bomb shelter in Marinka amid morning clashes
Poroshenko wants Donbas coal to be seized if imported from Russia
Groysman: Blockade in Donbas was organized to the benefit of Russia
Quiet night, morning, afternoon in Donbas – social networks (April 11, 00:00-16:00)
21-year-old Artur Latchenko, call sign "Schumacher", was laid to rest on April 5 in Poltava Oblast. He was killed on April 3, 2017 in a mortar attack on Butivka Airshaft near Avdiyivka, Donetsk Oblast
---
Donetsk residents reported an evening bombardment on April 11 (18:20-23:59)
Residents of the Donbas reported a 'usual' evening shelling resumed after several days of "almost ceasefire" in the evening of April 11:
18:23 Donetsk: Singles in Pisky-#Spatak-Yakovlivka all night. 10:50 RU BMP awoke in Spartak. Noise from SA to HW. Single heavies afternoon
18:26 Donetsk: More orcs in the center. From "savage" green Russians who saw a tram at first to kinda experienced. Rare Ural-Kamaz trucks
19:20 Yasynuvata: "Rainfall" in the area where AGL of Putin's ones stationed. Bad luck for AGL"
19:41 Makiivka: [Putin] remembered that he has here undefended Russophones living quietly for the second day. Heavy [guns] pound. Outgoing..
19:43 Makiivka Vostochnyi: "About 5 heavy outgoing rounds, the west direction, it is unclear why the heck"
19:45 Donetsk Donskoy: Pretty strong single [round]
20:40 Makiivka Vostochnyi: After a short pause, they continue to rumble
20:42 Donetsk: Strong single booms in the south
20:45 Avdiivka old part: Pretty noisy, they are shooting
20:45 Yasynuvata: Intensifying battle [with use of] heavy machine guns and a mortar – direction of Kruta_Balka
20:45 Donetsk: "Zhilploschadka: a battle in full swing heard very close" "Tekstilschik, ice palace: the west can be heard"
20:50 Donetsk: At Trudovski, gunfire and booms, medium intensity
20:55 Yasynuvata: a shooting battle is heard
21:15 Yasynuvata: Vasylivka direction rumbles by times
21:32 Yasynuvata: The skirmish became closer to the town
22:10 Yasynuvata: gunfire
No ceasefire at Svitlodask bulge either (Debaltseve-Horlivka area): 
23:08 Svitlodarsk Bulge: They are firing. The silence before, we even got used to it
There were no reports posted by Luhansk and Mariupol residents.
---
21-year-old Artur Latchenko laid to rest in Poltava Oblast, he was killed on April 3 near Avdiyivka amid "Easter ceasefire"
21-year-old Artur Latchenko, call sign "Schumacher", was laid to rest on April 5 in the village of Bilsk, Poltava Oblast. He was killed on April 3, 2017 in a mortar attack on Butivka Mine stronghold near Avdiyivka, Donetsk Oblast
---
Pupils were evacuated to bomb shelter in Marinka amid morning attack
Chief of the National Police Department in Donetsk Oblast Vyacheslav Abroskin wrote on his Facebook page at 9:30, "Militants have started to shell Marinka. Children were evacuated from classes in the school no. 2 to a bomb shelter." Later Abroskin updated his post, "As of 09:45 the shelling has ceased. A police investigation and operational group check out the scene of the shelling on Telmana and Matrosova streets."
The ATO Headquarters provided more details, "Today on April 11, amid an attack on positions of ATO forces in the area of Marinka during which Russian-terrorist forces used grenade launchers, anti-aircraft guns Zu-23-2, heavy machine guns and small arms, the outskirts of Marinka came under fire."
---
Quiet night, morning, afternoon in Donbas – social networks (April 11, 00:00-16:00)
Local residents reported only minor military activity in the occupied territory of the Donbas today from 00:00 to 16:00 EET, a morning skirmish was recorded in Marinka.
Occupied Horlivka and Yenakieve report artillery drills at the range:
08:11 Horlivka: As judged by the information incoming, Russia prepares escalation, deploys Cossacks, equipment; endless drills at ranges…
08:27 Yenakiieve: Yes, every day drills are ongoing at the range, no gunnery yesterday & the day before, probably tactic/theory classes

Occupied Khrustalnyi, formerly Krasnyi Luch south of Luhansk Oblast) reports more military equipment heading the range:
09:20 Khrustalnyi: A covered kamaz truck, 4 MLRS BM-21 and a covered Ural truck went to #Novopavlivka range, tactical sign: #4 in square

Morning shootout in Marinka, Ukraine-controlled suburb southwest of Donetsk:
09:22 Marinka: Skirmishes
09:41 Marinka #school2: Children in bomb shelter. Ongoing shelling
10:54 Avdiivka: The south direction has become noisy
"Cossacks" arrived in Kadiivka, an occupied city in Luhansk Oblast:
15:28 Kadiivka: They have started to bus Cossacks in the city in broad daylight. From Bryanka direction a bus arrived, about 30 troops
15:35 Kadiivka: After it [=a bus with troops] 2 more PAZ buses withoutrcs[=RU], with assault-rifles. City buses of the route 101 #Festivalna-#Yuzhnyi
---
Blockade in Donbas was organized to the benefit of Russia – PM
The blockade in the Donbas was organized to the benefit of Russia.
Ukrainian Prime Minister Volodymyr Groysman announced this at a press conference on the results of the government activity for the past year, an Ukrinform correspondent reports.
"The blockade, which prevented access to Ukraine's own mineral wealth, and I call it economic and energy blockade, was organized to the benefit of the Russian Federation. That was another qualitative special operation of the enemy on our territory," Groysman said.
At the same time, the Prime Minister noted that Ukraine now lacked coal and had to purchase it from different countries. "I advocate purchasing from the USA, Australia and other countries, which are not aggressors," he stressed.
Activists launched the trade blockade of the occupied parts of Donbas on January 25. On March 1, "LDNR" (Luhansk and Donetsk "people's republics") seized 46 companies, which were operating under Ukrainian jurisdiction in the occupied territories. On March 15, Ukraine imposed an official blockade on occupied territories demanding stolen assets back.
---
Poroshenko wants Donbas coal to be seized if imported from Russia
Ukrainian President Petro Poroshenko wants the National Security and Defense Council of Ukraine (NSDC) to consider the possibility of seizing Donbas coal if Russia sells it to Ukraine as its own coal, according to an UNIAN correspondent.
"The President has said the NSDC will consider the possibility of seizing the coal taken by Russia from seized coal mines in occupied Donbas and then offered to Ukraine as Russian or any other type of coal," presidential envoy in parliament Iryna Lutsenko told reporters after a Petro Poroshenko Bloc faction meeting on Monday with the president's participation.
Lutsenko explained that each type of coal mined in a certain area has its own certificate listing technical characteristics. "Coal produced in Donbas is different from coal produced in other areas," she added. "If you have stolen [the coal] from us, we'll seize [it] from you," she said.
---
5 WIA in 64 attacks in the Donbas on April 10
According to the ATO Headquarters, the situation deteriorates in the ATO zone. Ukrainian positions came under attack 64 times on April 10, five servicemen were wounded.
One civilian was wounded in Avdiivka:
Apr10 ~18:50 #Marinka #Shevchenka St: A local resident got shrapnel wound being at home https://t.co/vn3t4gHk4J

— English Lugansk (@loogunda) April 11, 2017
---
Residential area bombarded with 120mm and 82mm mortars in Donetsk Oblast
The ATO Headquarters reported on April 10 that the outskirts of Novotroitske were bombarded with 120mm and 82mm mortars. BMP armament, grenade launchers of various types, heavy machine guns were also used in the attack. Several shells hit a residential area of the settlement. Preliminary, no one was hurt.
Novotroitske is a Ukraine-controlled village 36km southwest of Donetsk facing occupied town of Dokuchaevsk.
Tags: Blockade, Donbas war (2014-present), News, Novotroitske, Russo-Ukrainian War (2014-present)