The effectiveness of the Crimean Tatar-organized blockade of occupied Crimea is reflected not only in price rises and shortages in the Russian-occupied Ukrainian peninsula but also in the reaction it is generating not only among the occupation forces but also in Moscow which has been trying to play down the Crimean issue.
The blockade of occupied Crimea has resulted both in shortages and price increases for basic foods that mean the prices in Crimea are now "higher than in the Ukrainian capital" and in some cases an order of magnitude of more higher, the best indication that the action is having an impact.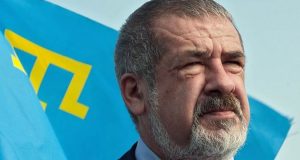 But the most important consequence of the blockade, Refat Chubarov, the head of the Crimean Tatar Mejlis, is that it has returned the issue of Crimea to the center of attention of the international community and led to new declarations that the Russian occupation must end and Ukrainian control restored.
The reaction of occupation regime officials suggests, the Crimean Tatar QHA news agency says, that they are beginning to "panic" as a result of the blockade. Remzi Ilyasov, vice speaker of the Russian-organized Crimean State Council, says the blockade shows Ukraine doesn't care about Crimeans while Russians do.
And Vladimir Konstantinov, the chairman of the Crimean State Council, says that the blockade represents "a threat of genocide," something he adds are "the real intentions of the fascist illegal band formations."
By such declarations, QHA points out, the occupation authorities are showing "the effectiveness of the action and also indirectly undercutting the recently made statements" of other officials there "that the blockade of Crimea is not inflicting any economic harm on the peninsula."