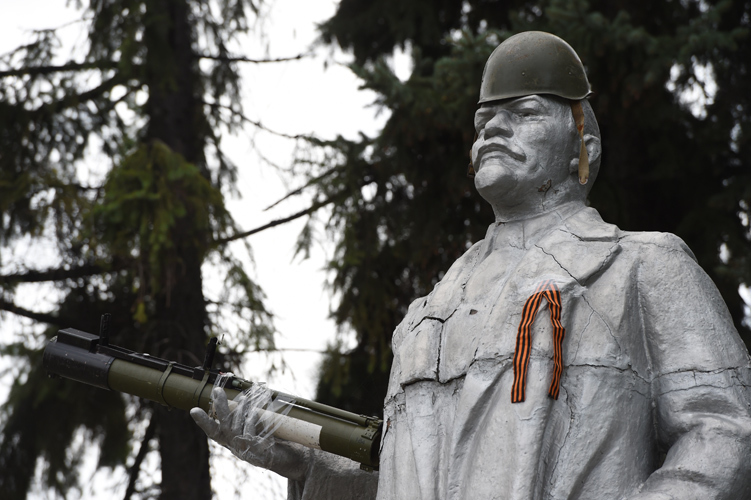 © AFP / East News
The ceasefire didn't hold a single day.
Each day, as before, the locals in Donetsk and other cities in Donbas wake up at the sound of heavy artillery fire. However, the shelling starts a bit later than before the ceasefire and isn't so intense.
Tanya sits in front of me at a table in a cafe in Kiev. She came from Donetsk for a couple of days for a breath of fresh air. Tanya was born in Donetsk. When the Maidan protests started, she helped set up a medical service for the pro-Ukrainian rallies in Donetsk, and when the war started she took up volunteering: she delivers food to people in shelled neighborhoods who have neither money nor a place to live.
Tanya tells me that recently DPR men took prisoner a girl who allegedly was paid by the Ukrainian army to install marker beacons for Grads to aim at.
"I wrote people from the Anti-Terrorist Operation HQ right away: where can I get those beacons, I'd install them for free," Tanya says. "They replied: there are no beacons. It's too expensive for Ukraine…"
So what do we do? Do we have to learn to live under DPR?
Tanya had been waiting for Donetsk to be "freed" since June. Each day she walked around her neighborhood, watched the DPR terrorists and reported everything to the ATO HQ. From an activist she developed into a kind of guerrilla. When the fighting reached its peak in late summer she was sure that the Ukrainian army was going to re-take the town, and the horror Donetsk had endured would end. The "humanitarian convoy" with which Russian troops quietly crept into Donbas crushed those hopes. After the Minsk talks and signing of the law on Donbas's special status, peace came for Ukraine. For Donbas, however, it did not.
"So what do we do? And what should the refugees who hoped to be back by autumn do?", Tanya asks me. I make a helpless gesture. "Do we have to learn to live under DPR?.."
Crowded buses run from Mariupol, Berdyansk and Dnipropetrovsk to Donetsk and other cities in the East: people who left their homes in summer are going back. Some of them couldn't manage to find a job to feed the family, some got tired of living inside bare walls of summer tourist centers where the refugees are placed. Some just got homesick… and winter is coming.
"Novorossiya" authorities came back to some towns recently retaken by the Ukrainian army. Zhdanovka, a small town between Gorlovka and Enakievo, came under DNR control for a second time. The black, blue and red DNR tricolor flew over the city council again, and a woman who used to bring food to the Ukrainian National Guardsmen was arrested.
Trains began arriving in Luhansk. This hasn't happened since June: the city was heavily shelled, and it is largely destroyed. When the first train came to Luhansk, it was met by LNR terrorists who immediately arrested several people they deemed dangerous.
"We saw National Guardsmen who serve in the ATO zone. They are going mad with the cold, starting to drink heavily," says Marina, a volunteer from Donetsk. "We go mad as well. The shooting doesn't stop, the DPR guys are going berserk…"
I asked Marina if she could come to terms with life under DPR.
"We came to terms with that back in July," she says with a tired sigh. "We've already realized we were dumped and our only hope is ourselves now".
How many people do you think will not survive the winter?
Schools and kindergartens never opened in Donetsk. A university where DPR authorities tried to change the management announced that it will not submit to the "republic" and will relocate to a safe city. Some universities are allegedly receiving applications, but the number of applicants can be counted on the fingers of one hand. Hospitals work after a fashion but there are few doctors left, and ambulances cannot cope with all the calls. The treasury of both the regions is still blocked, public sector workers have to go to neighboring regions for money. But people are already used to that. What they have not become used to is the cold as the winter creeps in and the heating issue still hasn't been resolved.
"If now we are buying medicines and food for our people, soon we will have to provide coal stoves and warm clothes," Marina says. "We are wondering where we will get the coal… How many people do you think won't survive the winter?"
The people of Donbas suddenly found themselves face to face with this strange, foreign world with upside-down values, where a careless word may land you in a torture chamber, where a careless step can cause a mine can explode beneath your feet, where sometimes you you have no money for even for bread, where culture has been replaced by a fearful silence.
Donbas has not become a "grey area". Donbas has turned into a black field where nothing can grow. You can no longer have a life on this field, you can only make war. And despite this strange nominal ceasefire that has veiled the eyes of Ukrainians and the rest of the world, the war in the otherworldly East continues.
Tags: Donbas, Donbas war (2014-present), News, Occupation, Russian mercenaries, Russian military crimes, Torture, Treatment of Ukrainian prisoners, Volunteers